Virginia Rental Lease Agreement Templates
The Virginia Rental Lease Agreements form a contractual relationship between a lessor ("landlord") and lessee ("tenant") over the occupancy of a rental property for a fixed length of time. So long the lessee(s) pay consistent rental payments and abide by the other requirements of the lease, they retain the right to live or work in the rental dwelling. Although each lease is different in its own right, they commonly cover the following essential topics:
Rent,
Security deposits,
Lease term,
Occupants,
Pets, and
Utilities.
In comparison to other states, Virginia has a considerable number of mandatory disclosures that landlords must make to tenants in the lease. Because of this, any edits made to the documents should ensure applicable VA lease laws remain complied with.
---
---
Types (6)
Commercial Lease Agreement – Once signed, approves a business-tenant to run their company out of the leased space for the length of time specified by the contract (one to three years).
Download – Adobe PDF (.pdf) | Word (.docx)
---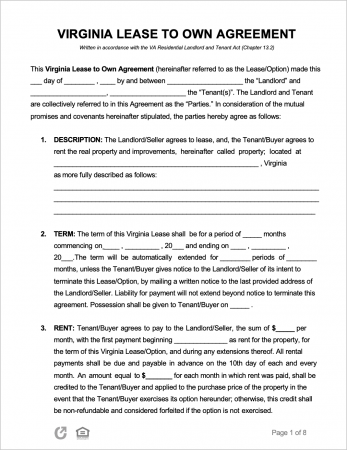 Lease to Own Agreement – Allow a tenant to purchase the rented home or building upon the lease's expiration. Tenants are not required to purchase, hence why the contract is often called a "Lease-Option" form.
Download – Adobe PDF (.pdf) | Word (.docx)
---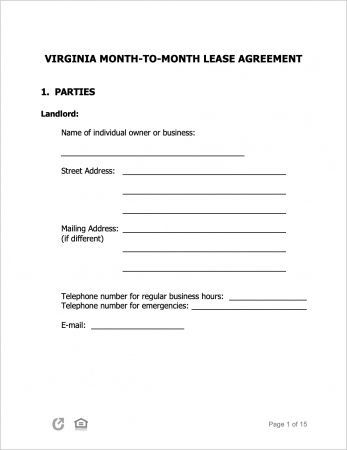 Month-to-Month Lease Agreement – A lease that spans one (1) month at a time until either party cancels it with a thirty (30) day notice.
Download – Adobe PDF (.pdf) | Word (.docx)
---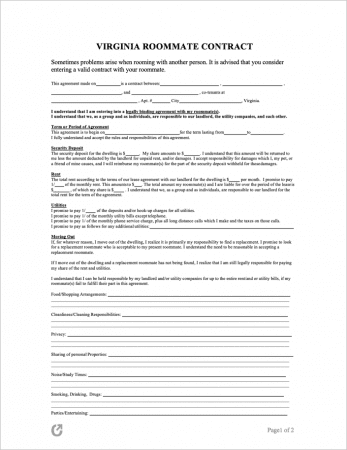 Roommate Agreement – Filled-out by roommates sharing the same rented property to come to terms on quiet hours, study times, cleaning schedules, and more.
Download – Adobe PDF (.pdf) | Word (.docx)
---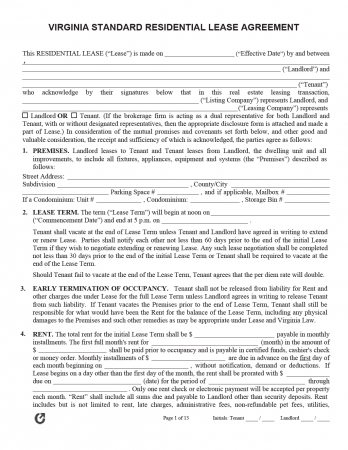 Standard Residential Lease Agreement – A Virginia-specific form that covers every aspect of leasing in the state. The most commonly used form for leasing property on a fixed-term basis.
Download – Adobe PDF (.pdf) | Word (.docx)
---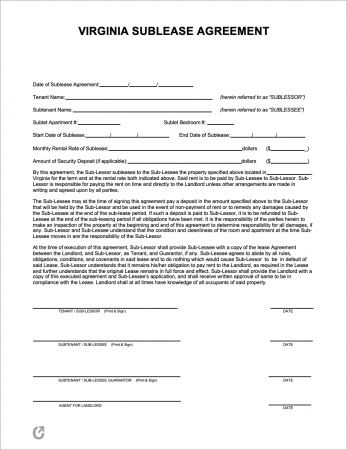 Sublease Agreement – Allows a rental unit to be re-leased by a tenant, so long the landlord approves.
Download – Adobe PDF (.pdf) | Word (.docx)
---
What is a Virginia Lease Agreement?
A Virginia Lease Agreement, once signed, locks tenant(s) into an obligation to pay rent for a specified amount of time in exchange for their right to live or work a rental unit/home. The agreement contains the parties' rights as well as their responsibilities to one another. Landlords should ensure they carefully vet tenants prior to signing this contract through the use of a Virginia-specific rental application form.
---
State Laws & Guides
Laws
Landlord-Tenant Guides / Handbooks
---
When is Rent Due?
According to § 55-248.7(C), rent is owed by the tenant as per the terms of the agreement. In most cases, this will mean they must pay the rent at the start of the month in equal installments. The landlord will usually specify where the rent should be paid. Periodic rent must be paid at the start of any term of one (1) month or less. No grace period laws exist in Virginia.
---
Landlord's Access
Emergency (§ 55-248.18(A)): A landlord has the right to enter the rental property in emergency situations, however, they may not abuse this right of access or use it to harass the tenant.
Non-Emergency (§ 55-248.18(A)): In order to enter the rental property in non-emergency situations, a landlord must give a tenant notice of their intent to enter and may enter only at reasonable times. If there is routine maintenance the landlord must perform that has not been requested by the tenant, they must give the tenant at least twenty-four (24) hours notice.
---
Required Disclosures
---
Security Deposits
Maximum (§ 55-248.15:1(A)): Landlords can charge tenants a maximum of two (2) month's rent for security deposits.
Returning to Tenant (§ 55-248.15:1(A)): Landlords must return a tenant's security deposit within forty-five (45) days after the official termination of the lease. If the landlord intends to make deductions to the deposit due to damages or other charges, all deductions must be listed in a written notice given/sent to the tenant at the same time as the remaining security deposit.
Deposit Interest: None; landlords are not required to collect interest on security deposits.