Washington Rental Lease Agreement Templates
The Washington Rental Lease Agreements are legally-binding contracts used by landlords for renting out property they own and/or manage. Lease agreements are one of the last steps landlords take in the rental process, coming after a landlord has successfully screened and approved of an applying tenant through the use of a rental application (below).
Washington lease statutes require landlords to make several disclosures to tenants through the lease, of which relate to lead paint, mold, fire protection, and nonrefundable fees, to name a few.
---
---
Types (6)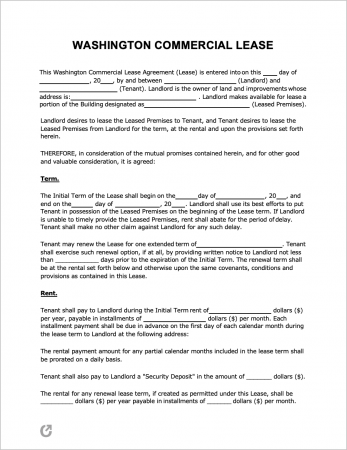 Commercial Lease Agreement – A contract that sets provisions for a landlord/owner to lease their property to a business.
Download – Adobe PDF (.pdf) | Word (.docx)
---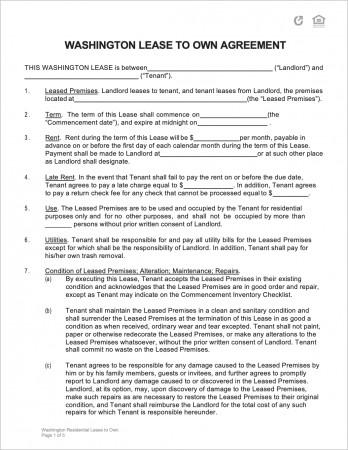 Lease to Own Agreement – In addition to structuring a lease, the document allows a homeowner to set a purchase price for their home. The tenant(s) can then optionally choose to execute the purchase price upon the lease's expiration.
Download – Adobe PDF (.pdf) | Word (.docx)
---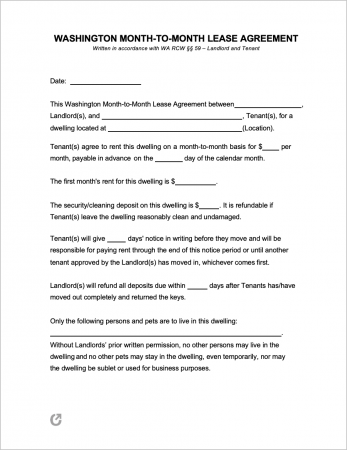 Month-to-Month Lease Agreement – A lease that renews every thirty (30) days. The lease-type is a popular option for landlords that can't lease their property on a yearly basis.
Download – Adobe PDF (.pdf) | Word (.docx)
---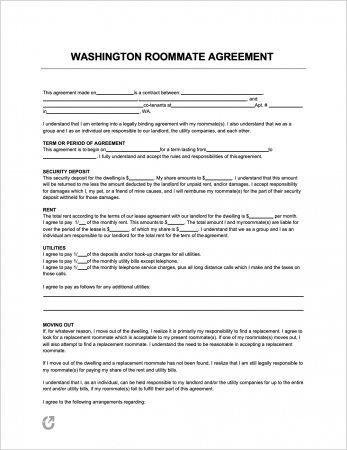 Roommate Agreement – Completed by tenants that share a single rented property for the purpose of avoiding conflict over day-to-day tasks.
Download – Adobe PDF (.pdf) | Word (.docx)
---
Standard Residential Lease Agreement – A lease contract used for setting up leases of one (1) year in length. Complies with all WA landlord-tenant statutes.
Download – Adobe PDF (.pdf) | Word (.docx)
---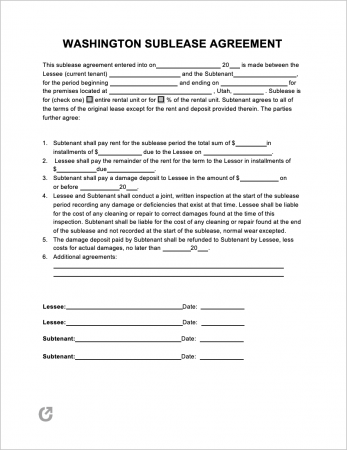 Sublease Agreement – Once completed, permits a tenant to vacate their rented property and have a new tenant (the "sublessee") take on their rent payments in exchange for the right to live in the rental. Tenants should check their lease agreement to see if subleasing is permitted.
Download – Adobe PDF (.pdf) | Word (.docx)
---
What is a Washington Lease Agreement?
A Washington Lease Agreement is a form used for locking tenant(s) into an obligation to rent a property for a specified length of time (typically one (1) year). Given the importance of selecting an optimal tenant, landlords are strongly suggested to require tenants to complete a rental application prior to allowing them to sign a lease.
---
State Laws & Guides
Laws: Title 59 RCW – "Landlord and Tenant"
Landlord-Tenant Guides / Handbooks
---
When is Rent Due?
Washington law does not require rent to be paid on a certain date/time. Instead, the rental contract should clearly state how and when tenants should pay rent to the landlord to avoid misunderstandings. There is also no state statute on grace periods.
---
Landlord's Access
Emergency (§ 59.18.150(5)): Landlords have the right to enter rented units in the event of an actual emergency.
Non-Emergency (§ 59.18.150(6)): Landlords have to provide tenants with at least two (1) days' written notice prior to showing the unit to potential tenants, and two (2) days' notice for all other purposes.
---
Required Disclosures
---
Security Deposits
Maximum – No limit.
Returning to Tenant (§ 59.18.280) – Washington law requires landlords to return security deposits within twenty-one (21) days after the termination of the lease (and the tenant's moves out of the rental), or twenty-one (21) days after the landlord learns that the tenant(s) abandoned the rental unit.
Deposit Interest (§ 59.18.270): Per state law, landlords are "entitled to receipt of interest paid on such trust account deposits."