Kentucky Bill of Sale Forms (4)
A Kentucky bill of sale confirms that a seller sold a piece of personal property to a buyer. This type of form is most commonly used for motor vehicles and boats; however, it can also be completed for firearms and other general items. It is important as it must be presented to the county office when registering an out-of-state boat or vehicle. Similarly, it serves as evidence that the buyer paid for the item and has full responsibility for it. As a result, they have a legal obligation to pay for any damages or fines that occur following the sale.
---
By Type (4)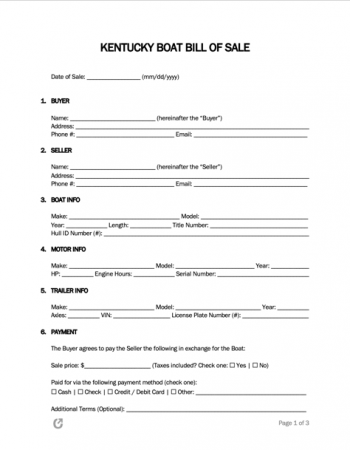 Boat Bill of Sale – A formal receipt that outlines the exact details of how and when a buyer purchased a vessel from a seller.
---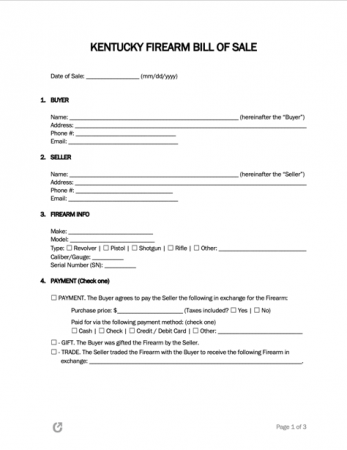 Firearm Bill of Sale – Provides a summary of a gun sale and both parties involved in the exchange.
---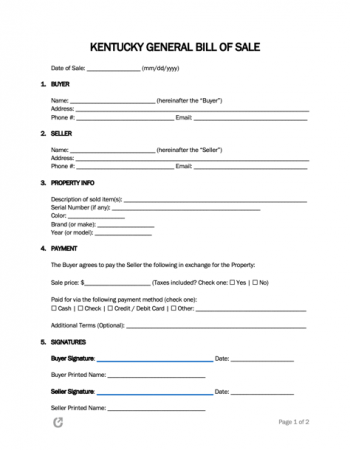 General Bill of Sale – Certifies ownership over an item that does not fall into a definite category.
---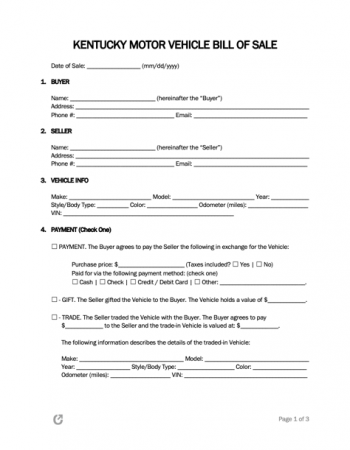 Motor Vehicle Bill of Sale – Describes the particulars of a car, van, or truck transaction.
---
Signing requirements
| | | | |
| --- | --- | --- | --- |
| Bill of Sale Type | Buyer Signature | Seller Signature | Notarization |
| Motor Vehicle | Required | Required | Not required |
| Boat | Required | Required | Not required |
| Firearm | Required | Required | Not required |
| General (others) | Required | Required | Not required |