Maryland Bill of Sale Forms (5)
A Maryland bill of sale form provides the buyer, seller, or a third party with information on the sale of personal property. The document proves that the seller transferred ownership, and the purchaser paid the agreed-upon price. Motor vehicles, boats, and guns require post-purchase registration, and therefore, must obtain all required documents during the sale to ensure a smooth transition. In addition to providing a signed bill of sale, the owner generally must present the active title.
Summary
Maryland law requires owners to notarize motor vehicle bill of sale forms.
Buyers only need to sign documents involving the transfer of a car or gun.
The state provides official boat and vehicle bill of sale forms.
---
---
Types (5)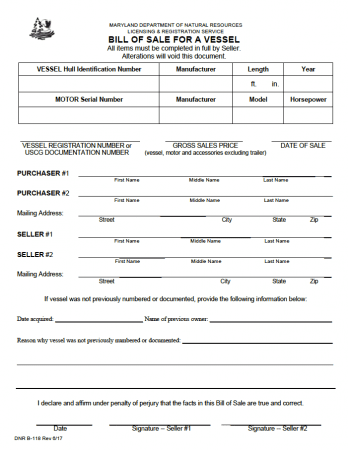 Boat Bill of Sale – A legal document that proves a change of vessel ownership between the seller and buyer.
Download: PDF
---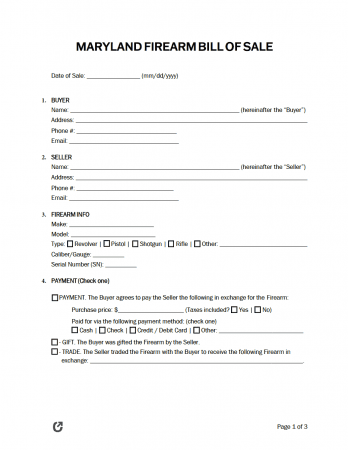 Firearm Bill of Sale – Outlines how and when a buyer purchased a firearm from a seller.
---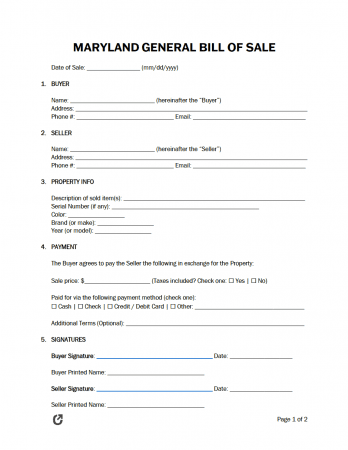 General Bill of Sale – A form completed by two private parties when purchasing, trading, or gifting an item.
---
---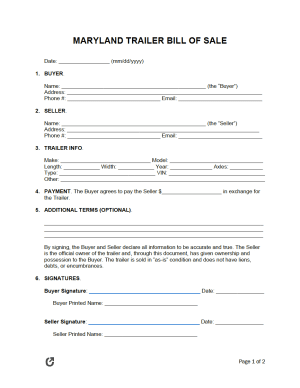 Trailer Bill of Sale – Serves as evidence that a buyer and seller agreed on the terms and conditions of a trailer purchase.
---
Signing Requirements
| | | | |
| --- | --- | --- | --- |
| Bill of Sale Type | Buyer Signature | Seller Signature | Notarization |
| Boat | Not required | Required | Not required |
| Firearm | Required | Required | Not required |
| General (others) | Required | Required | Not required |
| Motor Vehicle | Required | Required | Required |
| Trailer | Required | Required | Not required |
---
What is a Maryland Bill of Sale?
A Maryland bill of sale is a form that bears significance during a legal transaction because it implies the transfer of ownership from a merchant to a purchaser. It shows the buyer now has possession of the item, and consequently, the seller no longer has authority. Merchants protect themselves by having a copy of the signed bill of sale because it shows their release of rights. As a result, they do not have liability over the item if an accident or injury occurs after the sale.
However, the seller holds responsibility if they knew of a malfunction or necessary repair before the exchange. For example, suppose the seller inspected their vehicle, and the mechanic told them that it needed new brakes immediately. Instead of getting new brakes, the owner sells the car and fails to inform the buyer that it needs repair. In this case, the seller becomes liable for any injuries or deaths due to the vehicle's braking system.
---
Registration Forms:
Boats
The owner must complete their registration at a Maryland Department of Natural Resources (DNR) Service Center.
Bill of Sale (Form B-118) – A document created by the state of Maryland to outline the details of a vessel transaction.
Application for Maryland Registered Vessel (DNR Form B-240) – Boat owners use this form to receive a watercraft registration, which allows them to operate their boat in Maryland waters.
Fees – The state expects the registrar to pay for all costs during registration.
Title – Original, signed copy required. Use Form B-108 to apply for a new title, registration, or decals.
Additional (Optional) Documents
---
Registration Forms:
Firearms
In Maryland, residents do not need a license to buy a rifle or shotgun, nor do they need to register them. However, incoming residents must register their firearms within ninety (90) days of living in the state. In addition, handgun purchases require a permit to purchase. All applicants must submit the necessary forms through the MyLicense online portal, run by the Department of Maryland State Police (MSP). 
---
Registration Forms:
Vehicles
Locate a Motor Vehicle Administration (MVA) Office to submit the following documents.
Additional (Optional) Documents
Lien Release – The vehicle owner must pay off the lien before registering. If they do not pay the lienholder, the loan transfers onto their new Maryland vehicle title.
Lease Agreement for Vehicle – The driver of the leased vehicle must show the agreement and proof of monthly payments.
Maryland Motor Vehicle Power of Attorney – An agent can represent the car owner using this form.
Safety Inspection Certificate – A document stating a Maryland-approved station has inspected and passed the vehicle. If the owner of a used car cannot bring it to an inspection station, they can apply for a temporary registration using Form VR-129, which lasts for thirty (30) days.
Security Interest Filing Statement (Form VR-217) – Required for vehicles with more than one lien.
---
Registration Forms:
Trailers
Owners must submit the documents and payment for trailer registration to an MVA Location.
Bill of Sale – This form must accompany new and used trailers transactions.
Payment – The amount owed by the taxpayer depends on the trailer's weight and type.
Excise Tax – Owners of trailers seven (7) years or older must pay a 6% excise tax on the total cost (or $320 if the value is below this amount).
Identification (ID) – The MVA uses this documentation to check the owner's name, address, and birthday.
Additional (Optional) Documents
Inspection – Used trailers must undergo examination at a licensed Maryland station.
Photographs – The applicant must include two (2) photos of their homemade trailer with the paperwork. If approved, the MVA will assign the trailer a vehicle identification number (VIN) and serial plate.
---
DNR Service Centers: By Region
REGION
PHONE NUMBER
DNR SERVICE CENTER ADDRESS
Annapolis
(410) 260-3220

160 Harry S Truman Pkwy

Annapolis, MD 21401

Solomons
(410) 535-3382

14175 Solomons Island Rd. S

Solomons, MD 20688

Bel Air
(410) 836-4550

501 W. MacPhail Rd.

Bel Air, MD 21014

Essex
(667) 401-0760

1228 Eastern Blvd. A

Essex, MD 21221

Salisbury
(410) 713-3840

251 Tilghman Road, Room #2

Salisbury, MD 21804

Centreville
(410) 819-4100

120 Broadway Avenue, #5

Centreville, Maryland 21617

Frederick
(240) 236-9950

1601-A Bowmans Farm Road

Frederick, Maryland 21701

Cumberland
(301) 777-2134

13300 Winchester Road, SW

Cumberland, MD 21502