North Dakota Bill of Sale Forms (5)
A North Dakota bill of sale form is used when selling, trading, or gifting something of financial worth. Each person involved must complete the document to signify their agreement after negotiating a price and settling on the transfer process. After finalizing the form, the seller officially transfers the item to the buyer, and the new owner compensates the merchant via cash or trade.
Summary
Residents must use the North Dakota-provided vehicle bill of sale form.
Car bill of sale forms require notarization for registration.
Individuals must be at least eighteen (18) to purchase, sell, or own a gun.
---
---
Types (5)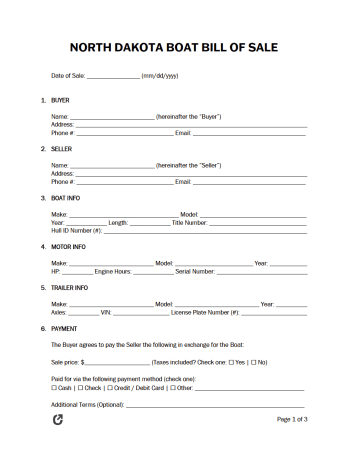 Boat Bill of Sale – Used to relieve an owner of all responsibility for a vessel.
---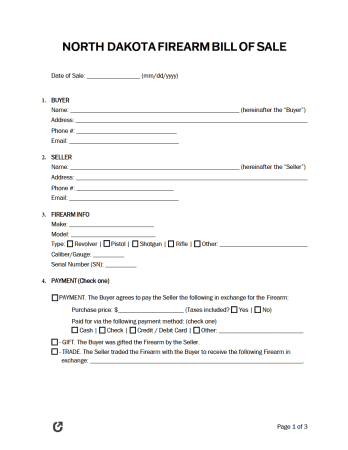 Firearm Bill of Sale – Endorses the rightful change in ownership of shotguns, handguns, pistols, and other firearms.
---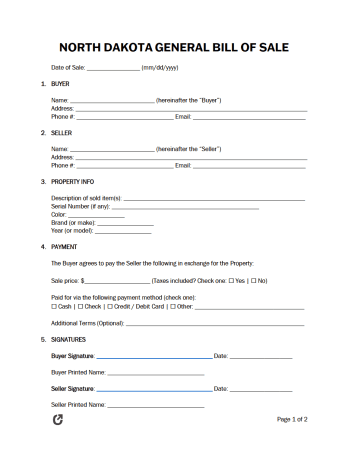 General Bill of Sale – Acts as a payment note when selling antiques, collectibles, furniture, instruments, and other similar items.
---
---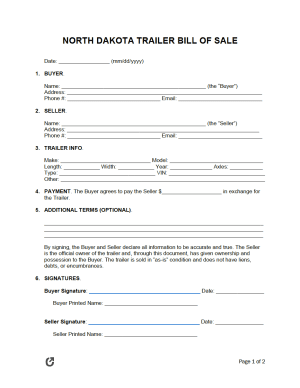 Trailer Bill of Sale – Assists in the progress of transferring a utility trailer from one party to another.
---
Signing Requirements
| | | | |
| --- | --- | --- | --- |
| Bill of Sale Type | Buyer Signature | Seller Signature | Notarization |
| Boat | Required | Required | Not required |
| Firearm | Required | Required | Not required |
| General (others) | Required             | Required | Not required |
| Motor Vehicle | Not required | Required | Required |
| Trailer | Required             | Required | Not required |
---
What is a North Dakota Bill of Sale?
A North Dakota bill of sale legitimizes the transfer of products, goods, or personal items from a vendor to an individual. It presents in-depth particulars about the deal and represents the goodwill of both parties in carrying out the transaction as stated in the document.
Both parties must include information about how the buyer acquired the item in the bill of sale. For example, in a standard private vehicle deal, the buyer and seller would meet up to transfer the title and keys. However, if they live far away from one another, they may have to hire a service to deliver the car. By writing the details in the form, both parties have a clear record of the agreement if any issues arise.
North Dakota residents who gift or trade personal property should use a bill of sale. The individuals authorize the transfer of ownership and any additional terms by utilizing the form. This process acts as a buffer against legal accusations since it assigns liability to the buyer and removes it from the seller.
---
Registration Forms:
Boats
Submit the required information to the North Dakota Game and Fish Department or register online.
---
Registration Forms:
Firearms
Citizens do not need to register handguns or assault weapons. However, to open carry, the owner must have a permit, which they can apply for at a nearby Sheriff's Department.
Concealed Weapon License (CWL) Application – The applicant must complete this form online to apply for a CWL.
Test Administrator Approval – The resident must complete and pass an open book test before applying and obtain a certification to send into the state.
Driver's License – A photocopy of the applicant's current and valid license.
Passport Photos – Two (2) colored pictures of the individual taken by an approved vendor.
Fingerprint Cards – A law enforcement officer or test administrator must take the applicant's fingerprints and create two (2) official cards.
---
Registration Forms:
Vehicles
Make an appointment with a North Dakota Department of Transportation (NDDOT) District Office to register a car.
Additional (Optional) Documents
---
Registration Forms:
Trailers
The NDDOT mandates the registration and titling of trailers weighing over 1,500 pounds.
Bill of Sale – This document takes away an owner's rights and responsibilities for a trailer and gives it to another person.
Application for Certificate of Title (Form SFN 2872) – This form provides information about the trailer to the state.
Payment – Fees depend on the county where the applicant registers and titles the trailer.
Identification (ID) – The person (or agent) registering and titling the trailer must have their driver's license or state ID to prove their private information.
Additional (Optional) Forms
---
DOT Offices: By District
DISTRICT
PHONE NUMBER
DOT OFFICE ADDRESS
Bismark
(701) 328-6950

218 Airport Rd.

Bismarck, ND 58504

Devils Lake
(701) 665-5100

316 Sixth St. S.E.

Devils Lake, ND 58301

Dickinson
(701) 227-6505

1700 Third Ave. W., Ste. 101

Dickinson, ND 58601

Fargo
(701) 239-8900

503 38th St. S.

Fargo, ND 58103

Grand Forks
(701) 787-6500

1951 N. Washington St.

Grand Forks, ND 58203

Minot
(701) 857-6925

1305 Hwy. 2 Bypass E.

Minot, ND 58701

Valley City
(701) 845-8800

1524 Eighth Ave. S.W.

Valley City, ND 58072

Williston
(701) 774-2700

605 Dakota Pkwy. W.

Williston, ND 58801