Oregon Bill of Sale Forms (5)
An Oregon bill of sale form is used when a merchant or business sells an item to a customer or another company. It outlines the purchase, including the condition of the product, the amount sold, and the exchange process. The buyer and seller must sign to certify the purchase and confirm the listed information.
Summary
Oregon has state official bill of sale forms for the transfer of guns, boats, and cars.
Merchants and purchasers do not need to notarize the document.
Residents must undergo a background and mental health check to purchase a gun.
---
---
Types (5)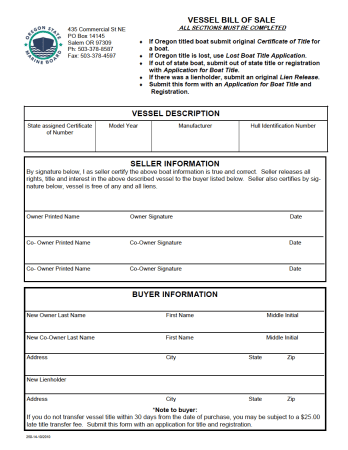 Boat Bill of Sale – To transcribe the happenings of a vessel transaction.
Download: PDF
---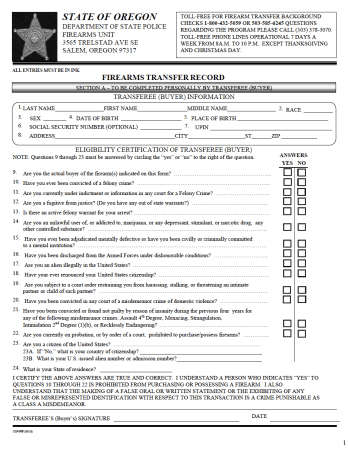 Firearm Bill of Sale – This form defines the names and identities of buyers and sellers who transferred a weapon.
Download: PDF
---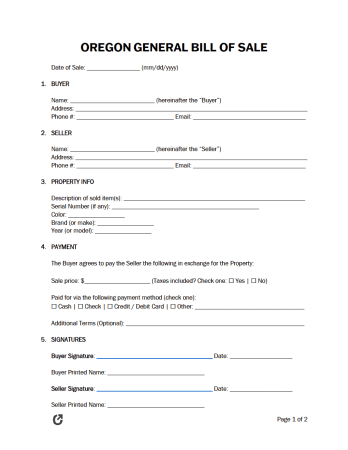 General Bill of Sale – Serves as an acknowledgment of ownership change regarding a generic item.
---
---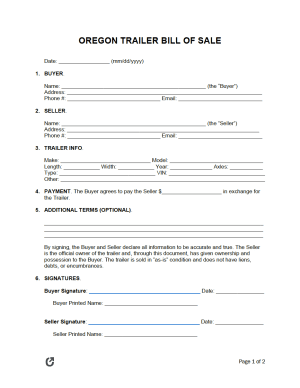 Trailer Bill of Sale – This document shows that an individual rightfully compensated the owner of a utility trailer for possession.
---
Signing Requirements
| | | | |
| --- | --- | --- | --- |
| Bill of Sale Type | Buyer Signature | Seller Signature | Notarization |
| Boat | Not required | Required | Not required |
| Firearm | Required | Required | Not required |
| General (others) | Required             | Required | Not required |
| Motor Vehicle | Not required | Required | Not required |
| Trailer | Required             | Required | Not required |
---
What is an Oregon Bill of Sale?
An Oregon bill of sale acts as a formal record of a seller receiving cash or an item of similar value from a buyer to release their ownership.
This type of transaction requires the buyer to pay the total amount for the item immediately. In other words, the individual cannot request a payment plan or put an item on layaway. Instead, they would need to complete and sign a document that binds them to regular payments (i.e., weekly, monthly, etc.).
Residents can also use a bill of sale when gifting or donating an item. Gifting generally happens when an individual gives a family member or friend a family heirloom, antique, or another personal belonging. Similarly, donations can occur by raffle, community outreach, charity, aid, or other situations where people contribute to a cause. By keeping a copy of the form, both parties can show a record of the transaction occurring and use it for tax purposes as needed.
---
Registration Forms:
Boats
Select a registration agent to submit the required vessel documents.
Additional (Optional) Forms
Detailed Boat History – To obtain a vessel's history (i.e., manufacturer, age, previous owner(s), etc.).
Inheritance Affidavit – For individuals to take ownership or sell a vessel after the owner has passed away.
Lien Release – The lienholder completes this form after the owner pays their loan on the vessel. After filling it out, the lienholder either mails the form to the agent or the vessel holder makes a copy and presents it upon application.
Oregon Boat Power of Attorney – For an authorized representative to sign documents or pay for vessel registration on behalf of the owner.
Hull Identification Number (HIN) Inspection – A HIN inspection does not apply to new boats with an MSO or boats correctly titled in another state. Instead, it pertains to 1) homebuilt ships, 2) boats never registered, 3) vessels registered in a state that does not issue titles, and 4) watercraft with an incorrect HIN.
Manufacturer's Statement of Origin (MSO) – For new boats only.
---
Registration Forms:
Firearms
There are no gun registration laws in Oregon. To obtain a concealed handgun license (CHL), drop off forms and payment to a nearby sheriff's office.
Training Course – Oregon requires residents (and individuals in bordering states) to take and pass an online course before submitting a concealed handgun license application.
Application – The registrar must obtain the county-specific application from their local sheriff's office.
Background Check – The Background Check Unit (BCU) runs the applicant's name through the following servers: national crime information center (NCIC), driving record with the Oregon DMV, Oregon Department of Corrections, and mental health records.
Fingerprints – If required, the applicant must follow the instructions provided by the BCU.
Payment – The training course to receive a CHL costs $55. Each county charges additional fees for the permit.
Photo/Identification (ID) – Must be an accepted form of photo ID provided by a state or federal office.
---
Registration Forms:
Vehicles
Find a DMV office to submit vehicle registration forms.
Bill of Sale (Form 705-501) – Aids in the selling process of a car, truck, or van.
Application for Title and Registration (Form 735-226) – Enables an owner to apply for a title and registration.
Odometer Disclosure Statement – The buyer and seller must complete this document for vehicles less than twenty (20) years old or models 2011 or newer. Owners of cars that do not qualify must present an exemption document to the DMV (Form 735-6745).
Insurance (Minimum Coverage) –

Bodily Injury – $25,000 per person / $50,000 per crash (2+ persons)
Property Damage – $20,000 per crash
Uninsured Motorist – $25,000 per person / $50,000 per crash (bodily injury)

Payment – Registration fees depend on the vehicle's year and miles per gallon (MPG). Individuals can also pay extra for a custom license plate.
Identification (ID) – A resident proves their ownership by showing a valid form of photo ID.
Title – To prove ownership, the applicant must have the title on hand when registering. If this document is not available, they must complete an application for a replacement / duplicate title (Form 735-515).
Additional (Optional) Forms
---
Registration Forms:
Trailers
Individuals only need a trailer title and registration if they weigh over 1,800 pounds loaded. The owner must apply for a license plate at a DMV location.