Tennessee Bill of Sale Forms (5)
A Tennessee bill of sale form documents the events occurring during a transaction between a seller and buyer. Both parties complete the form after agreeing on a sale price, followed by the buyer compensating the seller and the seller providing the personal property, along with any necessary items like keys or paperwork. It verifies the deal by giving both parties a form that functions as a receipt.
Summary
Tennessee is a non-title state meaning that boats do not require a title.
Residents must use the state form for boat and car sales.
Anyone (mentally well and not a felon) over 18 can buy, sell, or own a gun.
---
---
Types (5)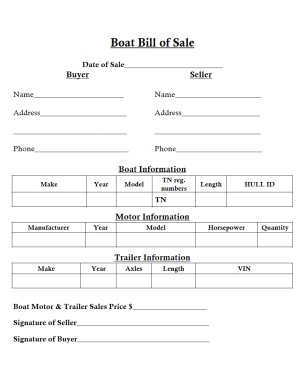 Boat Bill of Sale – Used when gaining possession of a boat or other watercraft from a private seller.
Download: PDF
---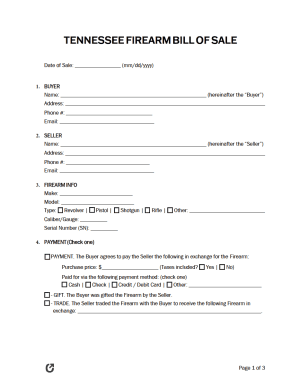 Firearm Bill of Sale – Attests a firearm's physical movement of ownership.
---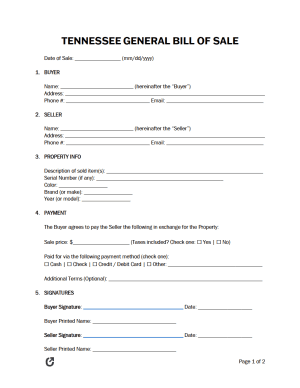 General Bill of Sale – Acts as a note of purchase paid for by cash or trade or received by gift.
---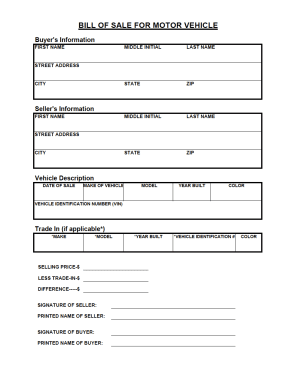 Motor Vehicle Bill of Sale – Certification that a car owner underwent an exchange with another person.
Download: PDF
---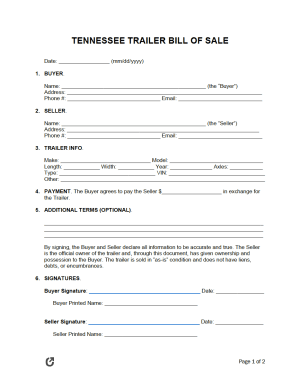 Trailer Bill of Sale – Makes the transaction of a carrying trailer from a seller to a buyer evident.
---
Signing Requirements
| | | | |
| --- | --- | --- | --- |
| Bill of Sale Type | Buyer Signature | Seller Signature | Notarization |
| Boat | Required | Required | Not required |
| Firearm | Required | Required | Not required |
| General (others) | Required | Required | Not required |
| Motor Vehicle | Required | Required | Not required |
| Trailer | Required             | Required | Not required |
---
What is a Tennessee Bill of Sale?
A Tennessee bill of sale form serves as a legal document that outlines the specifics of a business agreement, detailing the transfer of personal property from one individual to another.
Transactions typically transpire through a dealership or private sale. In cases involving a dealer, the salesperson handles registration matters (if applicable). Conversely, when the exchange occurs via private sale, the new owner must register the item if required. For transactions involving registered personal property like cars or boats, the previous owner should notify the state about the change in possession.
Although Tennessee's Department of Revenue (DOR) does not mandate a bill of sale for registering a car or boat, the state advises using the form to furnish proof of legal purchase. The document demonstrates that the item now belongs to the new owner, relieving the previous owner of any responsibility.
---
Registration Forms:
Boats
Residents must register their boat with a Tennessee county clerk or use the online portal.
Bill of Sale – To officialize the transfer of a vessel from a seller to a buyer.
Payment – Based on the length of registration and size of the watercraft.
Registration Application – Needed to obtain a boating certificate of number. Only available through county clerk locations. The owner does not need to complete this form if they purchased the vessel through a dealership.
---
Registration Forms:
Firearms
The state does not require firearm registration and has minimal carry laws. However, gun holders can obtain a permit to ease restrictions, thus allowing them to carry in more places. Individuals can choose from two types of licenses: regular and enhanced. They must submit the applicable paperwork to a driver services center or complete an online application.
Proof of Firearm/Handgun Safety Course – A certification explaining the individual took and passed an accepted class. The individual must meet either the EHCP or CCP training requirements.
Application – Provided during the application process.
Proof of U.S. Residency – A passport, birth certificate, green card, or another document proving tenancy.
Proof of Social Security Number (SSN) – The applicant must present their social security number.
Proof of Tennessee Residency – Bill statements, a driver's license, state ID card, insurance documents, or other applicable forms.
Government-Issued Photo – Recent pictures of the applicant to verify identity.
Payment – Fees depend on the type of permit and its duration.
---
Registration Forms:
Vehicles
Owners must submit forms and payments to a local county clerk location.
Bill of Sale – A form created by the state to document the sale of a car.
Odometer Disclosure Statement (Form RV-F1317001) – To verify the odometer reading if not available on any other given forms.
Insurance (Minimum Requirements) –

Bodily Injury (per incident): $25,000 for one person
Bodily Injury (per incident): $50,000 for two (2) or more people
Property Damage (per accident): $15,000

Payment – Fees vary based on the type of owned vehicle.
Registration Application – The owner must obtain this form through a county clerk's office.
Title – Required for used vehicles. If the car is new, the owner must present the manufacturer's statement of origin (MSO).
Additional (Optional) Documents
---
Registration Forms:
Trailers
Privately owned and operated trailers do not need a registration or title in Tennessee. This law includes homemade trailers and those for boats and utility purposes. The vehicle towing the trailer must have a registration, title, and insurance policy.
Only commercial, pole, and rental trailers, or campers, need registration and/or a title. Individuals traveling out of the state must also check with the laws of that jurisdiction to ensure they do not require licensing.