Wyoming Bill of Sale Forms
A Wyoming bill of sale form is a synopsis of a financial arrangement between two (2) parties. The buyer vows to pay the owner upon finalizing and signing the document. In exchange, the seller agrees to give the personal property to the new owner. This person must include the necessary paperwork, accessories, or other accompanying items.
Summary
Sellers must sign boat bill of sale forms in front of a notary public.
Wyoming is one of the most lenient states for owning and selling guns.
Residents need to present a trailer bill of sale form when registering and titling it.
---
---
Types (5)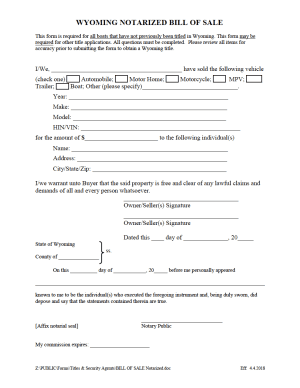 Boat Bill of Sale – A form signed and completed before the exchange of funds for vessel ownership.
Download: PDF
---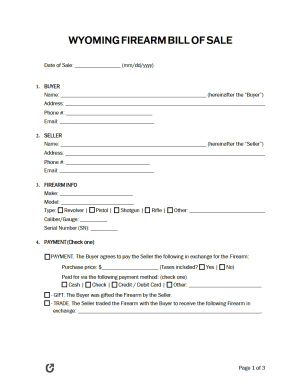 Firearm Bill of Sale – Serves as legal documentation of a gun transaction between two (2) law-abiding citizens.
---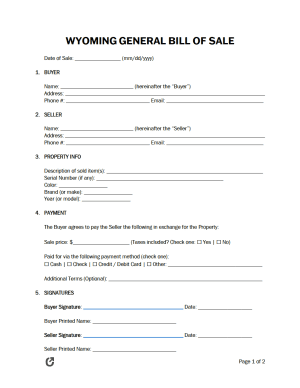 General Bill of Sale – Holds the purpose of recording the compromise that occurred for the repossession of personal property.
---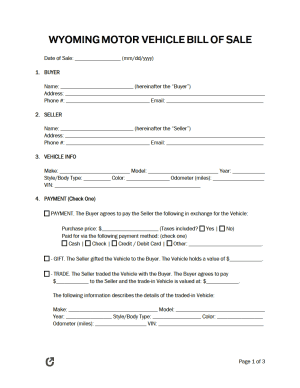 Motor Vehicle Bill of Sale – A pledge between a buyer and seller stating that the new owner will receive ownership of the car as-is, and the previous owner will collect the agreed-upon funds in trade.
---
Trailer Bill of Sale – Acts as official certification of the prearranged deal discussed between a merchant and purchaser to reassign ownership of a utility trailer.
---
Signing Requirements
| | | | |
| --- | --- | --- | --- |
| Bill of Sale Type | Buyer Signature | Seller Signature | Notarization |
| Boat | Not required | Required | Required |
| Firearm | Required | Required | Not required |
| General (others) | Required | Required | Not required |
| Motor Vehicle | Required | Required | Not required |
| Trailer | Required             | Required | Not required |
---
What is a Wyoming Bill of Sale?
A Wyoming bill of sale is a document that often coexists with identifying paperwork, such as a certificate of title, registration, or affidavit. However, the bill of sale does not need supporting forms since it can be singular. In other words, it holds power on its own by authenticating the transfer of an item.
Bill of sale forms have two main categories: state and non-state. Individuals only use the document for the state in which they reside. For instance, a Wyoming resident buying a boat would use a Wyoming boat bill of sale. They would not use a generic form or a document for another state.
On the other hand, buyers and sellers can use non-state documents, regardless of their location. An example of this situation is if a buyer purchases a puppy from a seller. They would carry out the transaction using a puppy bill of sale rather than a state-specific form.
---
Registration Forms:
Boats
Present registration documents and payment to a Wyoming game and fish department (WGFD) regional office.
Additional (Optional) Documents
Manufacturer's Statement of Origin (MSO) – For new vessels. Provides information about the construction of the boat.
---
Registration Forms:
Firearms
Residents are not mandated by the state to register their gun(s) and they can carry without a permit. Even though Wyoming has lenient firearm laws, individuals can still apply for a permit to add to the list of places they can open or concealed carry. If legally able, the person can complete the documents below and submit them to a county sheriff's office in exchange for a gun license. 
Concealed Firearm Permit Application – The person applying must complete the application and have additional documents ready prior to visiting a sheriff's office. Three (3) notarized copies are needed.
Handgun Safety Course – An official document stating the resident passed a certified course on firearm safety.
Valid Photographs – The applicant must have their picture taken at a department of transportation (DOT) driver services office within five (5) days after submitting the application.
Payment – Initial fees include a $64 charge for the application and a $15 fee (variable) to the sheriff's office.
---
Registration Forms:
Vehicles
Visit a county clerk's office to submit registration paperwork.
Additional (Optional) Documents
Dealer's Invoice – Only if the owner bought the car from a dealership.
MSO – Applicable to new vehicles.
Title – For vehicles previously titled in Wyoming.
Wyoming Motor Vehicle Power of Attorney – For an agent to take care of automobile responsibilities for someone.
---
Registration Forms:
Trailers
Obtain an application and other paperwork from a county clerk's office to register a utility (light) trailer. 
Additional (Optional) Documents
Dealer Purchase Agreement – For trailers purchased through a dealership.
Lien Release or Statement – Needed if the owner pays off the lien or has a current lien on the trailer.
Manufacturer's Suggested Retail Price (MSRP) – Only needed for brand new trailers.