Delaware Rental Lease Agreement Templates
The Delaware Rental Lease Agreements are documents, that once signed, require tenant(s) to make routine payments for a rental unit until the lease's expiration or the parties terminate the contract. The document includes each party's legal obligations in regards to rent, utilities, repairs, and other lease-mandated topics. Being templates, landlords can freely edit the forms to match their unique renting situation, so long all changes are made in correspondence to Delaware landlord-tenant laws.
---
---
Types (6)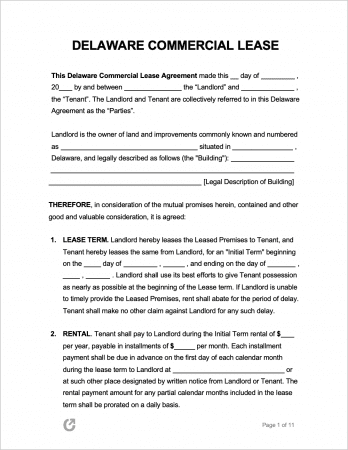 Commercial Lease Agreement – For use by landlords in leasing commercially-zoned land, buildings, offices, and other similar property types. Not bound by standard residential lease laws.
Download – Adobe PDF, Word (.docx)
---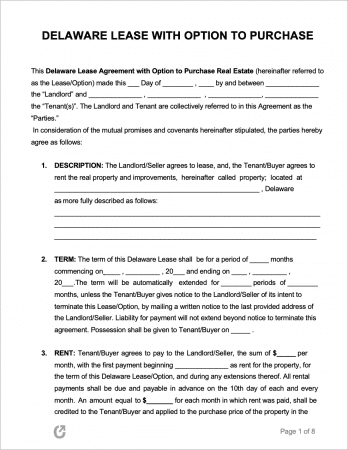 Lease to Own Agreement – Gives tenants the option (not the requirement) to purchase the leased property at the end of the lease term. Commonly used by homeowners in no rush to sell their home.
Download – Adobe PDF, Word (.docx)
---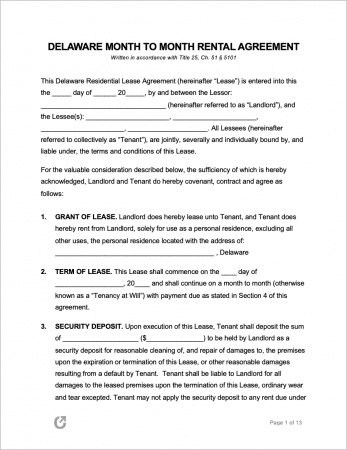 Month-to-Month Lease Agreement – Contains many of the same conditions of a standard lease, with the exception that it can be legally ended with a notice of only thirty (30) days from either party.
Download – Adobe PDF, Word (.docx)
---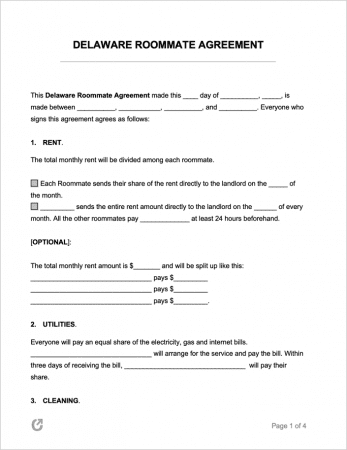 Roommate Agreement – Completed by roommates sharing the same rental property (or common area) to establish basic rules they all agree to follow.
Download – Adobe PDF, Word (.docx)
---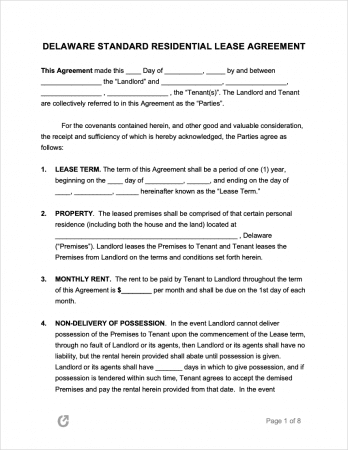 Standard Residential Lease Agreement – For leasing apartments, homes, condominiums, and other residential property for an average lease length of one (1) year.
Download – Adobe PDF, Word (.docx)
---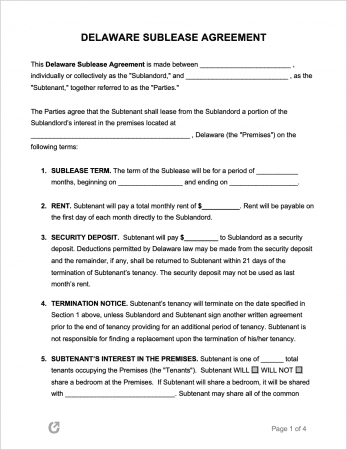 Sublease Agreement – Provides tenants with a means to rent out their leased property to a third party. Permission from the landlord commonly required.
Download – Adobe PDF, Word (.docx)
---
What is a Delaware Rental Lease Agreement?
A Delaware Rental Lease Agreement is a standard legal agreement necessary for landlords to rent out a property located in Delaware. The document sets forth certain rights and responsibilities of each party who signs the document. It is a good idea for landlords to ask tenants to fill out a rental application so that they have a means of vetting them prior to the signing of a lease.
---
State Laws & Guides
Laws: DE Title 25, Ch. 51 – 59 – "Residential Landlord-Tenant Code"

Landlord-Tenant Guides / Handbooks
---
When is Rent Due?
According to § 5501, rent is due "at the time and place agreed to by the parties." Apart from cases where there is a prior agreement, rent must be paid at the beginning of the term for leases that have terms less than one (1) month, whereas rent must be paid at the beginning of every month for longer leases (such as standard yearly leases). There is a grace period of five (5) days, meaning that the landlord cannot charge a late fee during that time.
---
Landlord's Access
Emergency (§ 5509): Landlords can enter at any time in emergencies.
Non-Emergency (§ 5509(b)): Landlords may enter with at least forty-eight (48) hours' notice to make repairs, decoration changes, inspections, and to show the property to prospective renters. Landlords can only enter between 8:00 a.m. and 9:00 p.m.
---
Landlord's Duties
As stated by Delaware Code § 5305, landlords are obligated to uphold the following (in addition to obligations included in the lease):
Comply with all state and local codes pertaining to the construction, maintenance, appearance, and use of the rental unit(s);
Provide tenants with a dwelling that does not endanger the 1) health, 2) welfare and 3) safety of the tenants or guests;
Keep all common areas of the property maintained and in a sanitary condition;
When needed, make any and all repairs necessary to keep the rental unit(s) in as good a condition as they were, (or should have been per state law), at the start of the lease; and
Keep any and all electrical, plumbing and related facilities offered by the landlord in working order.
---
Required Disclosures
---
Security Deposits
Maximum (§ 5514) – For annual agreements, a maximum of one (1) month's equivalent rent may be charged as a deposit. For month-to-month leases, there is no limit.
Returning to Tenant (§ 5514) – Deposits and any deductions must be returned and listed in an itemized statement within a period of twenty (20) days.
Deposit Interest: Not required (no relevant statute).
Uses of the Deposit (§ 5513 (c)): Landlords can legally deduct from tenant's security deposits for three (3) reasons, which are:
Outstanding rent or fees (termination fees included);
Expenses that resulted from re-leasing the property as well as making any renovations/repairs that occurred due to the tenant(s) early termination of the lease. Deductions cannot exceed one (1) months' rent; and
The reimbursement for damages to the rental unit beyond typical wear and tear, or that cannot be fixed by painting and/or cleaning.