Georgia Rental Lease Agreement Templates
The Georgia Lease Agreements allow landlords to set binding conditions that tenant(s) leasing their property are required to follow. Each agreement has unique characteristics that allow them to be useful for specific scenarios, such as the leasing of property for business purposes, leasing property that can be purchased by the tenants, and more. Although each form is different in its own right, they all cover major topics such as the cost of rent, utilities, guests, pets, default, eviction, and term.
---
---
Types (7)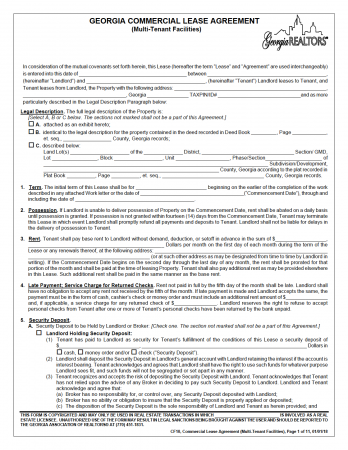 Commercial Lease Agreement (Form CF10) – Solely for use by landlords and property owners that are looking to lease their property to business-owning tenants.
Download – Adobe PDF (.pdf)
---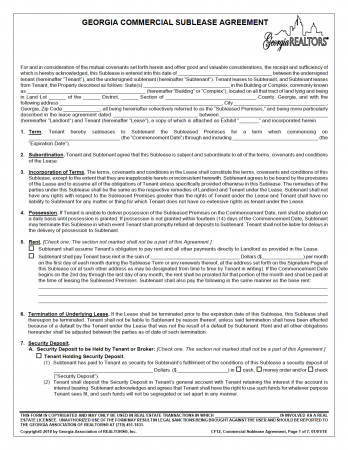 Commercial Sublease Agreement (Form CF12) – A form for use by business-owning tenants to lease a currently rented space or building to another business.
Download – Adobe PDF (.pdf)
---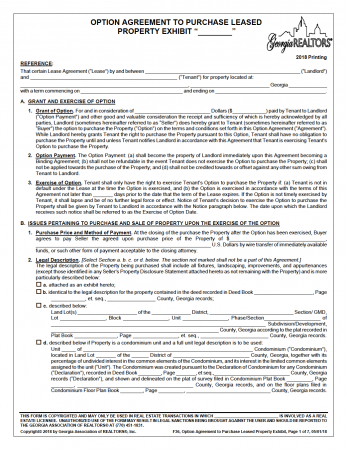 Lease to Own Agreement (Form F36) – A form that serves as two (2) forms in one – allowing a property to be leased normally, with the added condition that the tenant(s) can choose to purchase the property at the end of the lease.
Download – Adobe PDF (.pdf)
---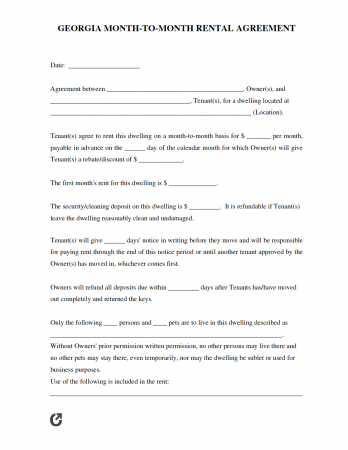 Month-to-Month Rental Agreement – Used for renting out property on a monthly basis. Either party can terminate the agreement with minimal notice.
Download – Adobe PDF (.pdf) | Word (.docx)
---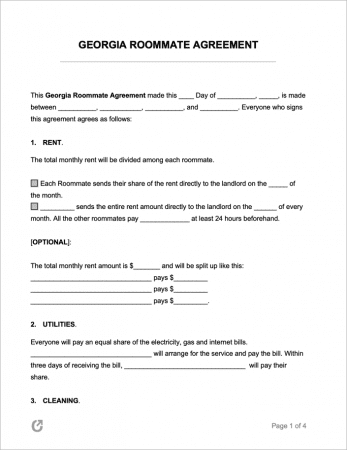 Roommate Agreement – Used for helping to establish positive relations among members of a shared rental unit.
Download – Adobe PDF (.pdf) | Word (.docx)
---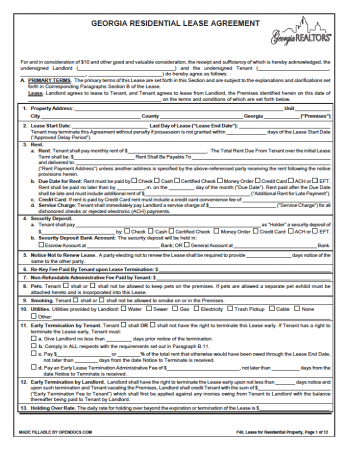 Standard Residential Lease Agreement (Form F40) – The most commonly used lease-type; reflects landlord and tenant legal obligations as set out by Georgia state law.
Download – Adobe PDF (.pdf)
---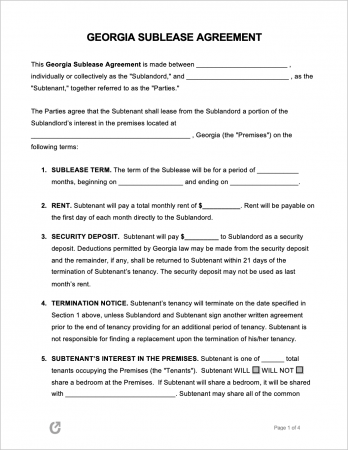 Sublease Agreement – A legally-binding contract signed between a sublandlord (original tenant to a property) and a subtenant (new tenant) that allows the subtenant to live in the property instead of the sublandlord.
Download – Adobe PDF (.pdf) | Word (.docx)
---
What is a Georgia Lease Agreement?
A Georgia Lease Agreement is a document used to clearly indicate the legal obligations a tenant must uphold when leasing a property, as well as those of the landlord who owns the property. As a means of vetting tenants before entering into this legally-binding relationship, it is useful for landlords to have tenants fill out a rental application.
---
State Laws & Guides
Laws: Georgia §§ 44-7 – "Landlord and Tenant"
Landlord-Tenant Guides / Handbooks
---
Landlord's Access
Emergency: Although not specified by state law, landlords may always enter the property without notice in emergency situations.
Non-Emergency: There is no state statute outlining non-emergency circumstances for landlord entry. However, page twelve (12) of The Georgia Landlord Tenant Handbook details that landlords may enter according to the language specified in the lease—with most leases specifying that reasonable access is possible with notice prior to entry.
---
Required Disclosures
---
Security Deposits
Maximum Amount: There is no maximum amount governed by state statute.
Returning to Tenant (§ 44-7-34): The deposit must be returned within one (1) month to the tenant. Landlords with actual cause for retaining any portion of the security deposit must provide a written statement to tenants which specify the reasons for doing so.
Deposit Interest: Landlords are not required to collect interest on tenant's security deposits.