Idaho Rental Lease Agreement Templates
The Idaho Rental Lease Agreements are forms that explain the duties and responsibilities of both the renters (tenants) and the landlord regarding the renting of a room, unit, home, office, or building. With the exception of roommate agreements, the forms are legally binding; both parties can face repercussions if the lease contract were to be breached. Depending on the lease selected, the rental contract can cover a wide range of topics of which can include those relating to utilities, rent payments, guests, security deposits, duration, and more.
---
---
Types (6)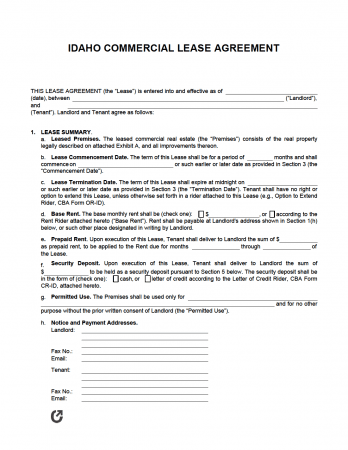 Commercial Lease Agreement – Used for renting buildings, rooms, floors, and other types of property to businesses. Can be made Triple Net (NNN), Gross, or Modified Gross.
Download – Adobe PDF, Word (.docx)
---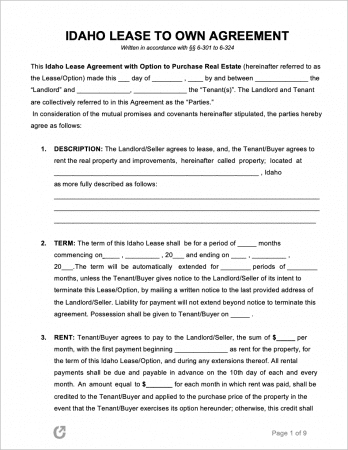 Lease to Own Agreement – Outlines provisions for tenants leasing a property to eventually purchase it from the landlord of that property.
Download – Adobe PDF, Word (.docx)
---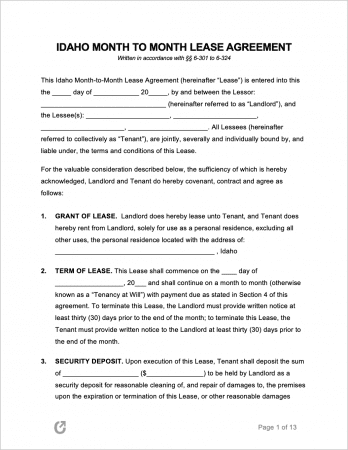 Month-to-Month Lease Agreement – Automatically renews on a monthly basis unless either party chooses to end it (typically with thirty (30) days' notice).
Download – Adobe PDF, Word (.docx)
---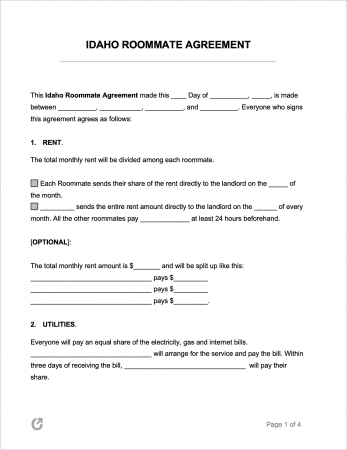 Roommate Agreement – A more "casual" form used to set rules among roommates sharing a single rented property.
Download – Adobe PDF, Word (.docx)
---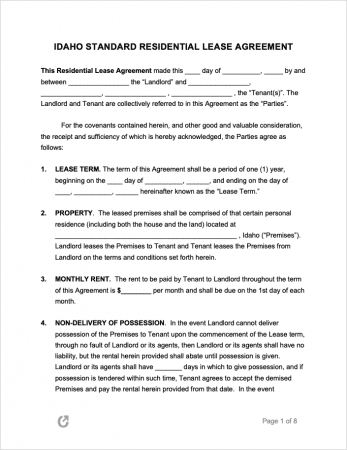 Standard Residential Lease Agreement – Used for binding tenants into a lease for an average length of one (1) year. Compliant with Idaho state landlord and tenant laws.
Download – Adobe PDF, Word (.docx)
---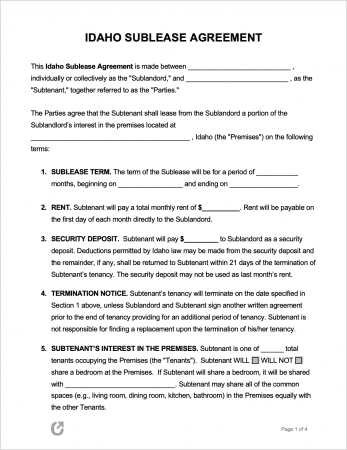 Sublease Agreement – A contract that legally establishes an arrangement where the original tenant leases part (or all) of the rental unit to a new tenant, also referred to as a subtenant.
Download – Adobe PDF, Word (.docx)
---
What is an Idaho Lease Agreement?
An Idaho Lease Agreement documents the legal relationship between a landlord and one (1) or more tenants in relation to the renting of a property. While each party's obligations differ, they are equally liable to follow through on the contract's obligations. To ensure only those that are trustworthy and have a good rental history are accepted as tenants, landlords should make use of the Idaho-specific rental application.
---
State Laws & Guides
Laws: Idaho Landlord and Tenant Manual.pdf
Guides / Handbooks
---
When is Rent Due?
There is no state law establishing when rent is due. Likewise, there is no state law regarding grace periods. However, the Landlord and Tenant Manual published by the State of Idaho Office of Attorney General clarifies that the lease "governs the date on which the rent is due and the consequences for not paying on time or in full."
---
Landlord's Access
Emergency: State law does not specifically address landlord entry requirements in emergency circumstances. In any case, landlords are legally able to access the properties they lease in any situation that constitutes an emergency.
Non-Emergency: There is no state law regarding the landlord's access to rental properties in non-emergency situations. But in the interests of keeping friendly landlord-tenant relations, landlords should provide reasonable notice and only enter the premises during reasonable hours.
---
Landlord's Duties
Per page 11/12 of the Landlord and Tenant Manual, landlords are responsible for ensuring the rental property is maintained in order to protect the health and safety of tenants. To do this, they must oblige with all state and local laws and ordinances pertaining to how properties are required to be kept. This includes ensuring tenants have access to heat, running water, and a rental that doesn't leak and doesn't have hazards such as exposed wiring or infestations.
---
Tenant's Duties
As stated in the Landlord and Tenant Manual: Apart from following the requirements included in the lease, tenants are responsible for ensuring damage doesn't occur to the rental, garbage is disposed of properly, appliances/fixtures are used according to their purpose, the property isn't used for illegal purposes, and it is kept as clean and sanitary as reasonable.
---
Required Disclosures
Lead Paint Disclosure: In accordance with federal law, known lead paint hazards of properties built before 1978 must be disclosed by landlords. Landlords must also provide tenants with an information pamphlet that further details the matter.
---
Security Deposit Laws
Maximum Security Deposit: There is no statute stating the maximum amount a landlord is permitted to charge as a security deposit.
Returning to Tenant (§ 6-321 ): If there is no fixed time established in the rental agreement, a security deposit must be returned to tenants within twenty-one (21) days. In any event, a deposit must be returned within thirty (30) days after the surrender of the premises by the tenant. For cases when the deposit will not be paid out in the full amount, landlords are required to provide a signed statement that itemizes the amounts lawfully retained by the landlord, in addition to the reasons for doing so. They will also be required to provide a detailed list of expenditures made from the deposit.
Deposit Interest: No statute; landlords are not required to collect interest on tenant deposits.
Uses of the Deposit (§ 6-321): Landlords can make deductions from the security deposit to cover costs as stated in the lease agreement, so long any "damage" to the rental is not caused by standard wear and tear.