Nebraska Rental Lease Agreement Templates
Nebraska Rental Lease Agreements are property management documents used for renting out dwellings/offices to individuals, families, and business owners. The forms establish a set of binding obligations that the lessee(s) (those renting out the property) and the lessor (owner/manager of the property) are required to follow until the lease's eventual expiration.
Subjects and topics that are commonly included in a rental contract are those relating to rent payments, security deposits, the lease term, pets, utilities, eviction, and default, to name a few. Not only do leases need to comply with the Federal Fair Housing Act, but state and local laws and ordinances as well.
---
---
Types (6)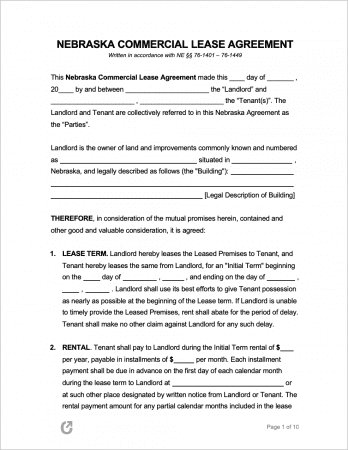 Commercial Lease Agreement – Outlines conditions for the lease of a commercial property used by businesses only.
Download – Adobe PDF, Word (.docx)
---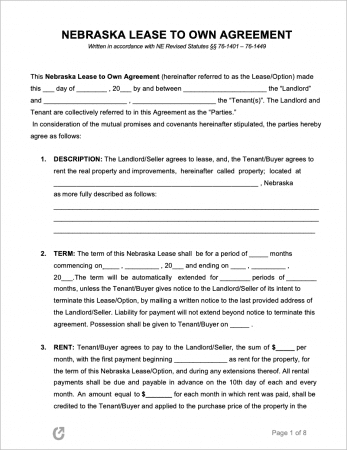 Lease to Own Agreement – A form used by homeowners to establish a leasing situation that presents the tenant(s) with the option (not the requirement) to purchase their dwelling at the end of the lease.
Download – Adobe PDF, Word (.docx)
---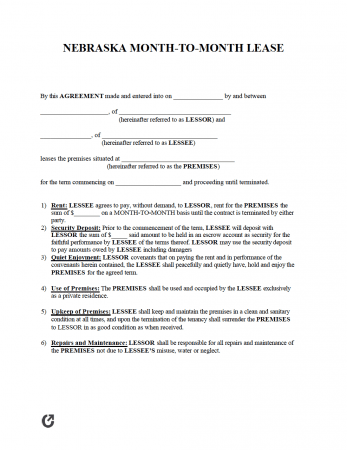 Month-to-Month Lease Agreement – For landlords that do not want to commit to leasing out their rental for periods of one(1) year or longer. Provides flexibility by allowing either party to cancel the agreement with a notice of only thirty (30) days.
Download – Adobe PDF, Word (.docx)
---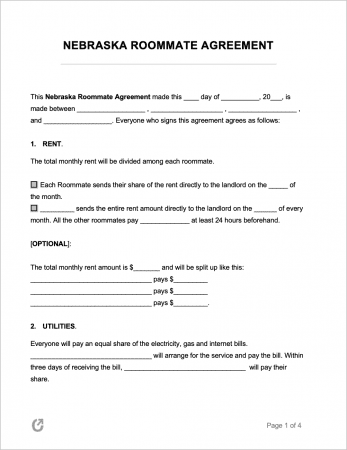 Roommate Agreement – An agreement that does not involve landlords – solely to be completed by roommates sharing the same rented property. Allows the group to come to conclusions on topics relating to rent sharing, utility costs, guests, pets, noise, and more.
Download – Adobe PDF, Word (.docx)
---
Standard Residential Lease Agreement – A fixed-term rental contract for renting apartment units, homes, and other property-types for an average term of one (1) year.
Download – Adobe PDF
---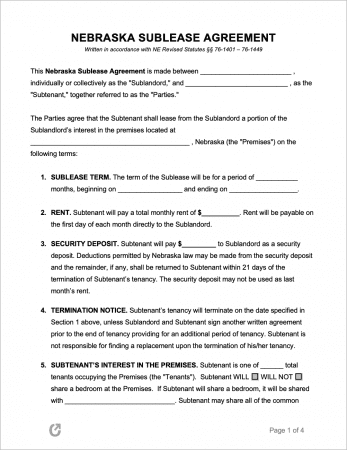 Sublease Agreement – Is completed by current tenants to a residential property. Allows them to introduce a new tenant to live in the property, who will also take over all rent/utility payments.
Download – Adobe PDF, Word (.docx)
---
What is a Nebraska Lease Agreement?
A Nebraska Lease Agreement is a document that sets out the fundamental matters that must be covered for a residential property to be leased. To aid the process of selecting the most ideal tenant to enter into the agreement with, landlords are advised to ask any tenants they are considering to fill out a rental application.
---
State Laws & Guides
Laws: Nebraska Uniform Residential Landlord and Tenant Act (§§ 76-1401 to 76-1449)
Landlord-Tenant Guides / Handbooks
---
When is Rent Due?
As stated by § 76-1414(3), rent is due in equal monthly installments at the beginning of each month, unless otherwise agreed. Terms of one month or less require rent to be paid at the beginning of the term. There is no grace period outlined by state law.
---
Landlord's Access
Emergency (§ 76-1423(2)): Landlords do not need to obtain consent from tenants before entering a rental unit in an emergency.
Non-Emergency (§ 76-1423(3)): Landlords are required to provide tenants with at least one (1) days' notice of their intent to enter. Landlords may only at reasonable times (business hours).
---
Landlord's Duties
As stated by § 76-1419, landlords need to comply with the following:
Abide by local and state-mandated building codes;
Make any and all repairs to the rental unit/premises to ensure it is habitable and safe;
Consistently clean all common areas and ensure they are in a safe condition;
Maintain all systems (electrical, plumbing, and heating) to ensure they are safe for tenants to use;
Provide tenants with a convenient and sanitary means of throwing away their garbage;
Provide all tenants with hot running water (24/7). If the unit has to have heat (per state law), landlords need to ensure heat is available at all times. Landlords do not have to provide heat if it is within the control of the tenant(s) and is supplied by a public utility.
---
Tenant's Duties
Section 76-1421 requires tenants to uphold the following:
Abide by health-related building codes;
Keep their rental unit clean;
Throw away garbage/rubbish in a safe and sanitary manner;
Comply with all bylaws and rules made by cooperatives/condominium regimes/neighborhood associations/etc;
Do not disturb other tenants;
Do not destroy or damage the rental unit (or purposefully allow anyone else to do so); and
Use all appliances/utilities/equipment in the way they're meant to be used, and keep them as clean as reasonable.
---
Required Disclosures
Lead Paint Disclosure: Landlords of rental dwellings constructed prior to 1978 must inform tenants of any lead paint hazards they are aware of in the dwelling. Further to this, landlords are required to give a pamphlet about lead-based hazards in the home to tenants.
Names and Addresses (§ 76-1417): The names and addresses of the landlord and any party authorized to act on their behalf must be disclosed.
---
Security Deposits
Maximum (§ 76-1416(1)): Landlords may only demand a security deposit that is a maximum of one (1) month's periodic rent. They may, however, charge a pet deposit if the tenants have pets, which may be a maximum of one-fourth (1/4) of one month's periodic rent.
Returning to Tenant (§ 76-1416(2)): Landlords must return the security deposit within fourteen (14) days after the tenant demands it and has informed the landlord of the location where payment may be made or mailed. If landlords will retain any portion of the security deposit, they must provide the tenant with a written itemization of the amounts withheld.
Deposit Interest: No statute.
Uses of the Deposit (§ 76-1416): Landlords can make deductions from deposits for two (2) reasons:
To cover any unpaid rent, and
To pay for damages to the dwelling caused by the tenant(s) noncompliance with the lease.