New Hampshire Rental Lease Agreement Templates
The New Hampshire Rental Lease Agreements are templates that allow a property owner or landlord to rent out their property in exchange for regular payment. Upon download, the PDF formats can be filled-in and printed without the need to make any edits. If the landlord needs to make edits to a template to account for a unique renting situation, the Word (.docx) format should be downloaded. In NH, it is a requirement that leases of one (1) year or longer in duration be written.
---
---
Types (6)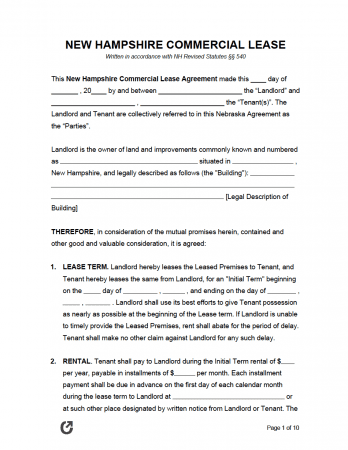 Commercial Lease Agreement – A fixed-term agreement established for an average of one (1) to five (5) years. Used solely for renting property to businesses for retail, industrial, office, and other purposes.
Download – Adobe PDF, Word (.docx)
---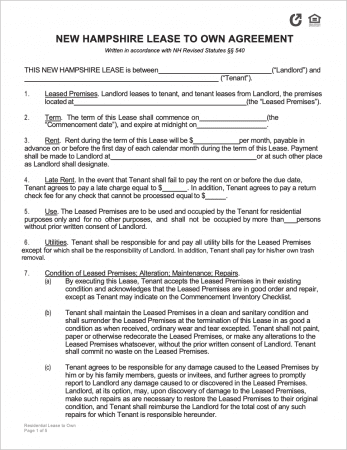 Lease to Own Agreement – Used by homeowners looking to sell their property, but are not in a rush to do so. Permits tenant(s) with the ability to purchase the rented home after initially leasing it for a period of one (1) to several years.
Download – Adobe PDF, Word (.docx)
---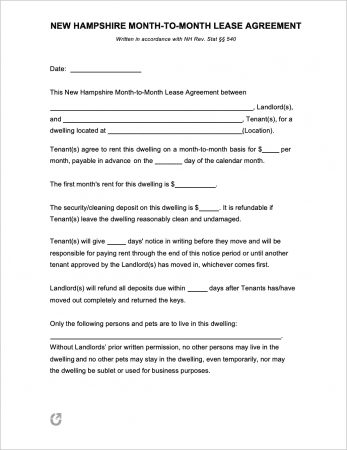 Month-to-Month Lease Agreement – A contract that renews every thirty (30) days. Will continue on indefinitely until it is terminated by either the lessor or lessee(s).
Download – Adobe PDF, Word (.docx)
---
Roommate Agreement – An optional form that can be completed by roommates to come to terms on day-to-day living preferences. Cleaning, dishes, pets, guests, and rent are among the topics covered with the form.
Download – Adobe PDF, Word (.docx)
---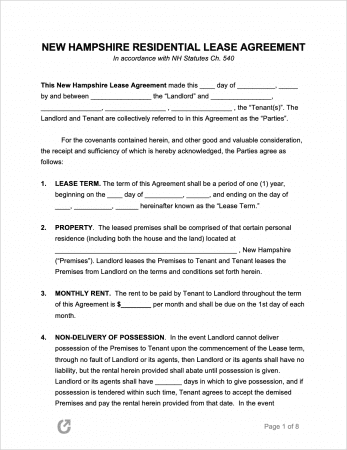 Standard Residential Lease Agreement – For leasing property for an average term of one (1) year (although any term can be agreed upon by the parties). Fully compliant with NH's landlord-tenant statutes.
Download – Adobe PDF, Word (.docx), Rich Text (.rtf)
---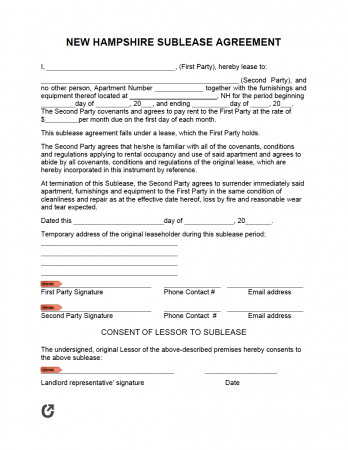 Sublease Agreement – With permission from the landlord, a tenant can arrange for their leased property to be "taken over" by another tenant of their choosing. The new tenant pays for the rent and covers all utilities.
Download – Adobe PDF, Word (.docx)
---
What is a New Hampshire Lease Agreement?
A New Hampshire Lease Agreement is a document signed by a landlord and tenant to establish legal parameters in which a residential dwelling can be leased. The parameters contain certain rights and responsibilities both parties are responsible for until the lease's end. Prior to permitting tenants to sign a lease, landlords should screen all applicants with a rental application, which is a form used for collecting information on an applicant's past.
---
State Laws & Guides
Laws
---
When is Rent Due?
According to § 540:1, rent is due "upon demand." The conditions in which rent should be paid must be clearly outlined in the written lease contract. There is no state statute that provides tenants with a grace period.
---
Landlord's Access
Emergency (§ 540-A:3(IV)): Under state law, landlords do not need the tenant's consent to enter in order to make "emergency repairs." Further to this, federal law dictates that landlords do not need the tenant's consent to enter in general emergency situations.
Non-Emergency (§ 540-A:3(V)): Landlords must give "notice which is adequate under the circumstances" to perform any lawful functions that are commonly associated with the ownership of a rental dwelling e.g. making necessary repairs. While the notice the landlord must give tenants is not further clarified in this statute, adequate notice is generally interpreted as at least twenty-four (24) hours prior to entry.
---
Required Disclosures
Lead Paint Disclosure: This disclosure is relevant to landlords of properties built before 1978. Any landlords who fit this description must inform tenants of any known lead-based hazards, and furnish them with a copy of a specific lead-based hazards pamphlet.
---
Security Deposits
Maximum (§ 540-A:6(I)(a)): Security deposits are capped at one month's rent or one-hundred dollars ($100)—whichever is greater.

Returning to Tenant (§ 540-A:7(I)): Landlords must return security deposits, with interest, within thirty (30) days after the tenancy has been terminated.
Deposit Interest (§ 540-A:6(IV)): Landlords need to collect interest on deposits for leases longer than one (1) year. Rates must be equivalent to the NH bank or the savings/credit union in which the deposit is stored.
Uses of the Deposit (§ 540-A:7):
Unpaid rent;
Real estate taxes (if agreed-to in the lease); and
Any other expenses as stated in the lease agreement.