New York Rental Lease Agreement Templates
The New York Rental Lease Agreements allow landlords to rent commercial and residential properties to accepted tenants. Signed by a lessor (manager or owner) and lessee(s), the documents commit renters to making consistent payments in exchange for being granted the right to live (or work) in the property.
Compared to other states, NY has relatively fewer mandatory conditions to follow. Because of this, landlords should ensure they are covered by adding anything unique to their leasing situation as a condition in a lease.
---
---
Types (6)
Commercial Lease Agreement – A form used to lease commercial property to a business owner planning on running their retail, industrial, office, or food-related company out of it.
Download – Adobe PDF, Word (.docx)
---
Lease to Own Agreement – A cross between a standard lease and a purchase agreement. Sets a purchase price for the rental property that tenant(s) can choose to act on at the end of the lease.
Download – Adobe PDF, Word (.docx), Rich Text (.rtf)
---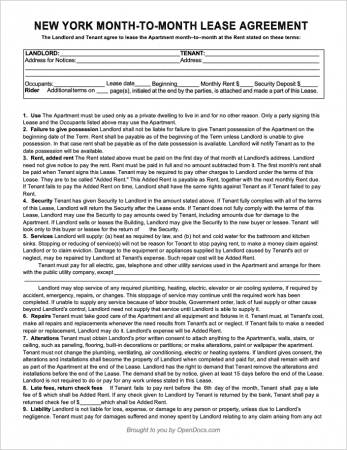 Month-to-Month Lease Agreement – A flexible option to one (1) year leases that allows either the renters or the landlord to cancel the agreement with a written notice sent thirty (30) days in advance.
Download – Adobe PDF, Word (.docx), Rich Text (.rtf)
---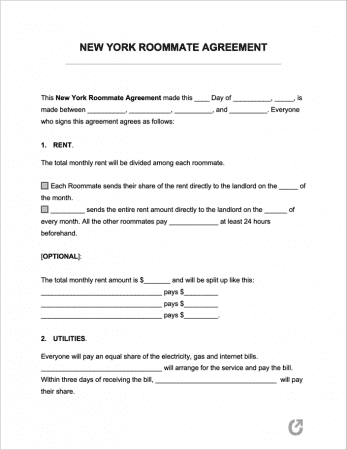 Roommate Agreement – Consists of both legally-binding and non-legally binding terms that establish how roommates in a shared rental agree to handle certain living topics.
Download – Adobe PDF, Word (.docx), Rich Text (.rtf)
---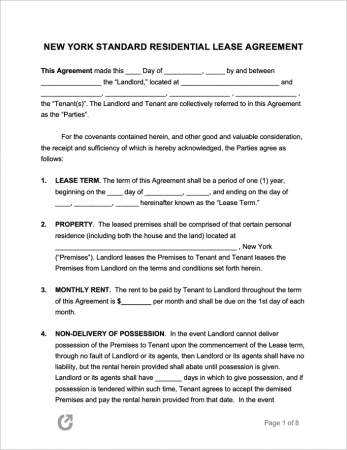 Standard Residential Lease Agreement – Establishes a binding contract of one (1) year in length. The most commonly used type of lease form.
Download – Adobe PDF, Word (.docx), Rich Text (.rtf)
---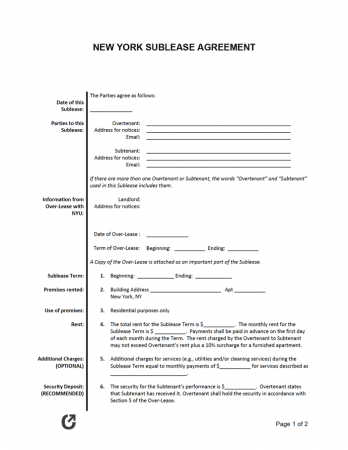 Sublease Agreement – Used for tenants that need to move out of their rental (for the short or long term), but do not want to make payments for an apartment or room going unused. Permission from the landlord should be received.
Download – Adobe PDF, Word (.docx)
---
Disclosures (5)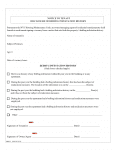 Disclosure 1 – Bedbug Infestation History
Download: Adobe PDF
---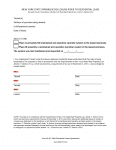 Disclosure 2 – Sprinkler Disclosure Rider
Download: Adobe PDF
---
Download: Adobe PDF
---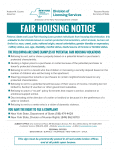 Disclosure 4 – Housing Discrimination
Download: Adobe PDF
---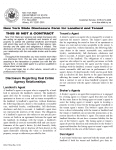 Disclosure 5 – Landlord & Tenant
Download: Adobe PDF
---
State Laws & Guides
Laws: Article 7 (§§ 220 to 238)
Landlord-Tenant Guides / Resources
---
Landlord's Access
Emergency: There is no applicable state statute pertaining to a landlord's access to a rental unit in emergency situations. However, federal law gives landlords the right to enter in any circumstance considered to be an emergency.
Non-Emergency: No relevant statute; NY state law also does not specifically deny or grant a landlord's access to a rental property in non-emergency situations.
---
Required Disclosures
Bed Bug Disclosure (Local Law 69 of 2017): Landlords in the city are required to file an annual electronic statement with the Department of Housing Preservation & Development regarding the bedbug history of the dwelling.
Copy of the Signed Lease: Landlords must provide tenants with a copy of the signed lease within thirty (30) days after the lease has been signed by all parties (and gone fully into effect).
Name and Address: The name and address of the landlord must be identified in the lease.
Lead Paint Disclosure: If a landlord is leasing a property that was built before 1978, they must inform tenants of any known lead-based hazards in the property. Further to this, they are obligated to provide tenants with a government-issued pamphlet about lead hazards in the home.
Window Guards: Landlords in NYC are required to install window guards in any unit/apartment where a child under the age of ten (10) resides. They must also provide tenants with a form that states whether there are children residing in a household and if window guards are therefore needed.
---
Security Deposits
Maximum (576/74 §6): One (1) months' rent.
Returning to Tenant (§ 7-108(e)): Landlords are required by law to return deposits within fourteen (14) days after the termination of the rental agreement.
Receipt (§ 7-103): Landlords who deposit a tenant's security deposit in a bank must notify the tenant in writing the name and address of the banking organization as well as the amount of the deposit.
Deposit Interest (§ 7-103(2-a)): Landlords that own/manage six (6) or more family dwelling units are required to collect and return accrued interest to tenants. The deposit must be kept within a NY-based interest-bearing bank account.
Uses of the Deposit: Deposits can be deducted for two (2) reasons:
To cover any unpaid rent, and
To repair tenant-caused damage to the unit (not including standard wear and tear).