Ohio Standard Residential Lease Agreement
The Ohio Standard Residential Lease Agreement is a form used prior to a tenant moving in to provide a set of legally-binding rules and conditions that the tenants are required to abide-by. The form, which is signed by both the landlord and tenant(s), covers a wide range of topics used for ensuring 1) the unit remains damage-free, 2) rent is paid on-time and in-full, and 3) provides documentation to an arrangement in which a for-rent property is leased to one or more tenants for an average term of one (1) year. In addition to establishing basic details such as names, addresses, and rent amount, the document contains sections pertaining to utilities, maintenance, pets, default (if it were to occur), and security deposits, to name a few.
Tenant Screening: Ohio Rental Application
---
---
State Laws
Laws: Chapter 5321 "Landlords and Tenants"
Maximum Security Deposit: No statute restricting deposits exists in OH law; landlords are free to request a deposit that they deem is fair.
Returning Security Deposits (§ 5321.16): After all tenant(s) have moved out, landlords have thirty (30) days to return deposits. A written notice needs to accompany the deposit noting the amount due and the deductions that were removed from the deposit (if any).
Required Notice before Entering (§ 5321.04(A.8)): Landlords need to give tenants "reasonable" notice prior to entering the rental. Giving a minimum of twenty-four (24) hours is considered standard in the industry.
---
Residential Lease Worksheet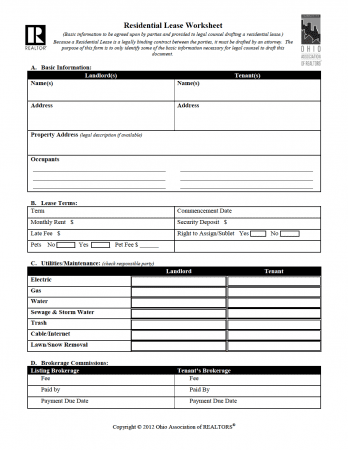 Ohio Association of Realtors' Residential Lease Worksheet.pdf – A form used to identify and record basic information regarding a rental contract. The form is completed prior to completing a lease agreement and is commonly used in situations where an attorney will be writing a lease to ensure they have the necessary information in order to draft it. The form covers the occupants of the rental, the lease term, rent amount, pets, subleasing, security deposits, utilities, and brokerage (if necessary).