Ohio Rental Lease Agreement Templates
The Ohio Rental Lease Agreements are forms drafted by two parties—a landlord and a tenant-that legally bind both parties to a set of obligations pertaining to the rental of a rental unit or building. The lease outlines several aspects of the agreement, which includes the contact information of the parties, the monthly rent amount, and rules regarding guests, pets, and more. With exception to the monthly lease, the contracts cannot be terminated unless the tenant(s) have a legally valid reason for doing so, such as an uninhabitable rental unit.
---
---
Types (6)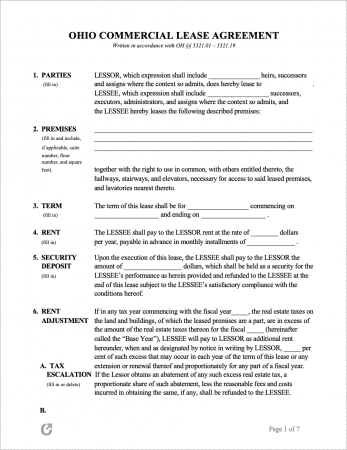 Commercial Lease Agreement – For leasing property to be used for retail, office, industrial, or food-related purposes. Not for leasing residential property.
Download – PDF, Word (.docx)
---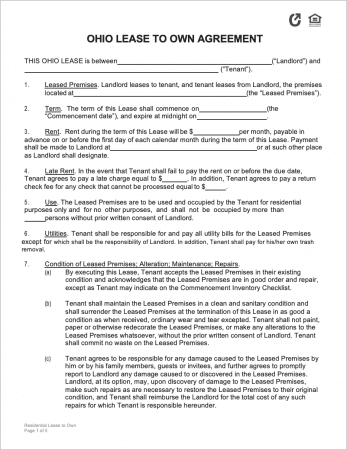 Lease to Own Agreement – A contract used for selling a rental property (typically a home) to tenants after an initial leasing period of one (1) year or longer. While tenants aren't required to purchase the rental, they typically do not go into the contract without the anticipation to do so.
Download – PDF, Word (.docx)
---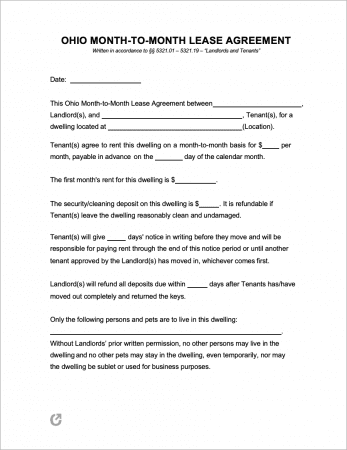 Month-to-Month Lease Agreement – A lease that auto-renews on a monthly basis. Can be lawfully terminated by either party with a notice of thirty (30) days.
Download – PDF, Word (.docx)
---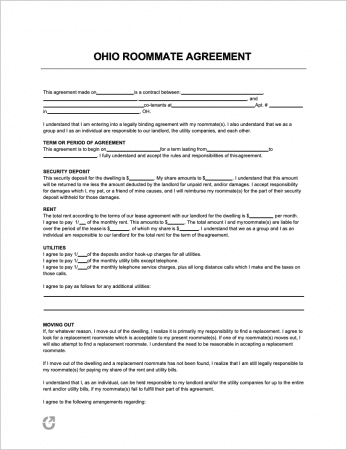 Roommate Agreement – Completed among individuals sharing a single rental unit and/or common area. Topics covered include those pertaining to rent, guests, rent-sharing, utilities, and much more.
Download – PDF, Word (.docx)
---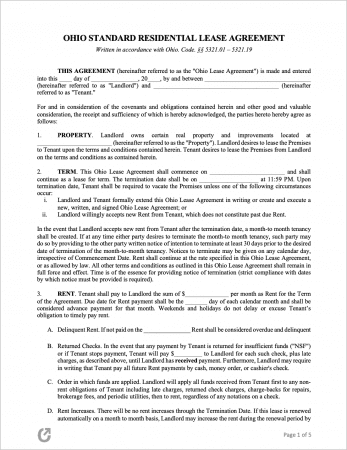 Standard Residential Lease Agreement – For establishing rental contracts of an average length of one (1) year (duration can be negotiated by parties).
Download – PDF, Word (.docx), Rich Text
---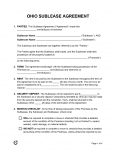 Sublease Agreement – An agreement that outlines conditions whereby a tenant leases their portion of a rental dwelling to another tenant. In most cases, subleases require prior consent from the landlord.
Download – PDF, Word (.docx)
---
What is an Ohio Lease Agreement?
An Ohio Lease Agreement is a document that imposes legal requirements on both a landlord and tenant that stay in effect for the duration of the lease (or in the event the lease is terminated prematurely). While not mandatory to use, landlords are strongly recommended to require applicant-tenants to complete a rental application prior to signing a lease.
---
Laws & Guides
---
When is Rent Due?
Ohio state law does not specify when rent is due. As such, the date in which rent is due should be stated in the written lease agreement. State law also does not provide for a grace period for tenants.
Landlord's Access
Emergency (§ 5321.04(8)): A landlord does not need to give tenants prior notice to access the rental property when there is an emergency.
Non-Emergency (§ 5321.04(8)): A landlord must provide the tenant with "reasonable notice" of their intent to enter and enter only at reasonable times. Reasonable notice is presumed in the law as twenty-four (24) hours unless there is evidence to the contrary.
Landlord's Duties
As stated by section 5321.04, landlords are required by law to comply with the following:
Meet the requirements of all applicable building and housing codes;
Make any and all repairs to the rental unit (and common areas) in order to keep it safe and in a habitable state;
Unless it is an emergency (or is impractical to do so), landlords must provide tenants with a minimum of a twenty-four (24) hour notice prior to entering the premises;
For rental contracts that cover four (4) or more dwelling units, landlords must provide tenants with receptacles that allow them a means of safely disposing their trash;
Ensure all appliances, systems (HVAC, elevators, etc.), and electrical equipment is both functioning and safe.
Provide tenants with constant running water and "reasonable" amounts of hot water at all times, including heat (unless the building/unit is not required to have heat, per state law).
Tenant's Duties
Section 5321.05 requires tenants to uphold the following duties for the lease term:
Throw away trash and other rubbish in a manner that is sanitary, safe, and clean;
Ensure applicable state and local health/safety codes are abided by;
Keep their rental unit clean and sanitary (as feasible);
Use all electrical and plumbing fixtures/appliances in the manner they are meant to be used, and keep them as clean as reasonable.
Refrain from negligibly or purposefully damage or destroy any part of the rental (furniture/appliances included). Also applies to any permitted guests of the tenant.
Treat other tenants well, and do not disturb their right to the peaceful enjoyment of their rental and the surrounding premises.
Required Disclosures
Disclosure to the County Auditor (§ 5323.02): The landlord must file their name, address, and telephone number with the county auditor of the county in which the property is located the following information.
Lead Paint Disclosure: To comply with federal law, landlords must disclose to tenants when they know of any lead paint hazards in their rental properties built before 1978. Landlords of such properties must additionally provide tenants with an informational brochure on the topic.
Names and Addresses: The written rental agreement must include the names and addresses of the landlord as well as their agent, should they have one.
Security Deposits
Maximum: No statute.
Returning to Tenant (§ 5321.16(B)): The landlord must return any security deposit received from the tenant within thirty (30) days after the termination of the rental agreement and delivery of possession. Should the landlord suffer any damages at the hands of the tenant, they must itemize and identify the damages in a written notice delivered to the tenant together with the amount due.
Deposit Interest (§ 5321.16(A)): Security deposits greater than fifty dollars ($50) or one month's rent, whichever is greater, must bear interest on the excess at a rate of five percent (5%) per year. This only applies if the tenant leases the unit for six (6) months or more. The interest must be paid annually.
Uses of the Deposit (§ 5321.16(B)): Deductions from security deposits can be made for two (2) reasons:

To cover any unpaid rent, and
To pay for any damages or other costs directly resulting from the tenant(s) noncompliance with § 5321.05.