Alabama Durable Power of Attorney Form
An Alabama Durable Power of Attorney can be used at any time, by anyone past the age of eighteen (18), to formally designate a person to handle their financial matters should they no longer be able to themselves. The form can be made to take effect upon signing, or after a specific event known as "incapacitation". Whatever the principal chooses, the form needs to be completed in-full, and signed by a notary public. The main differentiator between a durable and a general POA is that the durable form does not terminate for any reason, unless the principal manually revokes it, or they die. The individual the principal selects to perform as their agent can be anyone of legal age, with friends and family members being a common choice.
Revoking an Agent's Power: Alabama Revocation of Power of Attorney
---
---
Laws: § 26-1A-104
Signing Requirements (§ 26-1A-105): Must be signed by both the principal and a Notary Public.
Agent's Certification (PDF | Word): A form that must be completed and attached to the completed POA per § 26-1A-302.
---
Versions (2)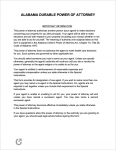 Version 1
---
Version 2 (eForms)
---
Similar Forms