Kentucky Power of Attorney Forms
A Kentucky power of attorney form is a collective term used to describe a set of legal documents that allow a person to assign an agent to handle tasks or decisions for themselves. The person that completes and signs the form (the principal) can use a POA to assign rights over tax matters, medical decisions, real estate management, and vehicles, to name a few.
For any matters not specifically mentioned in a POA, the principal should make use of a limited power of attorney, which lets the principal create any powers they wish. Once signed, all the agent has to do is present the document to the applicable party (such as a bank). Once a person agrees to become a principal's agent, they are legally required to uphold the conditions included in the form.
---
---
Types (9)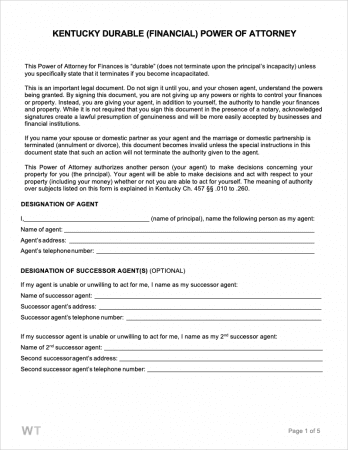 Durable Power of Attorney – The durability of this POA references the fact that this type of POA will remain unabated if the Principal is considered, as per relevant laws, to be incapacitated.
Download – Adobe PDF, MS Word (.docx), Rich Text (.rtf)
---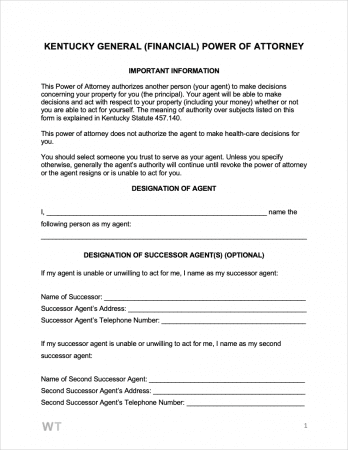 General (Financial) Power of Attorney – Encompasses the powers an agent may be granted regarding a principal's financial affairs, that can include such areas as banking, the management of a safety deposit box, or lending or borrowing money.
Download – Adobe PDF, MS Word (.docx)
---
Limited (Special) Power of Attorney – To place clear limitations on the powers encompassed in a POA, selecting to use a limited, rather than durable or general POA, is advisable.
Download – Adobe PDF, MS Word (.docx), Rich Text (.rtf)
---
Living Will Directive (Medical POA) – Medical complications can mean that an individual becomes unable to properly communicate their health care wishes. In such circumstances, it is not legally possible to draft a Medical Power of Attorney. Therefore, it is imperative that this document is initiated as well in advance as possible.
Download – Adobe PDF
---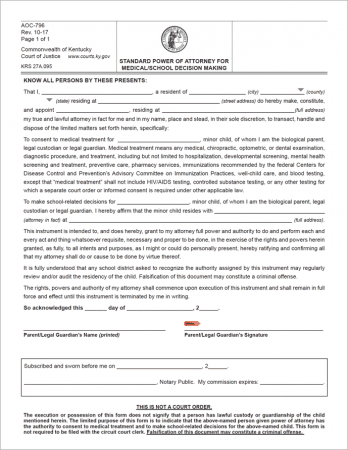 Minor Child Power of Attorney (AOC-796) – In order to assure the continued care of their children at all times, parents and guardians can specify the circumstances in which they give permission to another party to temporarily take over parental duties when they cannot do so themselves.
Download – Adobe PDF, MS Word (.docx)
---
Motor Vehicle Power of Attorney – Motor vehicle owners who are time-poor can make use of a legal avenue, namely the filing of this form, that offers them the opportunity to designate someone else to oversee any undertakings related to their vehicle.
Download – Adobe PDF, MS Word (.docx)
---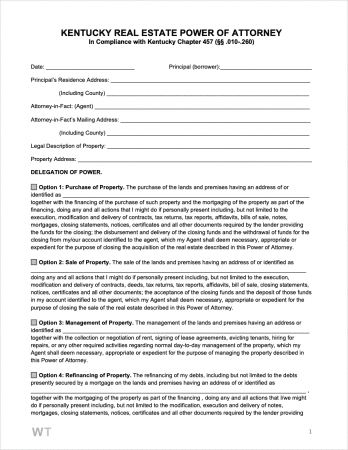 Real Estate (Property) Power of Attorney – Real estate ownership can bring about a number of stressful situations that may be better handled by a trained professional. An owner can simply complete the requirements of this form to legally establish the transfer of such responsibilities to another entity.
Download – Adobe PDF, MS Word (.docx)
---
Revocation of Power of Attorney – Ceasing a POA from continuing indefinitely is a decision that can be executed by drafting and filing a Revocation of POA form.
Download – Adobe PDF, MS Word (.docx), Rich Text (.rtf)
---
State Tax Filing Power of Attorney – Any individual who is incapable of filing their taxes themselves, or simply wishes to have another party engage in this process for them, can have another person or entity handle the process for them by making use of this form.
Download – Adobe PDF
---
Laws & Signing Requirements
A Kentucky Power of Attorney outlines, according to the determination of a Principal, the ways in which an Agent will legally take on the decision making powers of a Principal for the purpose of managing one or more of their affairs. Both parties should be aware of the fact that unless otherwise specified within the form, the POA will come into immediate effect once it meets legal requirements and is signed by all necessary parties. Specifications about a precise starting date can include a particular future date or occurrence of a future event, such as the Principal's incapacity.
Kentucky Power of Attorney Laws – (KRS Chapter 457, "Uniform Power of Attorney Act")
State Definition of Power of Attorney (§ 457.020) – means a writing or other record that grants authority to an agent to act in the place of the principal, whether or not the term power of attorney is used.
Signing Requirements (§ 457.050) – Must be signed by the Principal before a Notary Public or other authorized individual, as well as two (2) disinterested witnesses. If the Principal so requires (and the POA states the reason for this method being taken) they are permitted to ask another person to sign their name for them. This action, however, must be done in their conscious presence.