Minnesota Power of Attorney Forms
Minnesota power of attorney forms are state-specific documents that offer a person a legal means of assigning a person with the right to manage certain matters on their behalf. The forms can be used for tasks ranging in importance; a medical POA, for instance, gives a person to make decisions on how you would like to be taken care of during end-of-life treatment. A tax POA, on the other hand, gives a person the right to manage and file your taxes on your behalf. The principal (person completing the form), should choose a representative (the "agent") that they personally know and trust, such as a family member, close friend, or practicing attorney.
An individual looking to complete and sign a POA in Minnesota should be up-to-date on the current laws mandating POAs, which can be found in Chapter 523 of the state's statutes.
---
---
Types (6)
Durable Power of Attorney – A POA used when one wants to delegate financial management to an agent. Being durable, the contract does not expire if the principal becomes incapacitated.
---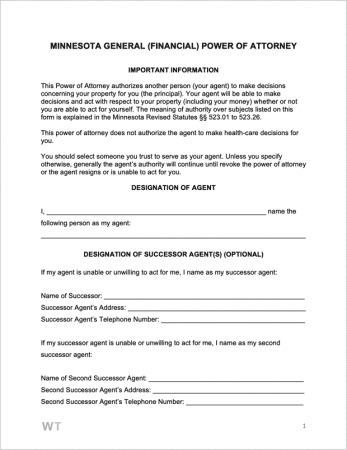 General (Financial) Power of Attorney – Covers the same powers as a durable POA, with the exception being it will terminate automatically should the principal suffer a medical event that renders them unable to make decisions properly.
---
Limited (Special) Power of Attorney – This contract is best used for simple one-time or recurring tasks, such as signing a lease, cashing a check, or another specific job.
---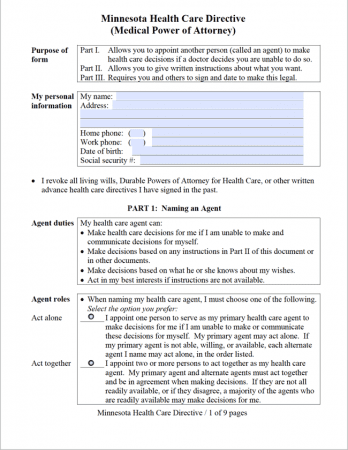 Medical (Healthcare) Power of Attorney – A form used for planning end-of-life matters. Used for nominating a person that will represent the principal's medical wishes.
Download: PDF
---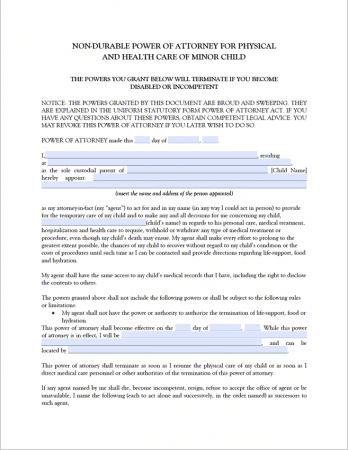 Minor Child Power of Attorney – A non-durable type of POA that grants temporary care of a child to a trusted party, with powers extending to such issues as necessary medical treatments and procedures, as well their personal care.
---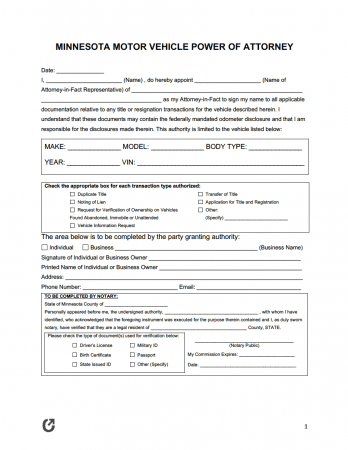 Motor Vehicle (DMV) Power of Attorney – Used for assigning an entity with the right to handle tasks relating to their car, truck, or another personally-owned motor vehicle.
---
Laws & Signing Requirements