Tennessee Power of Attorney Forms
The Tennessee Power of Attorney Forms involves two (2) main parties: the "principal" who is giving another person the right to represent them, and the "agent" who is carrying out the tasks requested of them. Prior to downloading and completing a form, the principal will need to determine whether they need a durable or non-durable type of POA. If durable, the principal is giving their agent power(s) that remain in effect until the principal dies, or until they revoke the contract with a revocation form. On the other hand, if made non-durable, the agent's power(s) will be removed should the principal no longer be able to communicate their wishes (a state that is known as being "incapacitated"). The powers that can be given to the agent are covered fully in Tennessee Code § 34-6-109.
---
---
Types (6)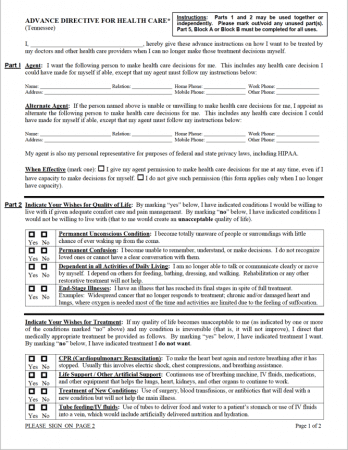 Advance Directive for Health Care – A comprehensive document that allows a person to specify their end-of-life wishes, AND gives them the option of nominating an agent to communicate their wishes to those around them (if they no longer can themselves).
Download: PDF
---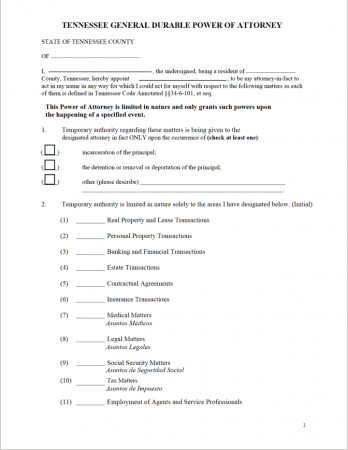 Durable Power of Attorney – Gives an agent broad powers, excluding matters relating to their health. Being durable, it remains in effect regardless of the status of the principal (unless they die, in which it is automatically revoked).
---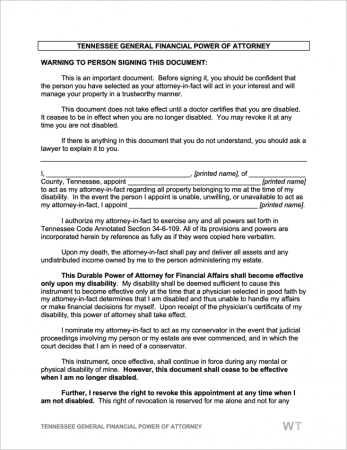 General (Financial) Power of Attorney – Covers nearly the same powers as the durable form, with the exception that it does terminate should the principal no longer be able to communicate wishes pertaining to their health.
---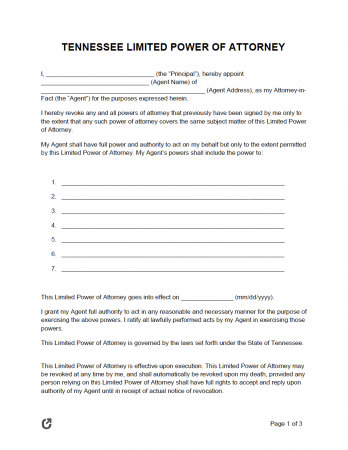 Limited (Special) Power of Attorney – Limits the agent's scope to one (1) or a few tasks.
---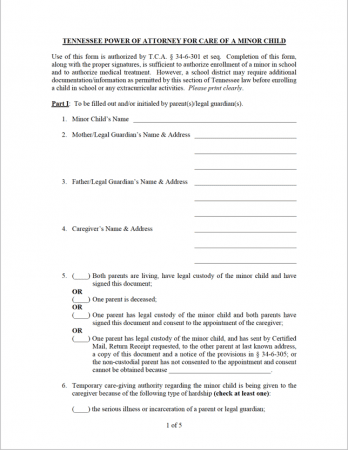 Minor Child Power of Attorney – A state-official form completed by parents for giving a trusted caretaker with the right to enroll their kid(s) in school, take them to health appointments, and so on.
---
Motor Vehicle Power of Attorney (Form RV-F1311401) – A vehicle owner who needs to transfer ownership of their vehicle when they no longer possess their original certificate of title can do so by filling out Form RV-F1311401, otherwise known as a Power of Attorney For Vehicle Transactions form.
Download: PDF
---
Laws & Signing Requirements