Alaska Bill of Sale Forms (5)
An Alaska bill of sale is a document that contains key information about how an item was sold, gifted, or traded between a buyer and seller. It is used for the exchange of personal property, including motor vehicles, firearms, and boats. Since the buyer is automatically granted ownership once the seller signs, the payment should be transferred before this step. After signing occurs, the seller no longer has authority or responsibility for the item.
---
---
By Type (5)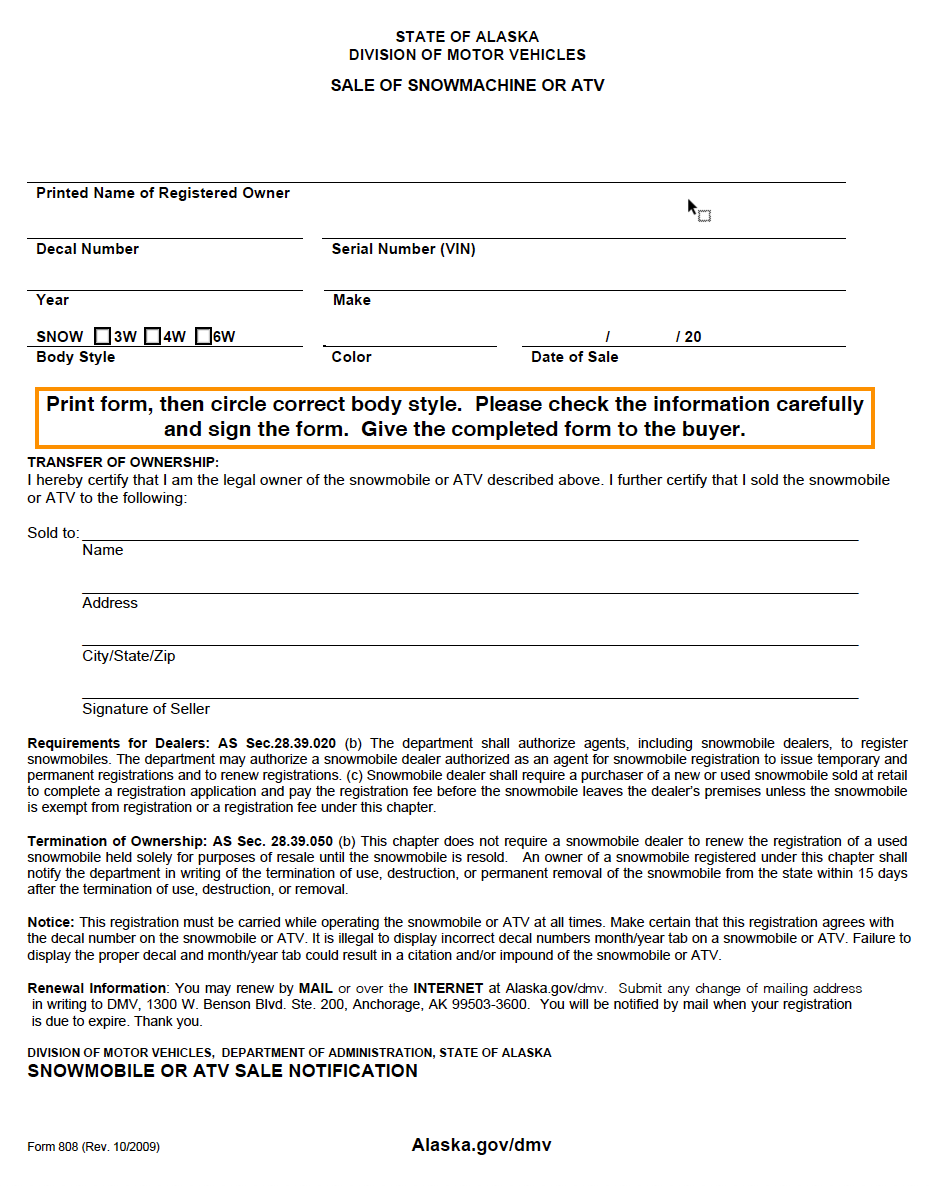 ATV / Snowmobile Bill of Sale (Form 808) – A form unique to the state of Alaska that is used during the private sale of an All-Terrain Vehicle (ATV) or Snowmachine (Snowmobile).
Download: PDF
---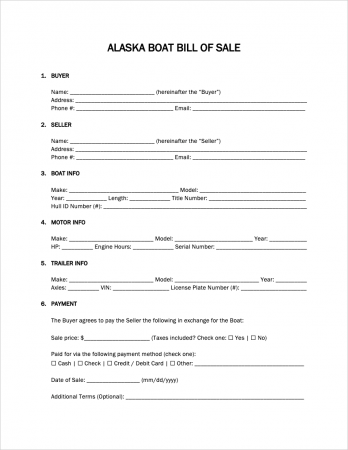 Boat Bill of Sale – A document completed during the sale of watercraft, proving that a sale occurred between the buyer and seller.
---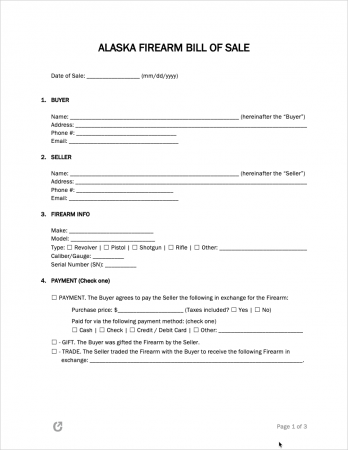 Firearm Bill of Sale – Used to outline key details of a negotiation between two individuals regarding the sale, gift, or trade of a firearm.
---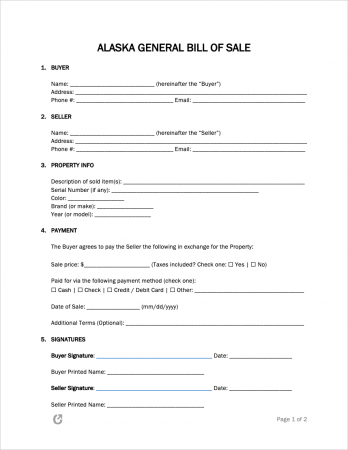 General Bill of Sale – For the selling of machinery, animals, appliances, or any object that is considered generic.
---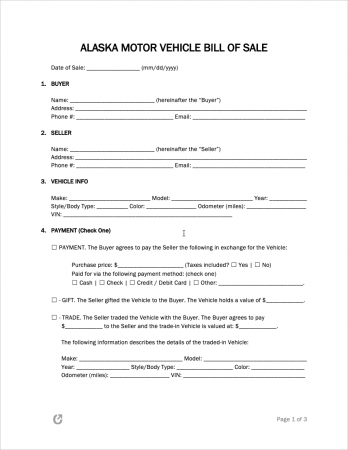 Motor Vehicle Bill of Sale – A template that a buyer and seller fill out together that verifies the purchase of a car, truck, van, or any other motor vehicle that falls under the category.
---
Signing requirements
| | | | |
| --- | --- | --- | --- |
| Bill of Sale Type | Buyer Signature | Seller Signature | Notarization |
| Motor Vehicle | Required | Required | Not required |
| Boat | Required | Required | Not required |
| Firearm | Required | Required | Not required |
| General (others) | Not required | Required | Not required |
| ATV / Snowmobile | Not required | Required | Not required |
---
How to Register a Motor Vehicle (3 Steps)
All vehicles being operated in the state are required to have a valid registration. An out-of-state resident moving to Alaska must register their vehicle at least ten (10) days before moving. Non-residents can legally drive their vehicle (as long as it is registered) in the state for up to sixty (60) consecutive days (§ 28.10.011).
Step 1 – Get Alaska Vehicle Insurance 
Alaska requires that drivers have a vehicle insurance policy so they are covered if an accident occurs. They must have a minimum coverage of $50,000 for the bodily injury or death of one (1) person and $100,000 for two (2) or more people. Additionally, the plan must include at least $25,000 coverage for property damage per accident.
Step 2 – Submit Registration
First-time registrations must occur in person. Appointments can be scheduled using the Division of Motor Vehicle (DMV) online portal.
The applicant must gather all of the forms that they will need to register before the appointment. Payment must be submitted at that time, as well.
Required Forms / Information:
Registration – A copy of the previous out-of-state registration and inspection.
Title – Verifies that the applicant is the legal owner.
Bill of Sale – Includes the details of the sale and proves ownership.
Application (Form 812) – A form completed by the owner to apply for vehicle registration.
Insurance – All vehicles must be insured according to the minimum requirements by the state.
Payment – Fees vary by vehicle type and weight.
Registration requirements differ for commercial vehicles purchased out-of-state and automobiles weighing over eight thousand (8,000) pounds. For example, the DMV may require a Manufacturer's Statement of Origin (MSO), lien release, notarized power of attorney, or other documents.
Military and senior residents have to complete additional forms to receive discounts, exemptions, specific plates, or other offers, as well.
Step 3 – Renew Biannually
Registration lasts for two (2) years from the initial date. Renewal is required by the last day of the expiration month. Late fees may be charged for residents who fail to renew on time. If a seller does not renew the registration before the buyer purchases the vehicle, the new owner will be responsible for the full amount.
---
How to Register a Boat (4 Steps)
Registration must occur in the first fifteen (15) days of ownership and lasts for three (3) years at a time. Out-of-state boaters can use their watercraft in Alaskan waterways for up to ninety (90) continuous days before they must obtain a registration.
Step 1 – Review Requirements
Residents can only use their vessels in the state if they are titled, registered, and numbered. Exceptions include:
Vessels not considered boats (e.g. non-boats);
Water toys without a source of power (e.g. non-powered boats);
Watercraft registered elsewhere;
Government-owned ships; and
Other boats that do not require registration (§ 05-25-055(a)).
Owners who do not have a valid registration on board can be fined $50 by the local boat patrol.
Step 2 – Book Appointment 
Set up a meeting with the DMV using their online portal. Before the appointment date, it is critical to gather the necessary forms and keep them in a safe place.
Required Forms / Information:
Application (Form B1) – Must be filled out and submitted to obtain a valid registration for the water vessel.
Proof of Ownership* – Various documents proving that the boat owner has legally acquired it.
Payment – Powered boats cost $24 to register, whereas a $10 fee is charged for non-powered boats.
*Acceptable Forms:
Bill of Sale – Verifies the purchase and confirms that the buyer is the rightful owner.
Manufacturer's Certificate of Origin (MCO) – A document from the factory with a full description of how the boat was made, distributed, and taxed. This form can also be referred to as a Manufacturer's Statement of Origin (MSO), which is also accepted.
Title & Registration – The new owner needs to bring the previous title and registration from the seller. If the title is not available, the applicant must explain why they are unable to provide it.
Builders Certification (Form CG-1261) – Must be completed and signed by the builder of the boat. Notarization is required, as well.
Certificate of Documentation – A form that is only considered valid if it is completed by the U.S. Coast Guard.
Affidavit of Ownership – If the applicant is unable to provide any of the above, they must complete the affidavit in the application.
Various forms require signing or notarization. Contact the local DMV beforehand to make sure that all of the documents will be accepted.
Step 3 – Submit Registration + Payment
On the day of the registration appointment, the applicant should be on time and ready to submit the boat application and proof of ownership.
They should also bring a valid form of payment. The DMV accepts Visa, Mastercard, personalized checks, and money orders. If fees cannot be paid during the appointment, the application cannot be processed.
Step 4 – Renew Every Three (3) Years
Boat registrations expire after three (3) years. Renewals can occur in person, although Alaska requests that residents submit their forms through the mail or online portal.
Mail renewals must be sent by the 5th day of the month and include a check, money order, or credit card information as payment. The envelope must be addressed to:
DMV, Attn: Vehicle Registration
1300 W Benson Blvd, Ste 300
Anchorage, AK 99503
---
How to Register an ATV or Snowmobile (3 Steps)
ATVs and snowmobiles do not need a title in Alaska, their registration requirements are variable based on their usage. If the operator only uses the equipment on private land then it does not need to be registered. However, it must be registered if they plan to ride it on public property (i.e. trail systems).
If the sale occurred through a dealership, the seller will submit the registration for the new ATV or snowmobile. On the other hand, owners must register it themselves if they obtained it through a private sale. All documents must be submitted within fifteen (15) days of purchasing.
Step 1 –  Submit Forms
Registration must be submitted in person at a local office. Forms and payment are due at that time.
Required Forms / Information:
Proof of Ownership – The owner must provide a document stating that they have paid for and obtained the snowmobile or ATV from a seller.*
Application (Form 812) – Filling out this template allows the owner to apply for registration.
Affidavit – For used snowmobiles or ATVs only. A written statement that explains who sold the machine, as well as when and how the machine was acquired.
Previous Registration – Only required for snowmobiles and ATVs that are purchased used. It must be provided since the decal number stays the same throughout the equipment's lifespan.
Payment – Fees vary based on the registration period that is selected.
*Approved Documents:
Bill of Sale – A form provided by the state of Alaska that shows the transfer of ownership for the ATV or snowmobile.
Warranty Card – All warranty information should be provided on a card by the manufacturer after purchase. If the machine has a warranty plan, make a copy and include it in the documents for registration.
Purchase Order – This document states that the buyer and seller agree to the terms and conditions surrounding the purchase of the ATV or Snowmobile. If applicable, bring this form to the DMV, as well.
Step 2 – Apply Decals
During the initial registration of a snowmobile or ATV, it will be given a permanent decal number. This number will stay with the machine for as long as it is being operated. The owner is given new decal stickers for each registration period, which must be adhered to the body.
The decal must be visible at all times on both the left and right sides of the snowmobile or ATV. It should be placed in the section below the seat and above the footrests (also known as the "tunnel"). Ensure that it is not placed on top of the serial number, as well.
Step 3 – Renew By Season
Snowmobile (or ATV) registration in Alaska is based on the number of seasons. Each time block runs from October 1st to September 30th.
Each additional "season" correlates to two (2) more years. For example, a one (1) season registration lasts for two (2) years, whereas a two (2) season tag is good for four (4) years. The state also offers a three (3) season option, which does not expire for six (6) years.
Fees are as follows: $10 for one (1) season, $20 for two (2) seasons, and $30 for three (3) seasons.