Alaska Bill of Sale Forms
An Alaska Bill of Sale is a document used when selling, gifting, or trading personal property between a buyer and seller. This form can include various types of goods, including a motor vehicle, firearm, and boat. Since the buyer is automatically granted ownership once the seller signs, all payments should be conducted beforehand. After signing occurs, the seller no longer has authority or responsibility for the item.
Bill of Sale Forms – By Type (5)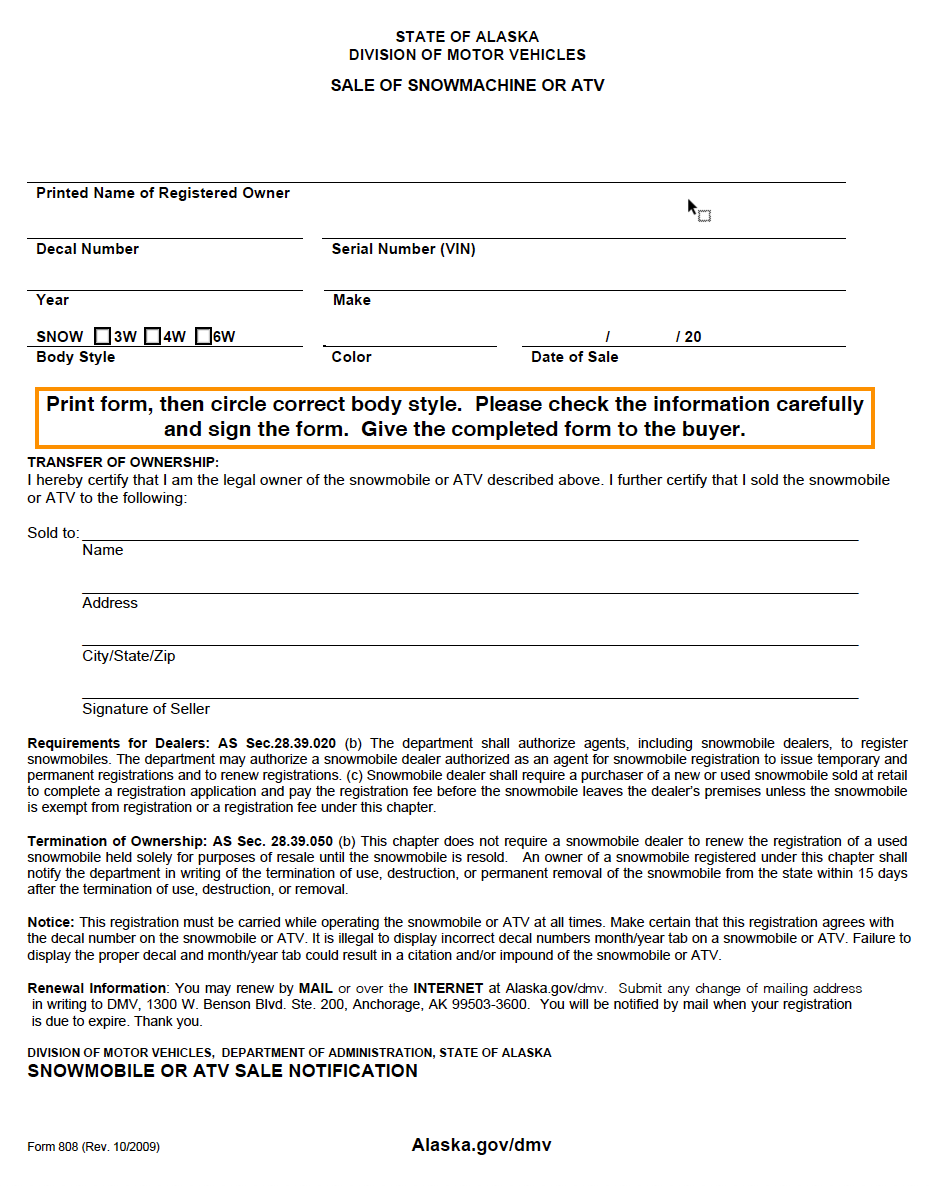 ATV / Snowmobile Bill of Sale (Form 808) – A form unique to the state of Alaska that is used during the private sale of an All-Terrain Vehicle (ATV) or Snowmachine (Snowmobile).
Download: Adobe PDF 
---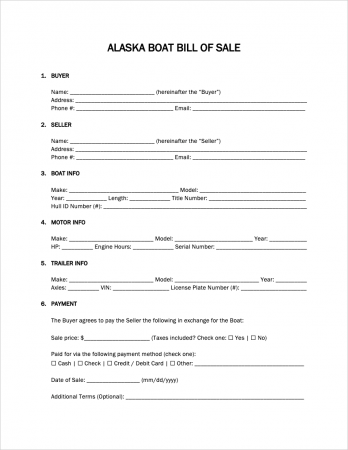 Boat Bill of Sale – A document completed during the sale of watercraft, proving that a sale occurred between the buyer and seller. Registration must occur in the first fifteen (15) days of ownership and lasts for three (3) years at a time.
Download: Adobe PDF, MS Word (.docx), Rich Text (.rtf)
---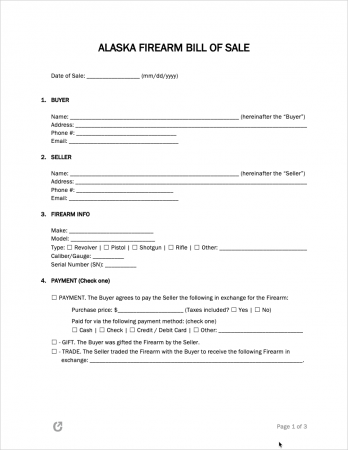 Firearm Bill of Sale – Used to outline key details of a negotiation between two individuals regarding the trade of a gun for either money or another firearm. It should also be filled out if the seller gifts the firearm to the buyer.
Download: Adobe PDF, MS Word (.docx), Rich Text (.rtf)
---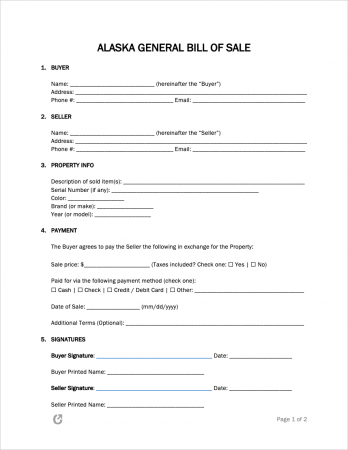 General Bill of Sale – For the selling of machinery, animals, appliances, or any object that is considered generic.
Download: Adobe PDF, MS Word (.docx), Rich Text (.rtf)
---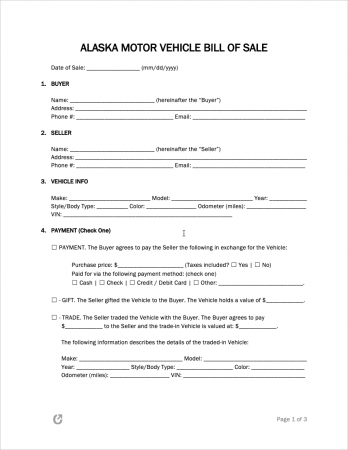 Motor Vehicle Bill of Sale – A template that a buyer and seller fill out together that verifies the purchase of a car, truck, van, or any other motor vehicle that falls under the category.
Download: Adobe PDF, MS Word (.docx), Rich Text (.rtf)
---
Registration Requirements
ATV / Snowmobile
While ATVs and snowmobiles do not need a title in Alaska, their registration requirements vary. When using the equipment on private land, the state does not require it to be registered. However, owners must register it when riding on public property.
If the sale occurred through a dealership, the seller will submit the registration for the new ATV or snowmobile. On the other hand, owners must register it themselves if they obtained it through a private sale. All documents must be submitted within fifteen (15) days of purchasing.
Required Documents:
Bill of Sale – A form provided by the state of Alaska that shows the transfer of ownership for the ATV or snowmobile.
Warranty Card – All warranty information should be provided on a card by the manufacturer after purchase. If the machine has a warranty plan, make a copy and include it in the documents for registration.
Purchase Order – This document states that the buyer and seller agree to the terms and conditions surrounding the purchase of the ATV or Snowmobile. If applicable, bring this form to the DMV, as well.
Application for Title & Registration (Form 812) – Filling out this template allows the owner to apply for registration (see Application).
Method of Payment – Fees vary based on location and type of machinery.
For more information on where and how to register, visit the Alaska DMV website.
---
Boats / Vessels
According to Alaska law, residents can place their boats in a body of water only if they are titled, registered, and numbered. Exceptions include:
Vessels not considered boats (i.e. non-boats);
Water toys without a source of power (i.e. non-powered boats);
Watercraft registered elsewhere;
Government-owned ships; and
Other boats that do not require registration (§ 05-25-055(a)).
Required Documents:
Application for Registration – Must be filled out and submitted to obtain a valid registration for the water vessel (see Title & Registration Application).
Bill of Sale – Verifies the purchase and confirms that the buyer is the rightful owner.
Proof of Ownership (or Registration) – This form proves that the rightful owner has legally acquired the boat (see Affidavit of Boat Ownership).
Fees – The amount due depends on the type of boat (i.e. $24 for a powered boat).
---
Firearms
Alaska does not require locals to register a firearm or hold a permit. Background checks are not mandated during the selling process either. However, due to their lenient gun laws, the state highly encourages individuals to report suspicious activity.
The seller also holds the right to refuse the sale if they feel that the buyer is mentally unstable. If the owner is aware of the buyer's criminal record and proceeds with the transaction anyway, they can be convicted of a felony (§ 11-61-200(2)). To find out more details about Alaska gun laws, reference §§ 11-61-190 to 11.61.220.
Alaskans are legally able to carry concealed guns without a permit. The firearm holder must be an Alaskan resident over the age of twenty-one (21) years. Other requirements can be found on the Alaska DPS website. Individuals who still wish to hold a permit can do so through a qualifying facility. Applicants must submit the following documents when applying:
Required Documents:
Proof of Handgun Competency Course – Must have been completed in the state within twelve (12) months of applying.
Complete Application – Holds a legal obligation to answer all questions honestly.
Verify Identify – Required to show proof of fingerprint and photo identification.
Charges – Applicants must pay $88.25 at the time of submission. Fees cannot be refunded if the application is rejected.
---
Motor Vehicles
All vehicles being operated in Alaska must hold a valid registration. Individuals who plan to move to the state must register their vehicle at least ten (10) days before moving. Non-residents can legally drive an out-of-state vehicle for sixty (60 days). When registering for the first time, bring along the following paperwork:
Required Documents:
Out-of-State Registration – Proves that the car has been registered previously and has passed necessary inspections.
Title – Verifies that the car holder is the legal owner.
Bill of Sale – Confirms that the buyer paid in full for the motor vehicle.
Application – A template to provide the necessary information to receive the registration.
Payment – Fees can be estimated using the DMV Calculator Tool.
Residents who are renewing their registration can do so online, in-person, or by mail. They must submit all of the above. If the individual is military or a senior, they should view the DOA webpage.