Alaska Bill of Sale Forms (6)
An Alaska bill of sale form is a synopsis of the exchange between two (2) individuals. The document represents the buyer and seller's willingness to participate in the deal. Both parties must agree on the cost of the item and the method of transfer (i.e., by cash, trade, or gift).
Summary
As of 2022, owners must register, insure, and title ATVs used on public property.
A vehicle transaction requires a valid odometer disclosure statement.
Gun sales do not require a criminal records check or permit.
---
---
Types (6)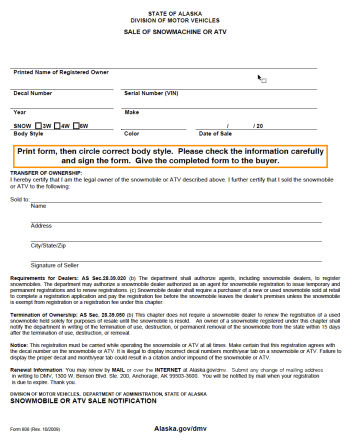 ATV / Snowmobile Bill of Sale (Form 808) – A form unique to the state of Alaska used during the private sale of an all-terrain vehicle (ATV) or snowmachine (snowmobile).
Download: PDF
---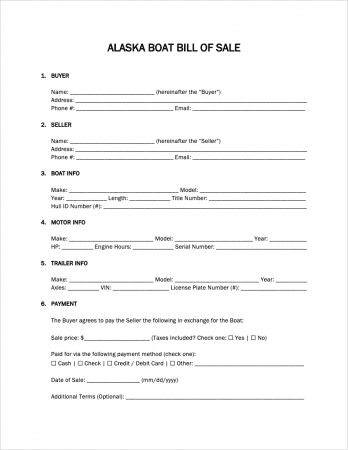 Boat Bill of Sale – A document completed during the sale of watercraft, proving that a sale occurred between the buyer and seller.
---
Firearm Bill of Sale – Used to outline critical details of a negotiation between two individuals regarding the sale, gift, or trade of a firearm.
---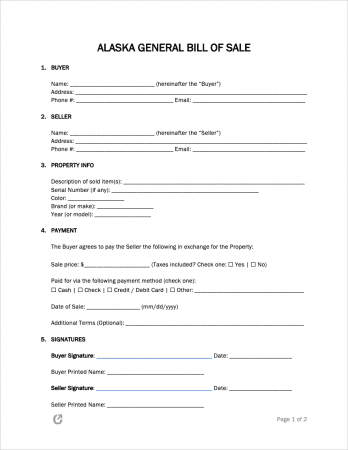 General Bill of Sale – For the selling of machinery, animals, appliances, or any generic object.
---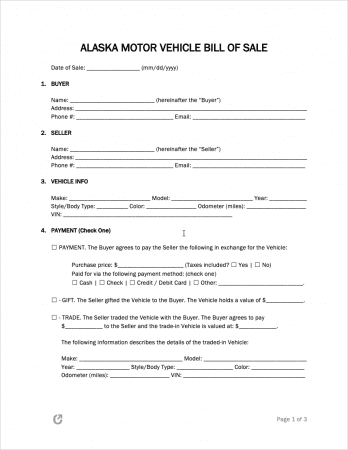 Motor Vehicle Bill of Sale – A template that a buyer and seller fill out together that verifies the purchase of a car, truck, van, or any other motor vehicle that falls under the category.
---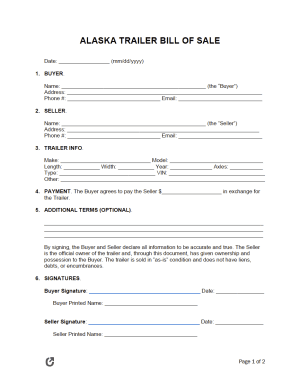 Trailer Bill of Sale – Necessary in transferring ownership of a utility trailer attached to a car or any other vehicle.
---
Signing Requirements
| | | | |
| --- | --- | --- | --- |
| Bill of Sale Type | Buyer Signature | Seller Signature | Notarization |
| ATV / Snowmobile | Not required | Required | Not required |
| Boat | Required | Required | Not required |
| Firearm | Required | Required | Not required |
| General (others) | Not required | Required | Not required |
| Motor Vehicle | Required | Required | Not required |
| Trailer | Required | Required | Not required |
---
What is an Alaska Bill of Sale?
An Alaska bill of sale is a simple document that provides a buyer and seller with a receipt for the reassignment of ownership for an item. Buyers can pay the owner by cash or trade, as long as both parties record the transaction type.
In some cases, an individual can gift the item to another person using a bill of sale form. Regardless of the payment method, the personal property must undergo a fair value assessment to ensure both parties receive the best deal possible.
Gifting is another way to switch possession of an item. If a merchant gifts personal property, they give it to another person for zero compensation. Under these circumstances, the gifter and giftee should complete a bill of sale as evidence the transfer took place. This step protects both parties from legal accusations as it confirms the deal and change of ownership.
---
Registration Forms:
ATVs / Snowmobiles
Make an appointment with an adjacent division of motor vehicles (DMV) office to turn in the necessary documents.
Bill of Sale (Form 808) – A form provided by the state of Alaska showing the transfer of ownership of the ATV or snowmobile. If the registrar cannot hand in a bill of sale, they must submit a warranty card or purchase order form instead.
Application (Form V1) – An ATV or snowmobile owner completes this state-official document to obtain registration.
Payment – Fees depend on how long the owner wants the registration to last (i.e., two, four, or six years).
---
Registration Forms:
Boats
Visit a local DMV office to provide vessel registration documents.
Bill of Sale – A form required by the DMV to register and title the watercraft in Alaska.
Boat Title and Registration Application (Form B1) – A formal document that an individual completes when applying for boat registration. The application also includes an affidavit of ownership (Form 848) to prove the vessel rightfully belongs to the resident.
Payment – The state sets its fees based on the boat's engine (powered or not powered).
Additional (Optional) Documents
Builder's Certification and First Transfer of Title (Form CG-1261) – Includes details on the boat's build and the name of the first person who acquired it.
Certification of Documentation – Provided by the U.S. Coast Guard to certify a vessel.
Original Manufacturer's Statement of Origin (MSO) – Also known as a Manufacturer's Certificate of Origin (MCO), this form provides essential information about the shipbuilder and the vessel.
Title & Registration – The new owner must present the title and registration from the previous owner. They do not need to submit the title if: 1) their previous state didn't require it, 2) the vessel has an active lien, or 3) they lost or destroyed the MSO/MCO.
---
Registration Forms:
Firearms
Submit pistol permit application and payment to a local police department, Alaska state troopers office, or Alaska wildlife troopers location.
Concealed Handgun Permit Application (Form 12-299A) – An Alaskan resident completes this fillable form to apply for a concealed handgun license. If the individual qualifies for a permit, they must follow the instructions listed on the application. Per state law, the resident must only include truthful information, or they can face prosecution.
Proof of Completed Training Course – The applicant must have taken and passed an official firearm course provided by the state of Alaska. They must send the certification with the finished application.
Fingerprints – Applicants must have their fingerprints taken through a state-approved person, agency, police station, or other authorized facility.
Recent Passport Photograph – Official images taken within thirty (30) days of applying.
Identification (ID) – The state requires the applicant to include their driver's license number or state ID card number.
Payment – The individual must pay all fees upon submission.
---
Registration Forms:
Vehicles
First-time registrars must go to a nearby DMV office to hand in the required forms.
Bill of Sale -Declares the motor vehicle owner sold the car to another person.
Title & Registration Application (Form V1) – Required to obtain Alaska registration for a passenger vehicle, truck, bus, or van.
Odometer Disclosure Statement (Form 839) – Needed to verify the mileage.
Payment – Residents can determine the fees owed before making an appointment using the online calculator. If the resident lives in a state that charges property tax, they must pay all fees at registration.
Proof of Insurance (Minimum Liability) –

Bodily Injury or Death – $50,000 per person / $100,000 for 2+ persons per accident
Property Damage – $25,000 per incident

Registration – The current owner must submit a non-expired registration from the seller.
Title – The DMV requires residents to present the original, signed title. If the vehicle has a lien, the owner must obtain a copy of the title from the lienholder.
Additional (Optional) Documents
---
Registration Forms:

Trailers
Trailer registration must occur through the Alaska DMV. 
Bill of Sale – To confirm the previous and current owner of the trailer.
Unladen Weight – The owner must disclose the trailer's unladen weight on the application for title and registration (Form V1).
Payment – Owners must pay $30 every two (2) years or a one-time fee of $25 for permanent registrations.
---
DMV Offices: By Location
LOCATION
PHONE NUMBER
DMV OFFICE ADDRESS
Anchorage University Center
(907) 269-5551

3901 Old Seward Hwy, Suite 101

Anchorage, AK 99503

Alaska Auto Titles
(907) 345-2886

3408 Arctic Blvd

Anchorage, AK 99503

Alaska Trucking Association
(907) 276-1149

3443 Minnesota Dr

Anchorage, AK 99503

Anchorage Title & Reg LLC
(907) 277-3611

4007 Old Seward Hwy, Suite 700

Anchorage, AK 99503

Auto Tags and Titles
(907) 868-2050

3811 Spenard Rd

Anchorage, AK 99517

Efficiency Consulting LLC
(907) 602-7540

601 E 57th Pl, Suite 106

Anchorage, AK 99518

Dimond Tags & Titles
(907) 344-4414

135 W Dimond Blvd #118

Anchorage, AK 99515

UMV (Nothern Anchorage)
(844) 373-3681

1008 W Northern Lights Blvd

Anchorage, AK 99503

UMV (Southern Anchorage)
(844) 373-3681

9138 Arlon St

Anchorage, AK 99507

Anderson
(907) 582-2501

260 1st St

Anderson, AK 99744

Bethel
(907) 269-5551

300 State Hwy

Bethel, AK 99559

Cordova
(907) 424-6125

612 Railroad Ave

Cordova, AK 99574

Craig
(907) 826-3959

506 2nd St

Craig, AK 99921

Delta Junction
(207) 269-5551

1420 Alaska Hwy

Delta Junction, AK 99737

Dillingham
(907) 842-5162

404 D St

Dillingham, AK 99576

Eagle River DMV
(907) 269-5551

Parkgate, 11723 Old Glenn Hwy #113

Eagle River, AK 99577

Fairbanks
(907) 269-5551

1979 Peger Rd #5257

Fairbanks, AK 99709

Express Title & Tags
(907) 488-3106

2156 Bunge St

North Pole, AK 99705

Turbo Tags and Title LLC
(907) 455-8247

3413 Airport Way

Fairbanks, AK 99709

UMV (Fairbanks)
(844) 373-3681

607 Old Steese Hwy, Suite F

Fairbanks, AK 99701

Glennallen
(907) 822-3999

187.5 Glenn Hwy

Glennallen, AK 99588

Haines
(907) 269-5551

259 Main St

Haines, Ak 99827

Homer
(907) 269-5551

3798 Lake St B

Homer, AK 99603

Juneau
(907) 269-5551

2760 Sherwood Ln, Suite B

Juneau, AK 99801

Juneau Motor Vehicles Express Company
(907) 586-8247

8717 Mallard St

Juneau, AK 99801

Ketchikan
(907) 269-5551

415 Main St, Suite 103

Ketchikan, AK 99901

King Salmon
(907) 246-4222

Bldg. 150 King Salmon Air Force Base

King Salmon, AK 99613

Kodiak
(907) 269-5551

2921 Mill Bay Rd, Suite B

Kodiak, AK 99615

Kotzebue
(907) 269-5551

605 Third Ave

Kotzebue, AK 99752

Palmer
(855) 269-5551

515 E. Dahlia Ave, Suite 230

Palmer, AK 99645

UMV (Wasilla)
(844) 373-3681

1325 E Palmer-Wasilla Hwy

Wasilla, AK 99654

Aurora Title and Registration Service
(907) 376-4368

283 Sylvan Rd

Wasilla, AK 99623

Trinity Sails & Repair
(907) 917-4061

306 W. 5th Ave, Suite 183

Aullaqisaaq Center

Nome, AK 99762

Petersburg
(907) 772-4264

15 N. 12th St, Suite 103

Petersburg, AK 99833

Seward
(907) 224-4037

410 Adams St

Seward, AK 99664

Sitka
(907) 269-5551

901 Halibut Point Rd, Suite A

Sitka, AK 99835

Skagway
(907) 983-9765

308 17th Ave

Skagway, AK 99840

Soldotna DMV
(907) 269-5551

43335 Kalifornsky Beach Rd, Suite 9

Soldotna, AK 99669

AK Express
(907) 260-9501

35401 Kenai Spur Hwy

Soldotna, AK 99669

Quick Trip Licenses & Tags
(907) 260-3900

44332 Sterling Hwy, Suite 20

Soldotna, AK 99669

Talkeetna
(907) 733-2266

39124 Talkeetna Spur Rd

Talkeetna, AK 99676

Tok
(907) 883-4481

Mile 1314 Alaska Hwy

Tok, AK 99780

Unalaska
(907) 581-2833

29 Public Safety Way

Unalaska, AK 99685

Utqiagvik
(907) 852-4085

2022 Ahkovak St

Utqiagvik, AK 99723

Valdez
(907) 269-5551

217 Meals Ave, Suite 6

Valdez, AK 99686

Wrangell
(907) 874-3304

431 Zimovia Hwy

Wrangell, AK 99929

Yakutat
(907) 784-3206

609 Forest Hwy, No. 10

Yakutat, AK 99689