Arizona Bill of Sale Forms (5)
An Arizona bill of sale form is completed by a resident of the state (the seller) when exchanging an item by cash, trade, or gift to another person (the buyer). The document must contain the contact information of both parties, a complete description of each object sold, and the type of transaction that occurred.
Summary
Residents must use the state-created car bill of sale form and have it notarized.
Owners of trailers must register and title them following the purchase.
Gun holders do not need a permit to buy or carry.
---
---
Types (5)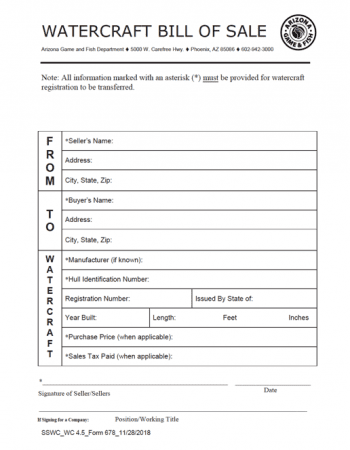 Boat Bill of Sale – Proves that a water vessel (previously owned by another person) rightfully belongs to the new owner.
Download: PDF
---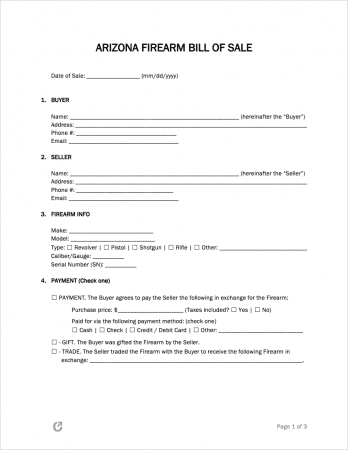 Firearm Bill of Sale – Provides an individual with the legal ability to confirm their gun ownership.
---
General Bill of Sale – Accompanies the sale of items used for practical or decorative purposes.
---
---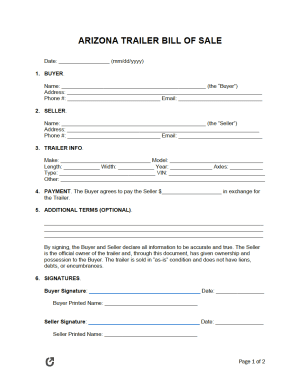 Trailer Bill of Sale – Utilized in the lawful transfer of a utility trailer from one person to another.
---
Signing Requirements
| | | | |
| --- | --- | --- | --- |
| Bill of Sale Type | Buyer Signature | Seller Signature | Notarization |
| Boat | Not required | Required | Not required |
| Firearm | Required | Required | Not required |
| General (others) | Required | Required | Not required |
| Motor Vehicle | Not required | Required | Required |
| Trailer | Required | Required | Not required |
---
What is an Arizona Bill of Sale?
An Arizona bill of sale assumes the buyer as the new owner of an item and the seller as the previous owner. It explains the object's history, including repairs, involvement in accidents, and accrued damages.
Having newfound rights and responsibilities for the item, the buyer accepts it in as-is condition. This individual assumes liability if the property breaks, malfunctions, or causes damages, injury, or death after the sale. As a result, they must perform repairs, pay fines, or serve jail time, depending on the severity of the situation. Obtaining insurance (especially for motorized items) reduces this risk by providing coverage if an accident happens.
A bill of sale form also acts as a receipt for gift sales. It provides information about the exchange to prove the recipient's ownership since they did not pay for the item. Furthermore, it protects the individual from unlawful claims since it verifies they did not steal or illegally acquire it.
---
Registration Forms:
Boats
Bring the applicable documents to an Arizona Game and Fish Department (AZGFD) Office.
Bill of Sale – Makes the transfer of a vessel official.
Application for Arizona Watercraft Certificate of Number (Form 1532) – For obtaining a boat registration and title.
Payment – Costs associated with boat titling and registration in Arizona.
Identification (ID) – A photo ID identifying the person registering the vessel.
Release of Ownership – A Manufacturer's Statement of Origin (MSO) for new boats and the previous owner's registration for used vessels.
---
Registration Forms:
Firearms
Guns do not require registration in Arizona. Residents also do not need a license to open or concealed carry. However, they can choose to obtain a permit to open or concealed carry in additional locations. To carry out this action, the applicant must submit the documents listed below (along with payment) to a Department of Public Safety (DPS) Director's Office.
Permit Application (Form DPS 07202) – Individuals provide information to the DPS using this form.
Firearms Training Course – The person must sign the affidavit on the second page of the application verifying they have taken and passed a firearms safety course. They must also submit a copy of a certification document.
Fingerprint Cards – The state requires the applicant to have two (2) ink fingerprints taken by a qualified fingerprint technician.
Payment – The applicant must pay $60 to submit the information and needs to use one of the following payment methods: money order, cashier's check, or a certified check to AZ DPS.
---
Registration Forms:
Vehicles
Owners must register their vehicle at a Motor Vehicle Department (MVD) location.
Additional (Optional) Documents
---
Registration Forms:
Trailers
Trailers in Arizona require registration and title, which they can obtain by submitting the forms below to an MVD location.
Bill of Sale – Verifies ownership and legal attainment of a trailer.
Title and Registration Application (Form 96-0236) – Provides the MVD with information to register the trailer or re-assign ownership if registration already exists from the seller.
Payment – Owners must pay regular registration fees or a one-time permanent registration cost.
Title – For used trailers with a previous title only.
Additional (Optional) Documents