Arizona Bill of Sale Forms
An Arizona Bill of Sale is a form that is filled out to show that a buyer acquired ownership over an item. The form should include information on how to contact the buyer and seller, as well as descriptors for each object being sold. Additionally, it should provide an overview of the payment process, such as the transaction type and amount. While the form does not need to be notarized, it is recommended to verify the change of ownership.
Bill of Sale Forms – By Type (4)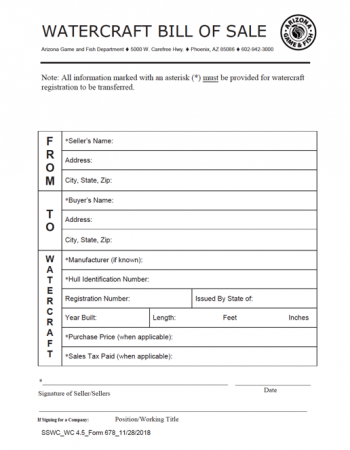 Boat Bill of Sale – When completed and signed, the form serves as proof that a water vessel (previously owned by another person) rightfully belongs to the new owner. If the boat has been received as a gift, the gifter must provide the giftee with a completed Watercraft Letter of Gift in addition to the bill of sale (see Form 679).
Download: Adobe PDF
---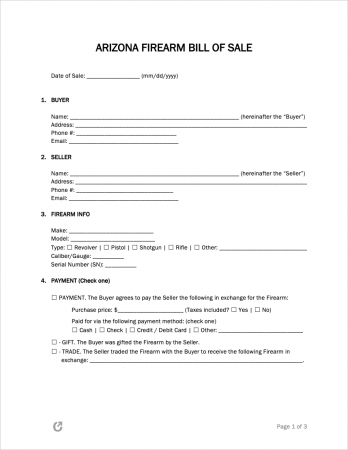 Firearm Bill of Sale – A document that provides an individual with the legal ability to confirm their ownership of a gun.
Download: Adobe PDF, MS Word (.docx), Rich Text (.rtf)
---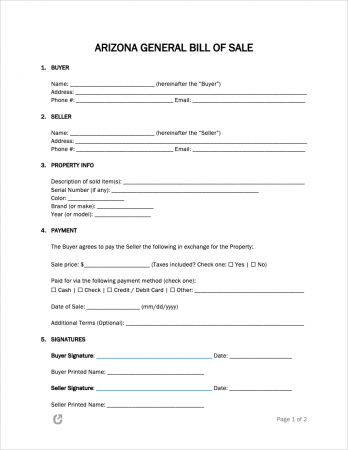 General Bill of Sale – Accompanies the sale of items used for practical or decorative purposes in the state of Arizona.
Download: Adobe PDF, MS Word (.docx), Rich Text (.rtf)
---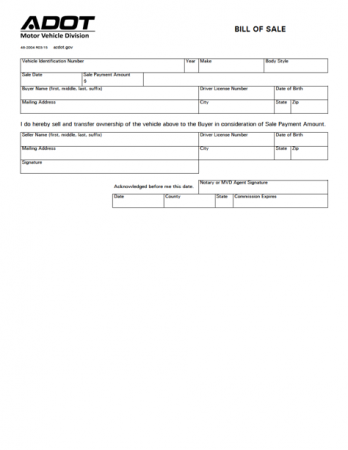 Motor Vehicle Bill of Sale – Summarizes the details of how a vehicle was transferred between two people. The buyer is then able to use the signed form (in addition to the title) to show that they are the owner.
Download: Adobe PDF
---
Registration Requirements
Boats / Vessels
All gas or electric boats that are located in Arizona must be registered through the Arizona Game and Fish Department (AZGFD). Boats that do not fall under this category include those that are for rescue purposes, owned by the U.S. Coast Guard, do not have a source of power, or have been in the state for less than ninety (90) days (§ 5-321). If the boat owner uses their watercraft in Arizona, they must possess a valid registration from their legal state. The owner's manual should include all information needed to determine whether or not the water vessel should be registered.
Renewals
View the online system (see Watercraft Registration Renewal System) of the AZGFD. The process is fairly simple as it only requires the owner's birth date, authorization number, and account password.
First-Time Registration
Residents who have never owned a boat in Arizona must locate their local Arizona Game and Fish Department office or submit all required paperwork via mail to receive a valid registration.
Required Documents for New Boats:
Certificate of Number Application – This form proves that the owner resides in Arizona and legally possesses the boat (see Form 1532).
Bill of Sale – A valid, signed bill of sale confirms that the owner paid for the watercraft in full.
Valid Photo Identification (ID) – A government-issued ID (i.e. Driver's License, Passport, etc.) that verifies Arizona residency.
Manufacturer's Statement of Origin (MCO) – Included from the boat's manufacturer showing that the buyer agreed to the purchase.
Payment – Fees that depend upon length and residency (see Fee Schedule).
The registration of used boats requires the same documents as new boats. However, owners do not need to show the manufacturer's document. Instead, they must show proof of the previous valid registration with a signature from the seller.
After the forms and application have been submitted, it can take up to thirty (30) days for approval. Once processed, the resident will receive a certificate of number, an AZ number, and two decals via mail. The certificate should always be present on the boat if it is being used. The assigned AZ number and decals must also be clearly labeled on the left and right front sides of the boat. Arizona determines the order of renewal using the last two (2) digits of the boater's AZ number. These numbers determine the length of registration, which can be anywhere from seven (7) to eighteen (18) months.
---
Firearms
Arizona favors the second amendment as the state has very few restrictions when it comes to gun laws. Individuals over the age of eighteen (18) years do not need a permit to open carry, nor do people twenty-one (21) years of age or older to conceal carry. However, a resident is restricted on where they can bring a gun in the state. To limit restrictions, they will need to apply for a Concealed Carry of Weapons (CCW) permit. Obtaining a CCW will allow them to conceal carry in facilities that sell alcohol (i.e. a restaurant or bar) or in any other area that prohibits carry without a valid permit (§ 4-244, § 4-229, § 13-3102).
To apply for a CCW, Arizona residents must be over the age of twenty-one (21) (or nineteen (19) if they are military). They must also take and pass a certified training course. The applicant must mail all information to their state facility and include the following documents:
Required Documents:
New Permit Application – Submitting this form determines approval for a CCW. Fill it out honestly and complete all sections.
Certificate of Training Completion – Include the form received after completing an approved training program.
Identification Verification – Residents born in the United States must submit two (2) fingerprint cards. Individuals born outside of the United States will need to follow the instructions on the application to verify their identity.
Payment – The applicant owes a non-refundable fee of $60 to cover the price of the CCW.
---
Motor Vehicles
All vehicles being driven within state borders must be registered and insured either through Arizona or another U.S. state. The Arizona Department of Transportation (ADOT) requires that buyers and sellers submit the following forms when acquiring or selling a motor vehicle.
Required Documents for Buyers:
Bill of Sale – Certifies that the buyer legally acquired the vehicle from a seller.
Application for Title & Registration – Provides technical information needed for ADOT to approve and provide a valid registration. Must be submitted within fifteen (15) days of purchasing (see Form 96-0236).
Valid Car Insurance – The car must be insured according to the requirements of the state.
Proof of Emissions – Cars that reside in Phoenix and Tucson or that frequent the areas must have their vehicle tested for emissions.
Photo ID – Must provide a government-issued ID with a valid photograph.
Payment – Fees and taxes are based on the type of car and its age (see AZ Registration Fees).
Residents can pay $15 for a temporary 90-day registration if they are unable to provide all of the paperwork listed above. For more information, visit a local Motor Vehicle Department (MVD) found using the MVD Office Locator.
Required Documents for Sellers:
Sold Notice – Protects the seller from legal responsibility if the new owner crashes the vehicle, uses it illegally, is ticked, or deserts it(see Form 26-8502).
Odometer Disclosure – The age of the car determines whether or not it requires an odometer disclosure. This information can be included in the bill of sale when filled out with the buyer.
Signatures – The seller must sign the bill of sale and title to transfer it to the buyer.
License Plates – Remove from the sold vehicle and transfer to a new car or discard them.
Arizona motor vehicle registration renewals are much more straightforward. Visit the ADOT Registration Renewal webpage to learn more about the necessary steps. Each registration card should provide an expiration date. The ADOT should also send a notice via mail around the time of renewal. Registration can occur online, via phone call, or at designated facilities around the state.
ADOT no longer provides physical copies for registration. The documents are stored electronically in their computer system and can be accessed by the owner online.