Colorado Bill of Sale Forms (5)
A Colorado bill of sale form grants a taxpayer permission to claim an item as their own after purchasing it from another person. Once the trade occurs, the seller cannot claim possession or request the item back. Similarly, the buyer cannot demand a refund or use the seller's name unlawfully. The form binds each person to the promises within, meaning the buyer must pay the seller the total amount, and the seller must give the property to the buyer without question.
Summary
Vessel and vehicle owners must use the state form but do not need to notarize it.
Private gun sales require a background and mental health history check.
Residents must register boats, cars, and trailers to use them in the state.
---
---
Types (5)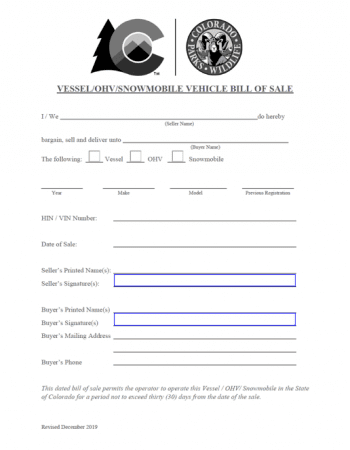 Boat Bill of Sale – A signed agreement that confirms a seller will give a buyer a water vessel for money or another boat.
Download: PDF
---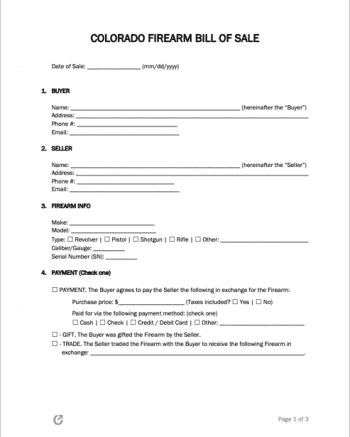 Firearm Bill of Sale – Utilized when selling a handgun, rifle, or another type of gun.
---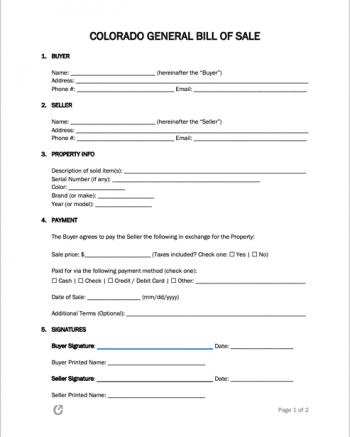 General Bill of Sale – Used when transferring a piece of equipment, appliance, jewelry, or any valuable object from one individual to another.
---
---
Trailer Bill of Sale – This document allows a buyer and seller to determine the terms and conditions of a utility trailer sale.
---
Signing Requirements
| | | | |
| --- | --- | --- | --- |
| Bill of Sale Type | Buyer Signature | Seller Signature | Notarization |
| Boat | Required | Required | Not required |
| Firearm | Required | Required | Not required |
| General (others) | Required | Required | Not required |
| Motor Vehicle | Required | Required | Not required |
| Trailer | Required | Required | Not required |
---
What is a Colorado Bill of Sale?
A Colorado bill of sale enforces ownership upon a willing party following their payment to the original owner and signature in the form. The seller is also responsible for signing, which shows that they agreed to the deal and received funds or another item in return.
After buying the personal property, the individual can do whatever they want with it, as long as state law allows it. For example, they can take the possession out of state, store it in a garage, replace parts, or perform actions that an owner would typically carry out.
If the sale involves animals, such as cats, dogs, or horses, the owner must ensure they properly care for them to give them a good quality of life. In some cases, the seller might check up on the new owner (with permission) to ensure they treat the pet(s) well.
---
Registration Forms:
Boats
The registrar must bring the applicable forms to a Colorado Parks & Wildlife (CPW) office.
Bill of Sale – Used when a new owner acquires a boat by paying or trading with a seller. If not available, the individual can submit another verifying document.
Registration Application (Form REGIS) – Supplies the CPW office with information to give the applicant an official boat registration and title.
Identification (ID) – A list of documents accepted as proof of identity.
Registration & Title – Must include the previous or current owner's name.
Additional (Optional) Documents
Manufacturer's Certificate of Origin (MSO) – For a brand new watercraft.
---
Registration Forms:
Firearms
Colorado residents (or non-residents) do not need to register their guns or have a permit to buy. Individuals can choose to apply for a concealed handgun permit, which allows them to legally have their firearm on their body in a non-visible manner. They must send the required information to a Colorado sheriff's department.
Concealed Handgun Permit Application (Form CSOC-CHP) – Provides the necessary information and ensures the applicant agrees to abide by all gun laws.
Payment – Includes processing fees and fingerprint checks.
Proof of Firearms Training – A official certificate of a class taken within the past ten (10) years to educate the applicant on gun laws and safety.
Fingerprints – The agency uses the applicant's fingerprints to verify their identity and perform a background check.
---
Registration Forms:
Vehicles
Automobile owners must make an appointment with a county office to obtain a registration and license. 
Additional (Optional) Documents
---
Registration Forms:
Trailers
Register trailers at a DOR office by completing and signing the necessary forms.
Additional (Optional) Documents