Colorado Bill of Sale Forms (4)
A Colorado bill of sale is a form that includes specific details about how an item was transferred between two (2) parties. It is an official document that can be used to prove ownership when titling, registering, or selling personal property. When filling out the form, it is important to list the date of the purchase, as well as the selling price and payment type. A full description of the item being sold and the contact information of the buyer and seller should be included, as well.
---
---
By Type (4)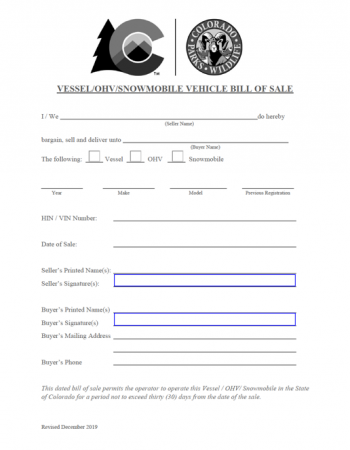 Boat Bill of Sale – A signed agreement stating that a seller will give a buyer a water vessel in exchange for money or another boat.
Download: PDF
---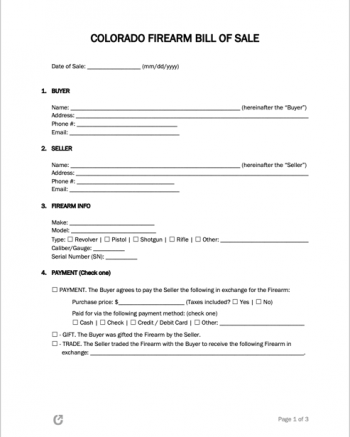 Firearm Bill of Sale – For the selling of a handgun, rifle, or any type of gun.
---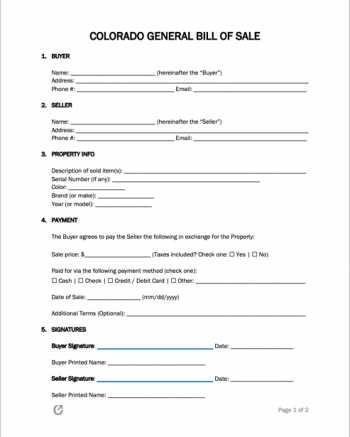 General Bill of Sale – Used when transferring a piece of equipment, appliance, jewelry, or any object of worth from one individual to another.
---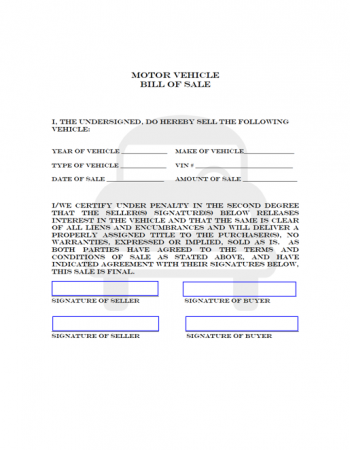 Motor Vehicle Bill of Sale – A form that captures the details of a commercial vehicle sale.
Download: PDF
---
Signing requirements
| | | | |
| --- | --- | --- | --- |
| Bill of Sale Type | Buyer Signature | Seller Signature | Notarization |
| Motor Vehicle | Required | Required | Not required |
| Boat | Required | Required | Not required |
| Firearm | Required | Required | Required |
| General (others) | Not required | Required | Not required |
---
How to Register a Motor Vehicle (3 Steps)
After purchasing a new or used vehicle, the owner must register it within sixty (60) days (§ 42-3-103). New residents have up to ninety (90) days after moving to Colorado to register their vehicle.
Step 1 – Insure the Car
Colorado law requires minimum coverage of $25,000 for the death or injury of one (1) person and $50,000 for the death or injury of two (2) or more people per accident. In addition, it must cover at least $15,000 of property damage per accident.
Step 2 – Submit Registration Paperwork
First-time registrations for vehicles in Colorado must occur in person. Appointments can be made up to ninety (90) days in advance by phone (720-295-2965) or through the online service of the Division of Motor Vehicle (DMV). Retain a copy of the confirmation to bring it to the DMV on the day of the appointment.
On the day of the appointment, the registerer must bring the requested documents, as well as a valid form of payment.
Required Forms / Information:
Application (DR2395) – Must be completed and submitted to receive registration.
Title – The vehicle must be titled in the owner's name.*
Bill of Sale – Proof that the buyer purchased the vehicle from the seller.
Identification (ID) – A government-issued ID containing a photo of the applicant.
Insurance – All registered vehicles must be insured and valid proof must be provided (i.e. insurance card, policy, printout, etc.).
Emissions – Only required for specific automobiles that were purchased privately or gifted.
Odometer Reading – Required for vehicles that are ten (10) years of age or newer.
Affidavit of Non-Use (DR2303) – If the vehicle will be registered, but not used, the owner needs to complete an affidavit for each year it is not operated.
Payment – Fees are variable depending on the county of residence, as well as the vehicle type and weight. Ownership taxes will also be assessed at the time of registration.
*If the vehicle does not have a Colorado title, the out-of-state registration must be provided. Additionally, a vehicle identification number (VIN) verification (Form DR2698) needs to be submitted.
Step 3 – Renew Each Year
Vehicle registration in Colorado lasts for twelve (12) months at a time and is no longer valid following the last day of the expiration month. Vehicle owners may be stopped by law enforcement if they have expired tabs. Drivers of unregistered automobiles may be fined at that time.
Renewing on time will prevent the owner from being cited. Although the driver should keep a record of the registration period, a notice will be sent to the address on file as a reminder. Renewal can occur starting thirty (30) days before expiration online, over the phone, or by mail.
---
How to Register a Boat (4 Steps)
Motor-powered vessels and sailboats being operated in Colorado waterways require registration within thirty (30) days of purchasing. Kayaks and canoes do not need to be registered. Owners can drive their boat while they wait for their registration to process as long as they have the original bill of sale on board.
Out-of-staters who hold a valid registration from their state do not need a Colorado registration if they are using the boat for less than sixty (60) consecutive days. After that time, they will need to register their vessel.
Step 1 – Submit Registration Documents
Boat registrations can be sent by mail or the owner can visit a local Colorado Parks and Wildlife (CPW) office.
Required Forms / Information:
Application (REGIS1102) – A template completed by owners who wish to register their vessel.
Proof of Ownership – At least one of the following forms must also be included.*
Payment – Fees depend on the boat's length and the owner's residency status.
*Documents that can be used to prove ownership:
Bill of Sale – Used to show that a buyer purchased the boat from a seller.
Previous Registration – Proves that the boat has been registered in the past and that the new registerer legally obtained ownership.
Manufacturer's Certificate of Origin (MCO) – A form from the manufacturer that lists the costs associated with it, as well as the location where it was built.
Title – An official document confirming that the purchaser owns the property.
Personal Property by Affidavit – Allows an elected person to act on the boat owner's behalf if they pass away (§ 15-12-1201).
Inspection – Required for out-of-state boats and vessels that have been in water that could be contaminated with Aquatic Nuisance Species (ANS). Only considered valid if signed by a CPW representative.
Mail applications can be sent to the following address:
Colorado Parks and Wildlife-Registration Unit
13787 S Highway 85
Littleton, CO 80125
Step 2 – Purchase ANS Stamp
Lakes and rivers containing ANS can be harmful to boats. When creatures, such as zebra mussels, attach to areas like the engine, they destroy it.
Colorado, among other states, has created laws that help minimize the risk of ANS (§ 33.10.5-104.5). For this reason, it is required that out-of-state boats be inspected prior to registration.
If the vessel passes inspection, the owner can obtain an ANS stamp. In-state boaters must pay $25 during registration and out-of-state drivers must donate $50. The proceeds are given to organizations that fight ANS in Colorado waterways so that boaters can continue to ride in non-infested waters.
The owner must always have the receipt onboard. If they fail to present the proof of purchase, they can be fined up to $150.
Step 3 – Adhere Decal + Colorado Number
After registration has been approved, the owner is required to post the number (if a first-time Colorado registerer) and decals on their boat. If the boat was previously registered in a different state, the previous number must be completely removed before the new one is applied.
Colorado registration numbers are comprised of eight (8) digits. The first two (2) letters are always "CL". Next, there are four (4) numbers and two (2) letters (ex: CL-5769-RN). When printing the numbers on the boat, each section must be sectioned by spaces or hyphens.
The characters should be located on the front left and right sides of the vessel in three (3) inch high, block lettering. Owners must use a color that stands out against the boat's paint so that they are highly visible, as well.
Unlike the number, decals change each year that the boat's registration is renewed. Before placing the current decal, the previous year's sticker must be removed. New tags must be placed to the left of the registration number on both sides of the vessel. The owner may not place other numbers, designs, and stickers near the registration details.
Step 4 – Renew Yearly
A Colorado boat registration lasts for one (1) calendar year and runs from January 1 to December 31. The CPW accepts applications starting November 16 of each year (or forty-five (45) days before expiration). Renewals can occur online as long as the owner knows their registration number. If they do not, they can reapply by mail or through the phone.