Colorado Bill of Sale Forms
A Colorado Bill of Sale is a form used for transferring ownership of an item from one person to another. It contains the date of purchase, a description of the item(s) being sold, information on the seller and buyer, the purchase price, and other necessary info. Upon completing the form, it will need to be signed by both parties.
Bill of Sale Forms – By Type (4)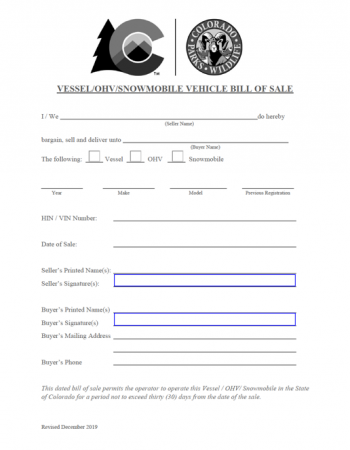 Boat Bill of Sale – A signed agreement stating that a seller will give a buyer a water vessel in exchange for money or another boat.
Download: Adobe PDF
---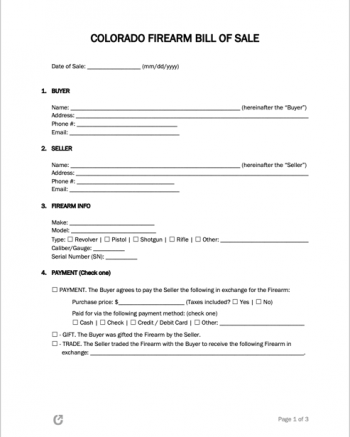 Firearm Bill of Sale – For the selling of a handgun, rifle, or any type of gun.
Download: Adobe PDF, MS Word (.docx), Rich Text (.rtf)
---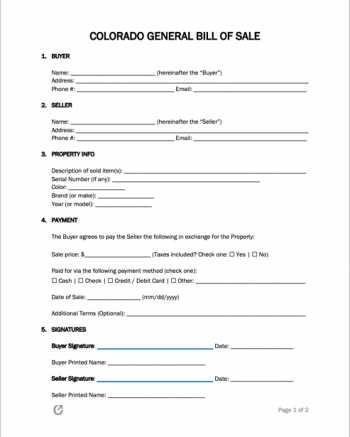 General Bill of Sale – Used when transferring a piece of equipment, appliance, jewelry, or any object of worth from one individual to another.
Download: Adobe PDF, MS Word (.docx), Rich Text (.rtf)
---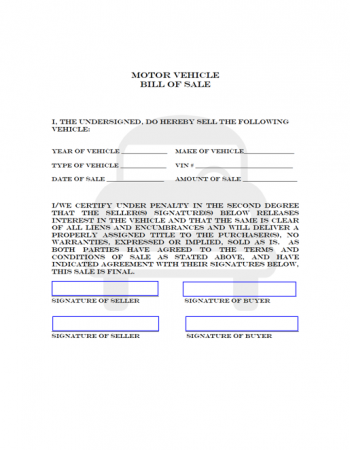 Motor Vehicle Bill of Sale – A form that captures the details of a commercial vehicle sale.
Download: Adobe PDF
---
Registration Requirements
Boats / Vessels
Only registered boats can be used in Colorado waterways. The registration period lasts for one (1) calendar year and must be renewed by December 31st annually. Since the renewal frequency is more than most states, the Colorado Parks and Wildlife (CPW) accepts applications starting November 16th of each year (or forty-five (45) days before expiration). Out-of-staters do not need a Colorado registration if they are using the boat for less than sixty (60) consecutive days. After that time, they will need to register their vessel.
Step 1 – Apply for Registration
Registration is required within thirty (30) days of purchasing. In the meantime, a Bill of Sale may be used to show ownership.
Required Documents:
Application – A template completed by owners who wish to register their vessel (see Application).
Proof of Ownership – In addition to the above, at least one of the listed verifying forms must also be included.*
Payment – The amount of money owed depends on the boat's length and the owner's residency status (see Fees).
*Documents that can be used to prove ownership:
Bill of Sale – Used to show that a buyer purchased the boat from a seller.
Previous Registration – This document must include the current owner's name (regardless of whether it is out-of-state or from the previous seller).
Manufacturer's Certificate of Origin (MCO) – A form from the manufacturer that states where the boat was made and its shipping tax.
Title – An official document stating that the purchaser legally owns the boat.
Personal Property by Affidavit – If the owner passes away, this form allows an elected person to act on their behalf and abide by their wishes (see § 15-12-1201).
Inspection – The water vessel must pass a physical inspection signed by a CPW representative.
The application and associated fees may be turned in at a local CPW office (see Locations) or mailed to:
Colorado Parks and Wildlife-Registration Unit
13787 S Highway 85
Littleton, CO 80125
Step 2 – Display Number & Decal
After registration has been approved, the owner will receive a number (only if a first-time registerer) and decals that must be posted on their boat. The two pieces of information are only considered valid if they are placed using state-provided guidelines. It is best practice to leave the front end of the boat untouched. Avoid additional painted designs, stickers, or anything that distracts from the number and decal.
Colorado registration numbers begin with CL# and must be painted on the front left and right sides of the vessel. The font must be easy to read and understand from a distance. All previous numbers (from past owners) must be removed from the boat to prevent any confusion. The decal must be also located to the left of the registration number. To view an example see the Decal Placement PDF.
---
Firearms
While gun registration is not required in Colorado, all purchases must be recorded and submitted to the state. Private sales are also considered illegal as firearms must be sold and obtained through a dealer. The applicant must pass a background check in order to be considered for ownership, as well (see § 18-12-112).
Step 1 – Review Eligibility Requirements
Locals are able to open carry in unrestricted areas as long as they are eighteen (18) years of age and have legally acquired the gun. However, if a resident wishes to conceal carry a weapon (CCW) they will need to have a valid license. Applicants will only be considered for approval if they are:
A Colorado resident;
Over the age of twenty-one (21) years;
Not a felon and do not have a criminal history;
Truthful in their application (by answering all questions honestly);
Not experiencing alcoholism or drug addiction;

If the individual has a history of addiction, they must be three (3) years sober after receiving treatment. They must also obtain a signature from a licensed therapist stating that they are psychologically sound.

Trained and able to properly use a handgun; and
Are in good standing according to Colorado law (§ 18-12-203).
Step 2 – Apply for CCW
If all of the above qualifications are met, the individual may fill out an application for a CCW permit. Specifications vary by county as each area has different laws and regulations. All paperwork must be submitted to the local county sheriff's office.
Required Documents:
Application – Each question must be filled out honestly and completely (see Concealed Handgun Permit Application).
Residency Documentation (if applicable) – If the applicant is an alien or not a citizen of the United States, they must complete additional forms (see Alien Questionnaire).
Proof of Handgun Training – A signed certificate must be presented. It is only considered valid if it states the name of the applicant, the name of the course, the date(s) of the class. The instructor must also sign the document to verify that the course was taken and passed.
Official Identification (ID) – An authorized document including the applicant's photograph (i.e. Passport, Driver's License, etc.).
Residency Verification – The person applying must show that they live in Colorado. They can show their voter registration, statements for taxes, banking, or mortgage, a lease agreement, or a pay stub.
Payment – Fees are determined through the county office of residence.
View the Concealed Handgun Permit Information Packet for more information.
Step 3 – Attend Interview 
If the local county office accepts the above information, they will contact the applicant to schedule an interview. At this appointment, the person seeking a permit must fill out the following forms and submit fingerprints.
Agreement – A document that shows the applicant agrees to the terms and conditions of the criminal history assessment.
Consent Form – Gives the state permission to use the person's private information to perform a background check.
Fingerprint Scan – Confirms the appointment time and date, as well as the applicant's official demographic information.
Step 4 – Wait for CCW Approval
Background checks and fingerprint scans are reviewed as quickly as possible, although time varies by county. Colorado offices advise that it could take up to ninety (90) days to be approved or denied. If the application has been approved, the CCW permit lasts for five (5) years. Renewals are less complex after the initial application and can be done through the county's online service.
---
Motor Vehicles
Residents have sixty days (60) from the purchase date to register their vehicle. Individuals who have recently moved to the state must register their vehicle within ninety (90) days. Submission requirements vary by county, and therefore, it is important to contact a local office to find out more details on how to apply.
Required Documents:
Title – The vehicle must be titled in the owner's name.*
Bill of Sale – Shows that the buyer purchased the vehicle from the seller.
Valid Identification (ID) – Any of the following can be used to prove the owner's identity (see Secure and Verifiable ID).
Insurance Proof – The vehicle must be insured in accordance with Colorado Divison of Motor Vehicle (DMV) standards (see Rule 46).
Payment – Fees are variable depending on the county of residence, as well as the vehicle type and weight. Ownership taxes will also be assessed at the time of registration.
*If the vehicle is not titled in Colorado, the vehicle's out-of-state registration must be presented. When applying for an in-state title, submit a Title and/or Registration Application.
If the vehicle is titled in another state, a VIN verification is also required (see Form).