Nebraska Bill of Sale Forms (5)
A Nebraska bill of sale form records information about a transaction between two (2) parties. The seller can request or gift the buyer money for the item. A willing buyer and seller can also trade personal property of equal or similar value. Regardless of the transfer method, the parties involved must state the details in the form to have an official record.
Summary
Car sellers must use the state bill of sale form for vehicle transactions.
Notaries must witness the signing of buyers and sellers for car transactions.
Residents must be at least twenty-one and have a permit to purchase a gun.
---
---
Types (5)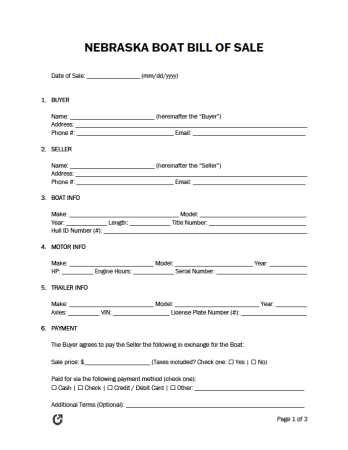 Boat Bill of Sale – Provides the buyer and seller with a method of documenting the exchange of watercraft.
---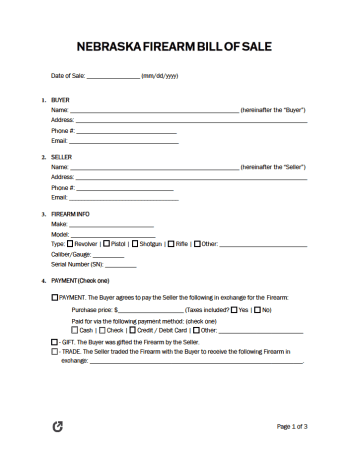 Firearm Bill of Sale – For the transaction of a shotgun, pistol, handgun, or any other type of gun.
---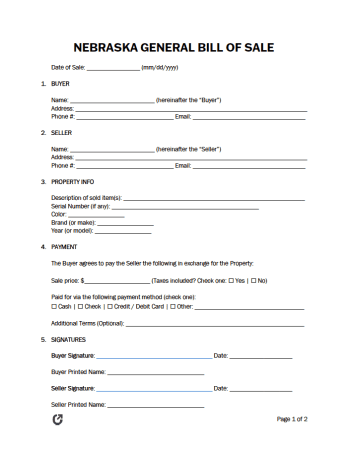 General Bill of Sale – A buyer and seller use this form to explain how and when they transferred ownership of an item.
---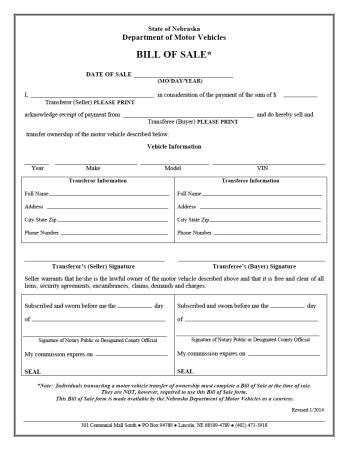 Motor Vehicle Bill of Sale – Primarily used for recording the information of a car, buyer, and seller to prove ownership or handling vehicle registration.
Download: PDF
---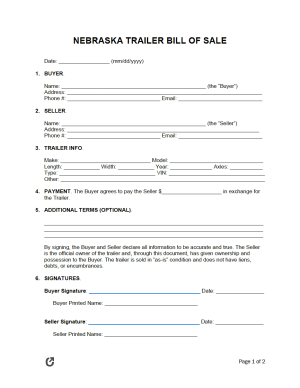 Trailer Bill of Sale – A form that hands over possession of an open or closed carrying trailer.
---
Signing Requirements
| | | | |
| --- | --- | --- | --- |
| Bill of Sale Type | Buyer Signature | Seller Signature | Notarization |
| Boat | Required | Required | Not required |
| Firearm | Required | Required | Not required |
| General (others) | Required | Required | Not required |
| Motor Vehicle | Required | Required | Required |
| Trailer | Required | Required | Not required |
---
What is a Nebraska Bill of Sale?
A Nebraska bill of sale form lists information about a transaction between a transferor and a transferee. It contains information about the transaction, such as the sale item, date of the deal, full names of both parties, sale price, taxes (if applicable), and payment method. Unlike a receipt, a bill of sale offers a more in-depth description of the item and may require notarization. It also differs because the buyer cannot return the item or make unwarranted claims against the seller.
The form enables the buyer to establish ownership and the seller to confirm the release of ownership. These records are crucial when handling matters with government offices, such as the Department of Motor Vehicles (DMV), or registering a vehicle or boat. Familiarizing oneself with state requirements before the transaction ensures that both parties can complete necessary tasks efficiently.
---
Registration Forms:
Boats
Submit documents to a local Nebraska DMV office or county treasurer.
Bill of Sale – Filled out by the vessel owner and purchaser to prove that the deal occurred.
Boat Number and Certificate Application (Form RV-707) – This document gives the owner a way to provide information for registering a vessel.
Payment – The state issues fees based on the class and length of the vessel.
Aquatic Invasive Species (AIS) Stamp – Accompanies registration and protects Nebraska waters from contamination. Boat owners must pay for and obtain a new sticker each year.
Title Application – Original title. Complete an Application for bonded certificate of title (Boat) for boats without a title, homemade vessels, or watercraft with a bonded title in another state. The owner must also submit this form if their title or MSO is incorrect.
Hull Identification Number (HIN) – Proof of number provided by the manufacturer. If the boat does not have a HIN, the owner must complete an application for the state to assign one.
ID – A valid ID with a photograph to prove identity.
Additional (Optional) Documents
Manufacturer's Statement of Origin (MSO) – The manufacturer provides this form to describe the boat's identifying information.
Insurance – Nebraska does not require boat insurance, but they highly recommend it to protect the owner.
---
Registration Forms:
Firearms
Nebraska residents can have a gun without registering it unless they reside in the City of Omaha, which requires citizens within that jurisdiction to register with the state. Regardless of the location in which they live, all firearm holders must have a permit to purchase and own. Private sellers have to check the buyer's history to see if they are a felon or mentally unhealthy. If they do not pass the test, they cannot make the purchase. Concealed carry permit holders are exempt from needing a license to purchase or own. The Nebraska State Patrol handles all firearm-related applications and matters.
Concealed Handgun Permit Application – The applicant must complete this form and sign it in front of a notary public.
Handgun Training and Safety Course – The person applying for the permit must provide the original or a copy of an official completion certificate from an instructor.
Proof of Vision – Nebraska law requires individuals to provide their driver's license or a statement from an eye doctor.
Identification (ID) – The resident can show their driver's license, state ID card, or military ID to verify identity. They can also use these cards to confirm their home address.
Proof of Citizenship – Accepted documents for verifying citizenship include birth certificates, naturalization papers, citizenship certificates, green cards, or other similar forms.
Photograph & Fingerprints – Upon applying, the Nebraska State Patrol will take pictures and fingerprints of the individual.
Payment – The standard fee for first-time applicants is $100, although additional charges may apply depending on the county of residence.
---
Registration Forms:
Vehicles
Visit a Nebraska DMV county location to provide documents or contact a county treasurer.
Bill of Sale – A document completed by the buyer and seller to outline the details of a vehicle transaction.
Odometer Disclosure Statement – Provides an accurate reading of the mileage during the transfer.
Payment – Fees owed by the vehicle owner to cover registration.
Proof of Minimum Insurance Requirements (§ 44-6408) –

Bodily Injury or Death: $25,000 per person / $50,000 for two (2) or more persons
Property Damage: $25,000 per incident

Title: Original, signed title. If the title has been lost or stolen, request a new one by completing a Duplicate Title Application (Form RV-707a). Vehicles that do not have a title, have an incorrect title or Manufacturer's Statement of Origin (MSO), or have a bonded title from another state require the completion of a Bonded Certificate of Title (Vehicle).
Proof of Tax Payment – The owner must present a receipt that confirms they paid for their motor vehicle taxes.
Identification (ID) – The state requires an official photo ID that proves the owner's name, address, and date of birth.
Additional (Optional) Documents
---
Registration Forms:
Trailers
Utility trailers in Nebraska require registration but do not need a title unless the gross weight equals 9,001 pounds or more. All paperwork and fees must go to the resident's nearest county treasurer's office. 
Bill of Sale – This document acts as a business contract between two (2) people involving the exchange of a trailer.
Nebraska Sales / Use Tax and Tire Fee Statement (Form 6) – This form allows the owner to settle their taxes on the trailer and prove that they submitted payment.
Payment – The taxpayer owes $1 for every 1,000 pounds their trailer weighs.
Title / Registration – Owners of used trailers must have a previous title and/or registration for the unit. They can present a manufacturer's statement of origin for brand new trailers.
Identification (ID) – The individual must show their ID card to confirm their credentials.