Virginia Bill of Sale Forms (5)
A Virginia bill of sale form entitles a seller to give another person a piece of personal property in return for money or an object of similar value. In some cases, the merchant gifts the documented item to the individual. The recipient does not need to repay the owner under these circumstances; however, they should request a bill of sale form to prove the transfer happened. Having the document protects the new owner from wrongful claims as it shows the seller agreed to give away the item.
Summary
The buyer and seller must sign, but do not need to notarize the form.
An owner must have a completed bill of sale form to register a boat, car, or trailer.
Guns in Virginia do not need registration (unless the owner has an automatic weapon).
---
---
Types (5)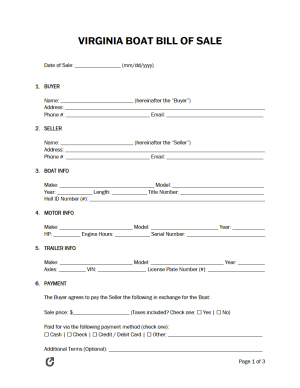 Boat Bill of Sale – Entitles the buyer as the new owner and the seller as the past owner.
---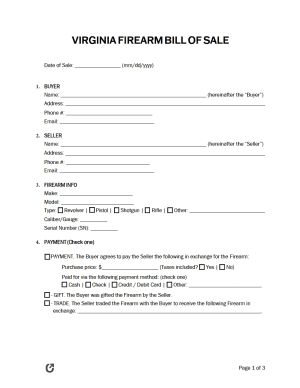 Firearm Bill of Sale – Warrants the legal sale and purchase of a gun between two (2) mentally sound, law-abiding citizens.
---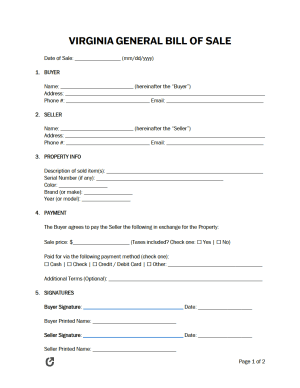 General Bill of Sale – Empowers an individual to deservedly have an item bought from a seller or received by gift.
---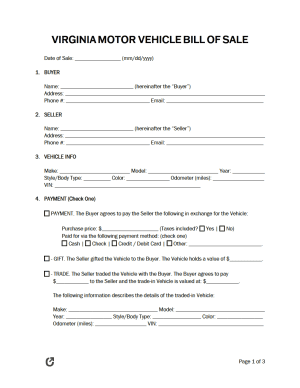 Motor Vehicle Bill of Sale – Concedes the reassignment of title and rights from an owner to a person who needs or wants a car.
---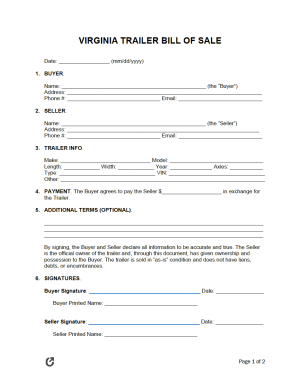 Trailer Bill of Sale – Embodies the reallocation of ownership for a utility trailer used to transport cargo, livestock, and other items.
---
Signing Requirements
| | | | |
| --- | --- | --- | --- |
| Bill of Sale Type | Buyer Signature | Seller Signature | Notarization |
| Boat | Required | Required | Not required |
| Firearm | Required | Required | Not required |
| General (others) | Required | Required | Not required |
| Motor Vehicle | Required | Required | Not required |
| Trailer | Required             | Required | Not required |
---
What is a Virginia Bill of Sale?
A Virginia bill of sale is a document completed by hand or electronically to verify the transfer of ownership between two (2) willing parties. It contains the fields necessary for explaining how the sale occurred, such as the amount the item sold for, the transaction method, and the personal details of each person.
Once the transaction happens, the buyer has official ownership and cannot ask the seller for compensation or reimbursement (even if the item breaks). However, the buyer can ask for repayment if the seller did not inform them of repairs needed before the sale. Similarly, the buyer, or the buyer's family, could have the ability to sue the seller if injury or death occurs as a result of the item malfunction.
Without a bill of sale, the seller could potentially transfer their personal property to a buyer, then report the object as stolen. Although rare, the seller might do this to receive insurance money, seek revenge against the buyer, or another reason.
---
Registration Forms:
Boats
Vessel owners must register their watercraft at a Virginia Department of Motor Vehicles (DMV) customer service center or online.
Bill of Sale – Used to prove that an owner paid a seller for water vessel ownership.
Application for Watercraft (Form BRT-001) – For the registration and titling of boats.
Ownership Release – Manufacturer's certificate of origin (MCO) for new vessels or the previous title for used ships.
Payment – Includes taxes and registration fees.
Sales Invoice – Proof of taxes paid for new and used boats.
Identification (ID) – Needed to prove residency and identity.
Additional (Optional) Documents
---
Registration Forms:
Firearms
Virginia does not require the registration of firearms. Nonetheless, a resident can apply for a license to concealed carry. The permit also provides private sellers with evidence that the buyer can legally purchase a gun. Interested parties must submit the forms, application, and payment to a Circuit Court.
Application for Concealed Handgun Permit (Form SP-248) – Necessary to apply for a concealed handgun license.
Proof of Handgun Competency Documentation (§ 18.2-308.02) – An official form stating the applicant has undergone hunter education, a firearm training class, or any official gun safety course.
Payment (§ 18.2-308.03) – Residents must pay application fees upon submission.
Fingerprints – Taken by an authorized facility.
---
Registration Forms:
Vehicles
Residents must register and title their vehicle through a DMV office.
Bill of Sale – Presents information about the transfer of an item by gift or in exchange for cash or trade.
Vehicle Registration Application (Form VSA 14) – To apply for car registration.
Insurance (Minimum Limits) –

Bodily Injury or Death: $25,000 for one person / $60,000 for two or more people
Property Damage: $20,000 per accident

Payment – Fees associated with motor vehicle registration.
Ownership Release – An MCO for brand new cars or a title for used automobiles.
Identification (ID) – Proves the name on the application and title matches the individual's personal information. If the individual does not have a driver's license or state ID, they must present an acceptable document.
Additional (Optional) Documents
---
Registration Forms:
Trailers
Trailer registration must occur at a DMV location.
Additional (Optional) Documents