Kansas Rental Lease Agreement Templates
The Kansas Rental Lease Agreements are contracts signed between a landlord and tenant when a tenant is looking to rent a residential or commercial unit. In addition to requiring the tenant(s) to pay monthly rent, the forms provide a clear outline as to the obligations of both parties. Tenant obligations can include utility payments, keeping noise levels down, not having pets in the rental, only using one (1) parking space, and more. Whereas landlord obligations can include returning the security deposit at the end of the lease, ensuring the unit has hot water, and keeping common areas clean.
---
---
Types (6)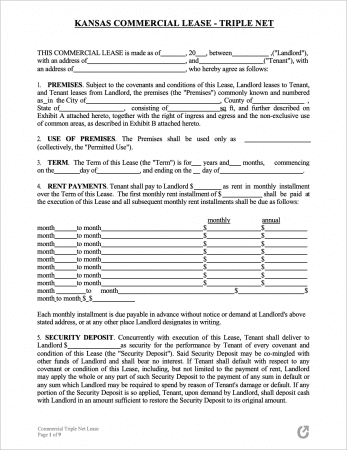 Commercial Lease Agreement (Triple Net) – Binds a tenant and property owner/manager into a contract over the leasing of a property to be used for business purposes only. Being Triple Net (NNN), the tenant is required to pay all costs associated with the property.
Download – Adobe PDF, Word (.docx)
---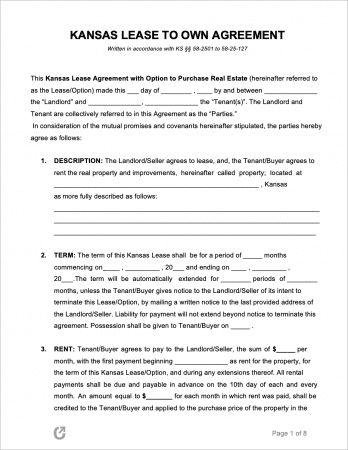 Lease to Own Agreement – A specific type of rental contract that offers a legal means for a tenant to buy the rented property from the landlord at the end of the agreement.
Download – Adobe PDF, Word (.docx)
---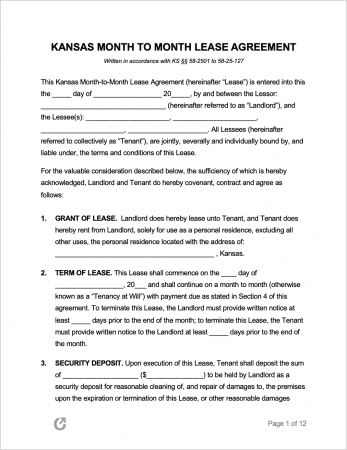 Month-to-Month Lease Agreement – A form used for leasing on a month-to-month basis in comparison to a standard length of one (1) year. Commonly preferred by vacationers, traveling business persons, and individuals in need of a temporary home.
Download – Adobe PDF, Word (.docx)
---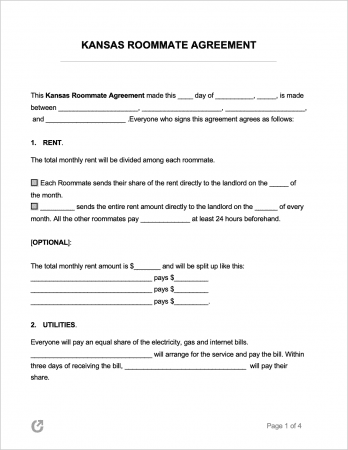 Roommate Agreement – A generally non-binding form completed by roommates sharing a rental property for setting rules on day-to-day living topics such as cleaning, guests, noise, and more.
Download – Adobe PDF, Word (.docx)
---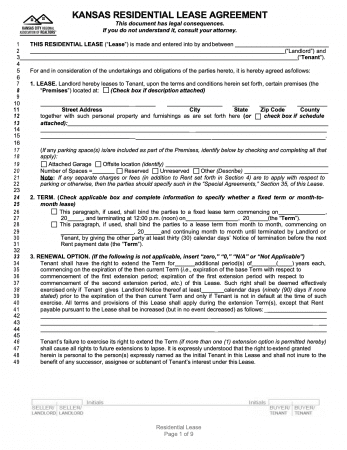 Standard Residential Lease Agreement – The "typical" lease form for renting apartments, condominiums, homes, and more.
Download – Adobe PDF, Word (.docx), Rich Text (.rtf)
---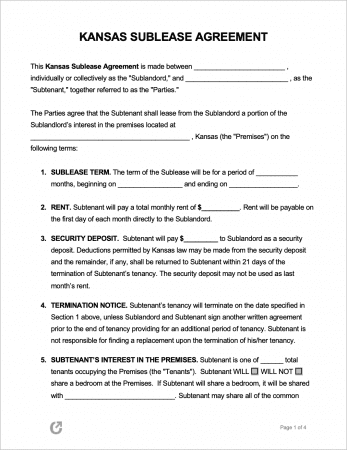 Sublease Agreement – Permits a third party to take over part or all of the original tenant's lease, so long permission has been acquired by the landlord.
Download – Adobe PDF, Word (.docx)
---
What is a Kansas Lease Agreement?
A Kansas Lease Agreement is a legal form drafted by a landlord who seeks to lease their property and a tenant who wishes to reside in it. Prior to signing a lease, landlords should require tenant-applicants to fill out a rental application so they can have a better understanding of whether the applicants would make good tenants once moved-in.
---
State Laws & Guides
Laws: Kansas Residential Landlord & Tenant Act
Landlord-Tenant Guides / Handbooks
---
When is Rent Due?
In accordance with § 58-2545(c), rent is due in line with any prior arrangements made by both parties. Typically, rent will be payable at the start of the month place of the rental unit in uniform monthly installments. Periodic rent for terms of one (1) month or less is due at the commencement of the month.
---
Landlord's Access
Emergency (§ 58-2557(b)): Consent is not required from tenants to enter a rental property in the case of "an extreme hazard involving the potential loss of life or severe property damage."
Non-Emergency (§ 58-2557(a)): Landlords have the right to enter during "reasonable hours, after reasonable notice to the tenant" for a number of reasons including inspecting the premises, making repairs, decorations, alterations or improvements, and supplying necessary or agreed services.
---
Landlord's Duties
As § 58-2553 stipulates, landlords have the following duties under a Kansas lease:
Maintain compliance with all local and state building/housing codes that affect the health and safety of tenants.
Take care of common areas.
Keep all electrical, plumbing, sanitary, and HVAC appliances (elevators included) in good working order.
Unless garbage disposal is provided by the city/town, landlords need to ensure tenants have access to a means of disposing their garbage.
Ensure there is a constant supply of running water as well as reasonable amounts of hot water. If the rental unit is required to have heat, the landlord must ensure heat is accessible at all times by tenants.
---
Tenant's Duties
Per § 58-2555, the duties required of tenants are as follows:
Comply with building codes that relate to their health and safety.
Keep their rented premises both clean and safe (as reasonable).
Dispose of all garbage and rubbish in a safe manner.
Maintain all plumbing fixtures as their condition permits.
Use accessible appliances and systems in a reasonable manner.
Assume responsibility for the destruction / damage of any part of the dwelling that resulted from the tenant, their pet, or a person in the dwelling (who had permission from the tenant to be there).
Refrain from conducting themselves in a way that disturbs other tenant's enjoyment of the premises.
---
Required Disclosures
---
Security Deposits
Maximum Amount (§ 58-2550(a)): Kansas state law dictates two (2) different maximum deposit amounts depending on whether the rental unit is furnished or unfurnished. For unfurnished properties, the amount may not exceed one (1) month's periodic rent. For furnished properties, the landlord may demand and receive a security deposit at a cap of one and a half (1.5) month's rent. If pets are allowed in the rental property, the landlord can demand tenants pay an additional security deposit capped at one-half (0.5) month's rent.
Returning to Tenant (§ 58-2550(b)): The landlord must return the deposit within fourteen (14) days after a tenant's request for the deposit. If no request, landlords need to return the deposit within thirty (30) days.
Deposit Interest: No relevant statute; landlords do not need to provide tenants with interest on their security deposits.