Maryland Rental Lease Agreement Templates
The Maryland Rental Lease Agreements are used for structuring a deal in which tenant(s) rent a space from a landlord for a predetermined length of time. The documents contain a list of conditions that establish each party's duties, rights, and expectations. With the exception of roommate contracts, each lease-type is legally binding, requiring the parties to not only uphold the lease's terms but the requirements set out by MD law.
---
---
Types (6)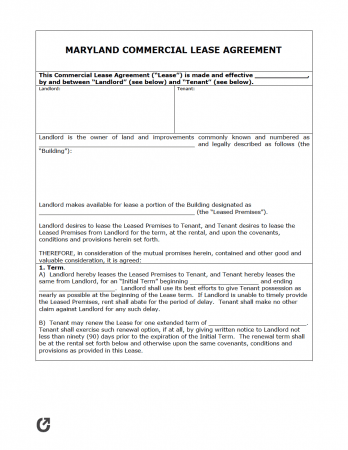 Commercial Lease Agreement – An agreement used by landlords who wish to lease their commercially-zoned property to one (1) or more businesses.
Download – Adobe PDF, Word (.docx)
---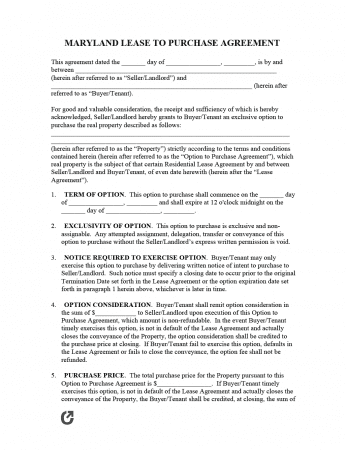 Lease to Own Agreement – Otherwise called a lease-purchase contract, the agreement provides a legal means for tenants to buy a rental property from the landlord after leasing it for one (1) or more years.
Download – Adobe PDF, Word (.docx)
---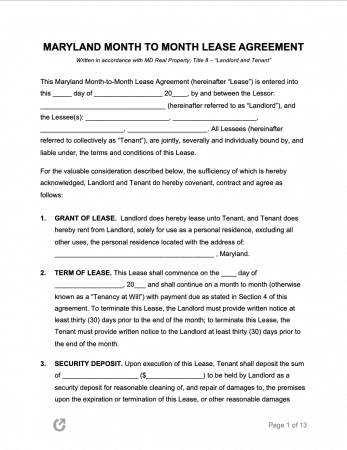 Month-to-Month Lease Agreement – The major distinction between a month-to-month lease and a standard lease is that the monthly lease can be terminated with only thirty (30) days.
Download – Adobe PDF, Word (.docx)
---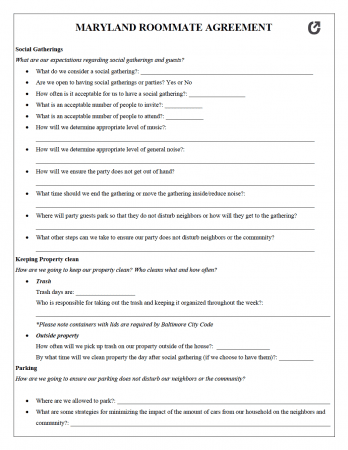 Roommate Agreement – Brings roommates sharing a single rental property on the same page over topics relating to daily activities such as cleaning, guests, possession-sharing, pets, bill sharing, and more.
Download – Adobe PDF, Word (.docx)
---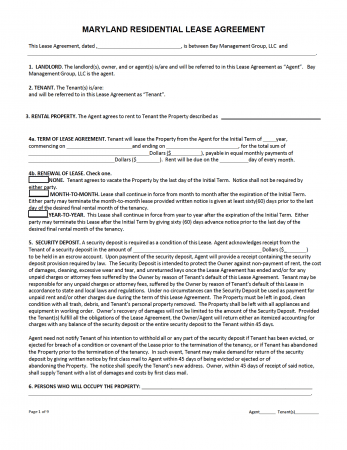 Standard Residential Lease Agreement – An agreement that complies with Maryland landlord-tenant law and is used for leasing rental property for a fixed period of time (typically one (1) year).
Download – Adobe PDF, Word (.docx)
---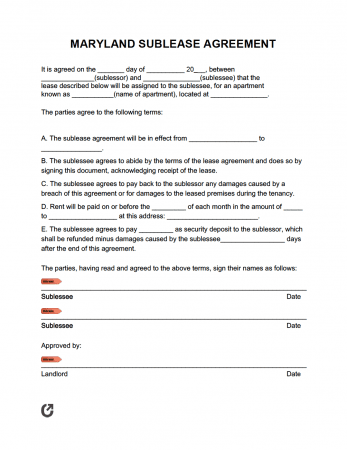 Sublease Agreement – A sub-agreement completed by tenants locked into a lease to introduce a secondary tenant to take over their lease. Includes basic conditions such as rent amount, start and end dates, and obligations for both parties to uphold.
Download – Adobe PDF, Word (.docx)
---
What is a Maryland Lease Agreement?
A Maryland Lease Agreement is a legally-binding document that establishes parameters for the lease of a residential or commercial property. Signees are required to uphold the specified duties relevant to them to ensure their legal obligations are met. Landlords looking for a means to streamline the tenant selection process are advised to require any prospective tenants to complete a rental application form.
---
State Laws & Guides
Laws: Title 8 "Landlord and Tenant"
Landlord-Tenant Guides / Handbooks
---
When is Rent Due?
Maryland law does not stipulate when rent is due. The lease agreement should thus specify when it is due, which is typically on the first (1st) day of the month. In accordance with § 8-208(d)(3), landlords may include a section in the lease agreement about late payments that allows for them to charge a maximum of five (5) percent of the amount of rent due for the rental period for which the payment was late.
If the rent is paid in weekly installments, the late fee may be more than three dollars ($3.00) per week or a total of no more than twelve dollars ($12.00) per month. Landlords can include a grace period in the lease that delays the onset of late fees.
---
Landlord's Access
Emergency: No statute. Federal law preserves landlords' right to enter in cases of emergency.
Non-Emergency: No statute; landlords are advised to only enter at reasonable times with notice of twenty-four (24) hours in advance.
---
Required Disclosures
Names, Addresses, Phone Numbers (§ 8-210): The names, addresses, and telephone numbers of the landlord or anyone authorized to act on their behalf must be listed in the written lease or posted on a sign in a conspicuous place on the rental property.
Habitation (§ 8-208): Landlords must state in the lease that the rental premises will be "made available in a condition permitting habitation, with reasonable safety." Additionally, the lease should outline the landlord's and the tenant's specific obligations as to heat, gas, electricity, water, and repair of the premises.
Lead Paint Disclosure: As dictated by federal law, landlords of dwellings constructed before 1978 must inform tenants of any known lead paint hazards, and must also provide them with the pamphlet, Protect Your Family From Lead in Your Home.
Security Deposit Receipt (§ 8-203(c)): After collecting the security deposit, landlords must provide tenants with a receipt of their deposit. This can be included in the lease agreement.
---
Security Deposits
Maximum (§ 8–203(b)(1)): Landlords cannot demand a security deposit in excess of two (2) months' rent.
Returning to Tenant (§ 8–203(e)): The landlord must return the security deposit to the tenant within forty-five (45) days, minus any damages withheld. Should the landlord withhold any portion of the total amount of the security deposit, the landlord must send a written list of the damages (and associated costs) by first-class mail directed to the last known address of the tenant within forty-five (45) days after the termination of the tenancy.
Deposit Interest (§ 8-203(e)): Interest needs to be collected on security deposits at a rate of 1.5% OR at the rate of the US treasury yield curve rate for one (1) year. If the landlord holds the deposit for less than six (6) months, they DO NOT need to return the interest to the tenant(s).