Maine Rental Lease Agreement Templates
The Maine Rental Lease Agreements are written documents that establish rights and obligations over the renting of ME real estate. The contracts involve two (2) parties: the landlord (lessor), who is the owner / manager of the rental property, and the tenants (lessees), who are the individuals living or working in the unit. The forms are completed after screening the tenant(s) via a rental application, and prior to the tenant(s) moving into the property. Once signed, both parties are required to oblige with the requirements contained in the agreement as well as those mandated by Maine landlord-tenant law.
---
---
Types (6)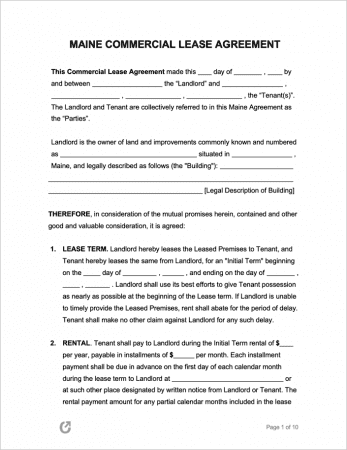 Commercial Lease Agreement – To be used for the renting of a commercially-zoned property to a retail, restaurant, industrial, office, or other business type.
Download – Adobe PDF, Word (.docx), Rich Text (.rtf)
---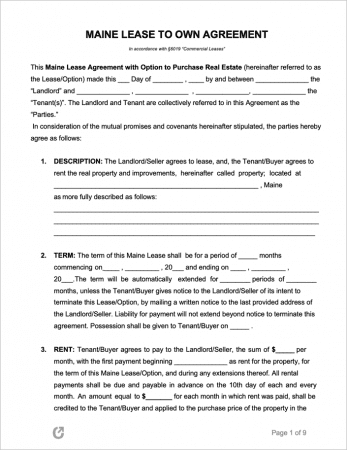 Lease to Own Agreement – Landlords can use this legal document to allow tenants to pay a portion of rent payments towards the purchase of the rental property. Combines two (2) separate documents into one: a standard lease and purchase agreement.
Download – Adobe PDF, Word (.docx), Rich Text (.rtf)
---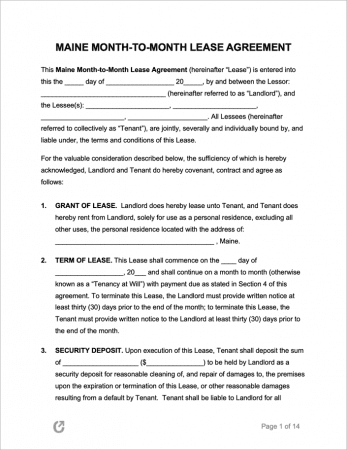 Month-to-Month Lease Agreement – An agreement for establishing a periodic tenancy in which a landlord leases a rental dwelling for a single month at a time.
Download – Adobe PDF, Word (.docx), Rich Text (.rtf)
---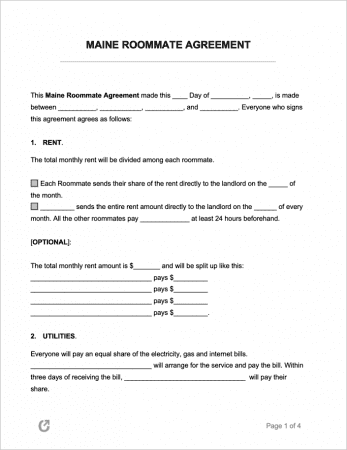 Roommate Agreement – Created and signed by roommates in a shared rental property, this document enhances roommate cooperation in a range of matters relating to the shared living space.
Download – Adobe PDF, Word (.docx)
---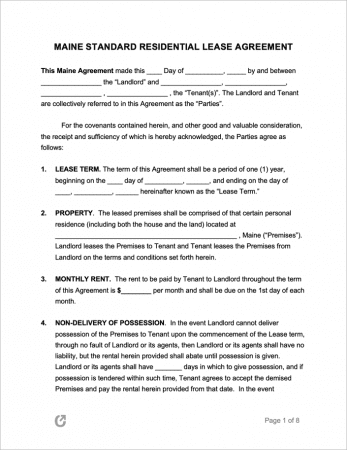 Standard Residential Lease Agreement – The most common lease type for residential renting. Created with the consideration of all relevant state and federal rental laws as well as the preferences of landlords and tenants located whose property(s) are located in Maine.
Download – Adobe PDF, Word (.docx), Rich Text (.rtf)
---
Sublease Agreement – A contract drafted to allow a tenant to re-rent their property to another individual until the expiration of their original lease.
Download – Adobe PDF, Word (.docx), Rich Text (.rtf)
---
What is a Maine Lease Agreement?
A Maine Lease Agreement is a legal document used by landlords and tenants to ensure both parties are clearly aware of their legal obligations to one another for the duration of the lease. By establishing guidelines, the agreement removes any ambiguity (unclarity) about how each party must behave. An especially important document that landlords should use (regardless of the type of lease completed) is a rental application form, which is a document designed to help landlords gain a complete picture of any prospective tenants interested in entering into a lease.
---
State Laws & Guides
Laws: Title 14, Ch. 710: "Rental Property"
Landlord-Tenant Guides / Handbooks
---
When is Rent Due?
No rent due date set by Maine state law. Section 6028 states that tenants have fifteen (15) days from when the rent payment is due until payment is considered late – after which landlords can charge a late fee.
---
Landlord's Access
Emergency (§ 6025(2)): Landlords can legally enter in an emergency.
Non-Emergency (§ 6025(2)): Reasonable notice must be given to tenants prior to entering (24 hours recommended).
---
Required Disclosures
---
Security Deposits
Maximum (§ 6032): The maximum security deposit that landlords can demand is capped at two (2) months' rent.
Returning to Tenant (§ 6033): For leases upheld by written rental agreements, landlords must return a security deposit to tenants within thirty (30) days. In cases of a periodic tenancy (a month-to-month lease), landlords must return the security deposit to tenants within twenty-one (21) days after the lease has been terminated. If the landlord intends to keep all or a portion of the deposit, they must provide a list to tenants stating all deductions.