South Dakota Rental Lease Agreements
The South Dakota Rental Lease Agreements are documents that permit tenants to live or work in a residential or commercial property so long they oblige to all obligations required of them. The forms are signed by both a landlord and tenant(s) prior to the tenants' move-in. During the lease signing, the landlord will go over every section of the lease, which includes sections on rent payments, term, default, pets, keys, notices, and more. The landlord will also collect a security deposit from each tenant, which is capped at one (1) month per SD law.
Types (6)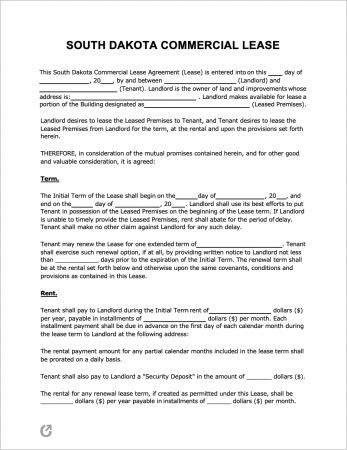 Commercial Lease Agreement – Permits the owner/manager of property designed for business use to be leased to a business-owning tenant.
Download – Adobe PDF (.pdf) | Word (.docx)
---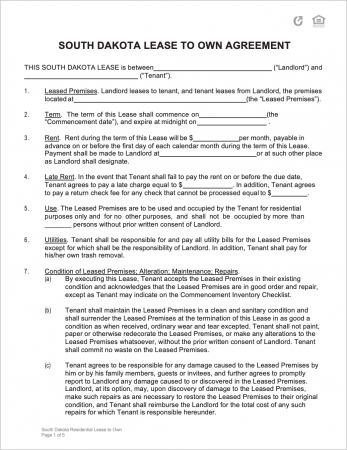 Lease to Own Agreement – An contract that serves as a standard lease, with the added conditions that allow the tenant(s) to purchase the leased property for a previously agreed-upon purchase price. A popular form for homeowners looking to sell their home with an alternative method.
Download – Adobe PDF (.pdf) | Word (.docx)
---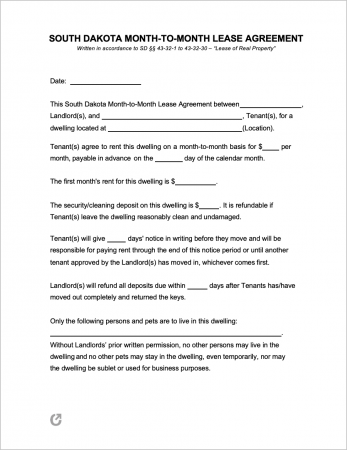 Month-to-Month Lease Agreement – Lasting thirty (30) days at a time, the agreement is ideal for landlords that are seeking greater flexibility with their units. Also popular for property owners that live in their rentals for part of the year (not allowing them to use a yearly lease).
Download – Adobe PDF (.pdf) | Word (.docx)
---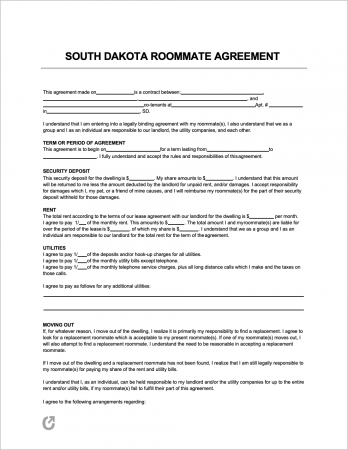 Roommate Agreement – A form used for rentals that have two (2) or more roommates sharing the same common area, kitchen, or other space. Used for setting rules pertaining to cleaning, bills, rent, dishes, guests, and the use of personal property.
Download – Adobe PDF (.pdf) | Word (.docx)
---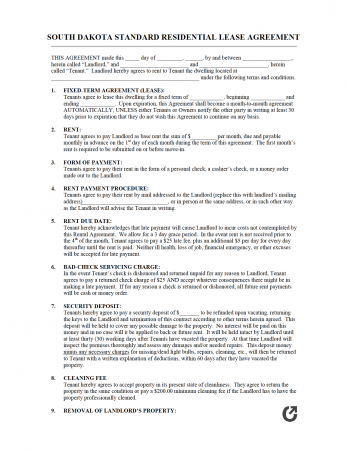 Standard Residential Lease Agreement – The most-used form for leasing property. Is comprehensive and includes all necessary wording and conditions to comply with SD landlord-tenant law.
Download – Adobe PDF (.pdf) | Word (.docx)
---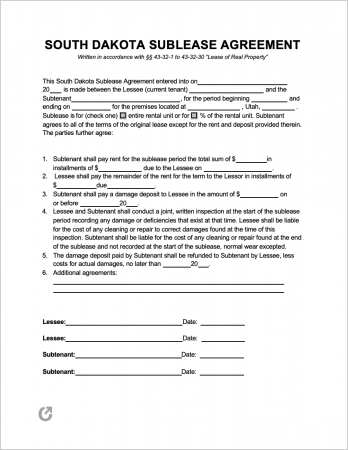 Sublease Agreement – Used by sublandlords (current tenants to a property) for setting guidelines that subtenants (new tenants) are required to follow. Should only be used if the landlord gives permission for subleasing in the lease or in-person.
Download – Adobe PDF (.pdf) | Word (.docx)
---
What is a South Dakota Lease Agreement?
A South Dakota Lease Agreement is a document that a landlord and tenant sign to signify their compliance with a set of provisions relevant to the lease of a rental property. In order to assess which individual will be most suitable for the tenancy, landlords can ask prospective tenants to complete a rental application form. 

State Definition – No state definition.
---
State Laws & Guides
Laws:
Landlord-Tenant Guides / Handbooks
---
When is Rent Due?
As established by § 43-32-12, rent is due at the end of the month. There is no grace period provided by South Dakota landlord-tenant laws.
---
Landlord's Access
Emergency (§ 43-32-32): A landlord does not need to provide notice to a tenant to access the rental property in emergency cases.
Non-Emergency (§ 43-32-32): A landlord must give a tenant reasonable notice of their intent to enter and only enter at reasonable times. As the law states, "twenty-four (24) hours written notice is presumed to be a reasonable notice unless alternate methods of notification or times for entry are mutually agreed upon between the landlord and tenant in the lease." The notice must specify relevant information about their intent to enter, namely: "the date or dates of entry, a period of time during normal business hours for entry, and the purpose of intended entry…[and also] a means for which the tenant may request to reschedule the entry."
---
Landlord's Duties
Tenant's Duties
---
Required Disclosures
Lead Paint Disclosure: Landlords of rental properties built before 1978 have two specific obligations to their tenants. Namely, they must supply tenants with a specific pamphlet about lead-based hazards in the home. They must also disclose to tenants of any known lead hazards present in the rental property.
Prior Manufacturing of Methamphetamines Disclosure (§ 43-32-30): If a landlord has knowledge of the existence of any prior manufacturing of methamphetamines on the rental premises they must disclose this to potential and current tenants.
---
Security Deposits
Maximum (§ 43-32-6.1): The maximum security deposit a landlord may charge a tenant is capped at one (1) month's rent. However, if there are "special conditions [that] pose a danger to the maintenance of the premises," a larger deposit may be agreed upon between the landlord and tenant.
Returning to Tenant (§ 43-32-24): Must be returned within two (2) weeks after the end of the lease. Tenants can request a list of all deductions within forty-five (45) days after the lease has ended.
Deposit Interest:
Uses of the Deposit:
---
Sample