Indiana Power of Attorney Forms
An Indiana power of attorney form gives a mentally-competent person the ability to assign one (1) or more people to act on their behalf. The person that completes the form is legally known as the "principal", and the person they designate is known as the "agent". It becomes official once the selected document is filled-out, signed by the principal, notarized, and distributed. A POA can only be revoked by the principal themselves in Indiana. There are several types of POA forms, of which can cover financial matters, health care, business, real estate, parental rights, and much more. Unless a person is looking to grant powers over all aspects of their life, a topic-specific POA should be selected below.
---
---
Types (6)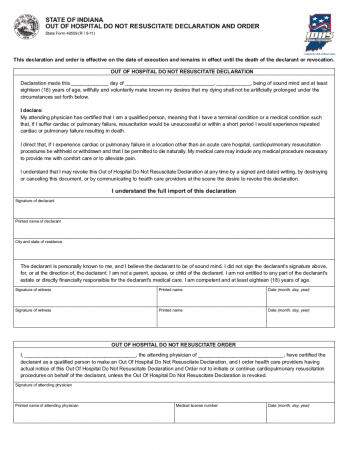 Advance Directive (Medical Power of Attorney) – An all-inclusive document used for clarifying a person's end-of-life wishes. The combination of a living will and a medical power of attorney.
Download: PDF
---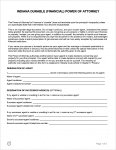 Durable Power of Attorney – A legal document that grants power over a person's financial matters. Remains in effect if the principal loses the ability to make decisions on their own.
---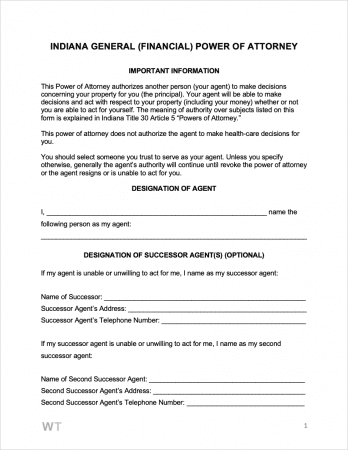 General (Financial) Power of Attorney – A principal who wants the power of attorney they enact to end in the event of their incapacitation or death must make use of a General Power of Attorney.
---
Limited Power of Attorney – This form makes it possible for a principal to clearly state the specific circumstances the agent is legally empowered to act in their stead.
---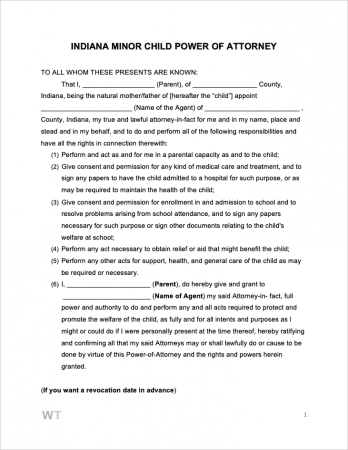 Minor Child Power of Attorney – A useful form for parents who have numerous commitments, or are required to travel without their children. Gives parents and legal guardians a means of delegating parental duties to a person they trust.
---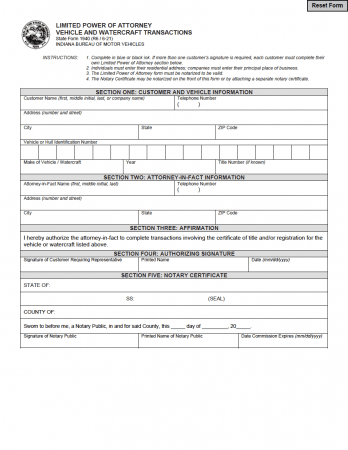 Motor Vehicle Power of Attorney – The official form provided by the Indiana Bureau of Motor Vehicles. Gives a non-owner of a vehicle with the right to handle the vehicle's title and registration.
Download: PDF
---
Laws & Signing Requirements
Indiana Power of Attorney Laws – Title 30, Article 5, "Powers of Attorney"
State Definition of Power of Attorney (IC 30-5-2-7) – "means a writing or other record that grants authority to an attorney in fact or agent to act in place of a principal, whether the term "power of attorney" is used.
Signing Requirements (IC 30-5-4-1) – Must be signed in the presence of a Notary Public by the principal themselves, or by individual acting on behalf of them (with the principal's direct permission).