Maryland Power of Attorney Forms
A Maryland power of attorney form is a type of legal paperwork used for conferring power to an elected person (the "agent") to act in the principal's place in certain situations. The form sets out three (3) important matters:
Who the principal is;
Who the agent (attorney-in-fact) is;
What power(s) the principal will be granting the agent; and
When/how the POA terminates.
Common uses of the form include financial matters, the management of personal property, and end-of-life health care decisions. Any individual in the state may create this document, so long as they are not already incapacitated.
---
---
Types (6)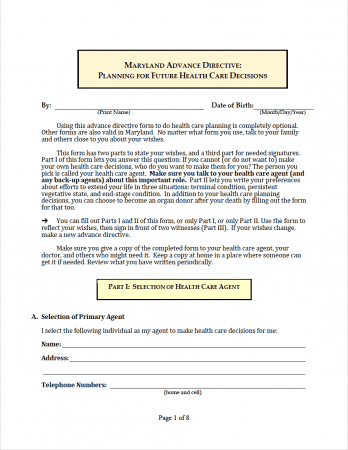 Advance Directive – Making decisions about end-of-life care can be challenging—let alone making them for a loved one. Any individual can save their loved ones the additional grief of deciding what to do with their end-of-life care by stating their own wishes in this legal contract.
Download: PDF
---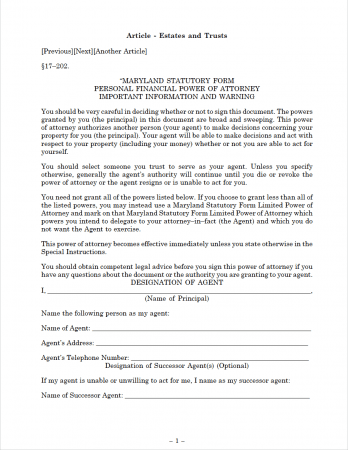 Durable Power of Attorney – If ensuring their wishes are carried out by an agent even when they are not in a medical state to convey them themselves is a concern to a principal, a durable type of POA is most ideal.
Download: PDF
---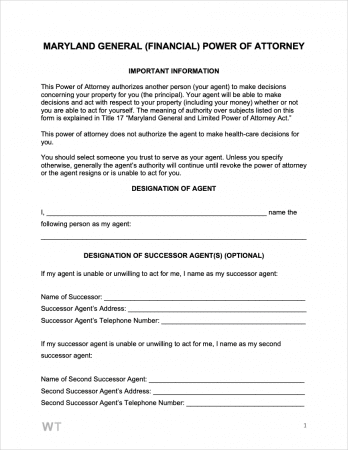 General (Financial) Power of Attorney – If an individual who plans to formulate a POA related to their finances does not wish for it to remain active in the event they become incapacitated, this type of POA will prevent this from occurring.
---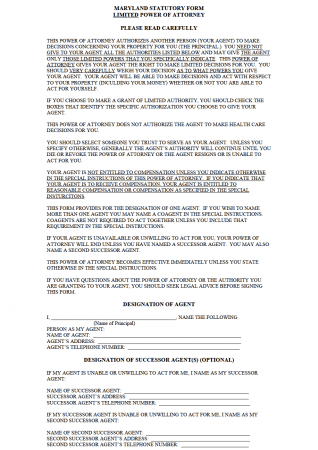 Limited (Special) Power of Attorney – Some people make the mistake of creating a power of attorney that is too broad in scope, and thus, more prone to misinterpretation. Creating a limited type of POA can assist a principal in pinpointing precisely the circumstances the power of attorney should be exercised.
Download: PDF
---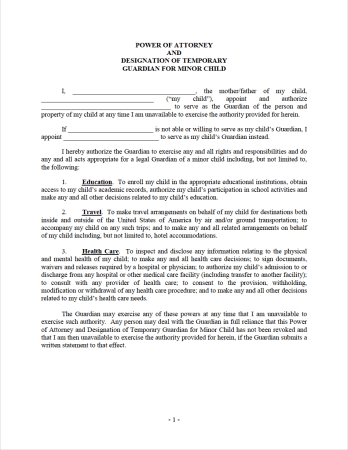 Minor Child Power of Attorney – If a parent or guardian knows of an individual whom they could entrust to guide and protect their child in situations where they are unable to do so themselves, this arrangement can be legally formalized by completing this document.
---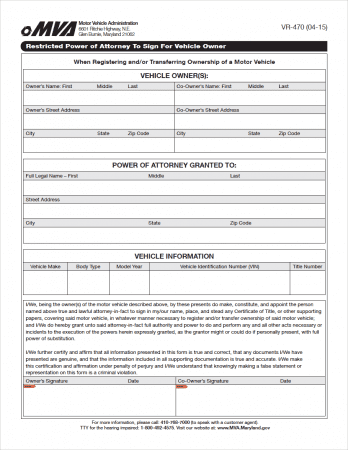 Motor Vehicle Power of Attorney (Form VR-470) – The DMV requires certain processes are executed by a vehicle owner themselves. That is, unless they file a power of attorney that states they wish for another individual they nominate to execute one or more of these processes for them.
Download: PDF
---
Laws & Signing Requirements