Missouri Power of Attorney Forms
Missouri power of attorney forms are legal documents used for assigning power to an individual, who will use the received power to accomplish tasks and/or make decisions on behalf of another person (the "principal"). Powers can range from the right to sign a document, sell a property, file taxes, to making end-of-life healthcare decisions. Whatever powers the principal decides to delegate, their agent should be someone they can personally trust to make the right decisions.
Laws: §§ 404.700 to 404.737 & §§ 404.800 to 404.872
---
---
Types (6)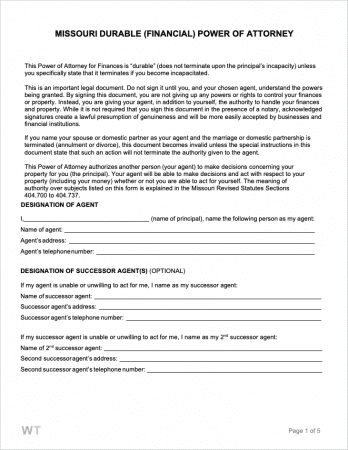 Durable Power of Attorney – Contains a clause that keeps the POA in effect regardless of the mental state of the principal. Only terminates upon death or manual revocation.
---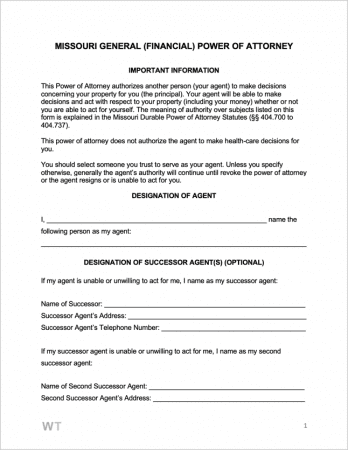 General (Financial) Power of Attorney – Used for assigning powers over general financial decisions. Contains an area to specify the scope of the agent's powers.
---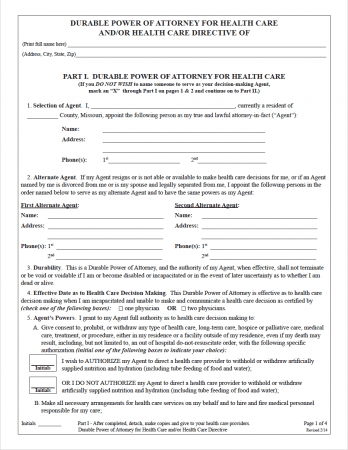 Health Care Power of Attorney – In MO state law, the principal is legally referred to as a patient for health care POAs. Patients can use the form to assign someone they trust to handle their medical decisions in the event they can't themselves.
Download: PDF
---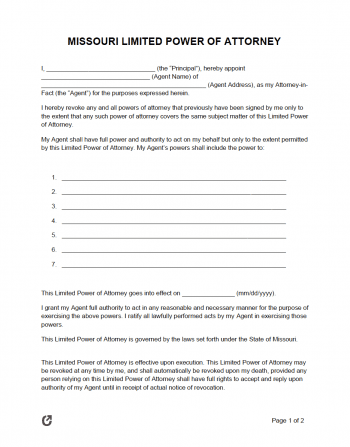 Limited (Special) Power of Attorney – Contains blank lines, in which the principal can add any powers they wish. Out of the nine (9) types available, this is the most open to customization.
---
Minor Child Power of Attorney – Allows a parent or guardian a means of delegating their responsibilities regarding their children to another party, such as a trusted friend or family member.
---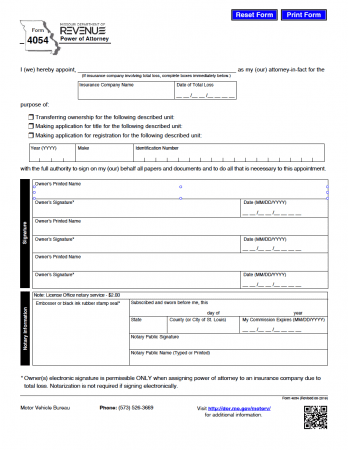 Motor Vehicle Power of Attorney (Form 4054) – An official form provided by Missouri's Department of Revenue for granting another person permission to register or inspect a vehicle, obtain a title, and perform other activities relating to a car or truck.
Download: PDF