Montana Power of Attorney Forms
A Montana Power of Attorney Forms authorizes a person or entity (the "agent") to engage in transactions or tasks on behalf of another individual (called the "principal"). It is the responsibility of the principal to choose an agent they believe will represent their wishes as stated in the form. However, upon accepting their nomination, the agent is legally required to make every decision in the best interest of the principal (as stated by § 72-31-319). If the principal intends to complete a durable financial or medical POA, it is especially important the agent they choose understands the responsibilities they will be bestowed, as they may be tasked with making decisions regarding the principal's final moments in an end-of-life situation.
---
---
Types (6)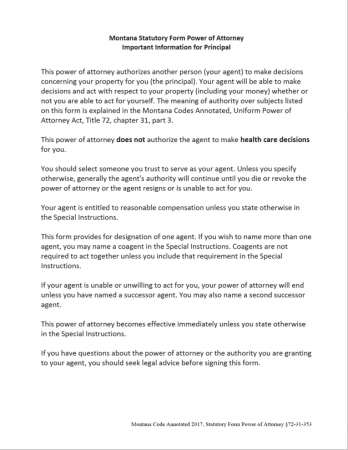 Durable Power of Attorney – The most common type of POA. Once signed, the agreement will remain active regardless of the mental state of the principal. Terminates after the death of the principal, or by manual revocation (using a revocation of POA).
---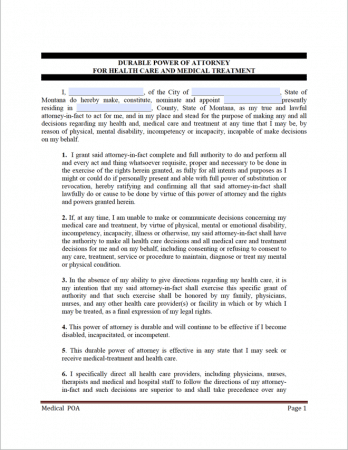 Durable Power of Attorney for Health Care – Used for nominating the person that will handle medical decisions for the principal, should they be unable to do so themselves.
---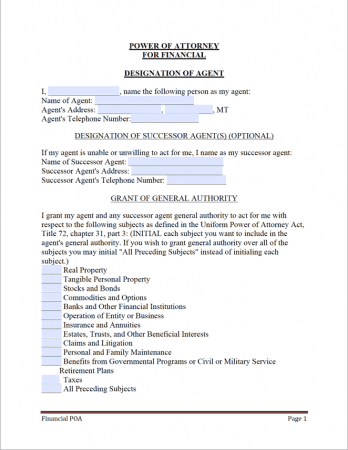 General (Financial) Power of Attorney – Offers broad powers to the agent regarding the principal's finances, including real estate, banking, document signing, and much more. Is the non-durable variant of the durable (statutory) form.
---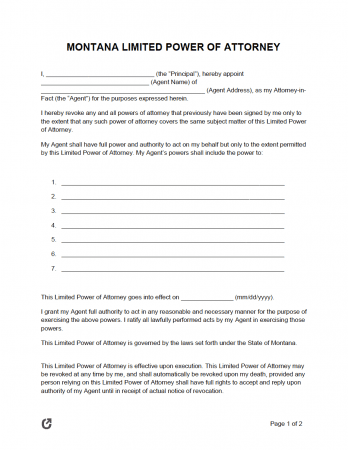 Limited (Special) Power of Attorney – Restricts the agent's power to one (1) to a few areas. In a non-durable POA.
---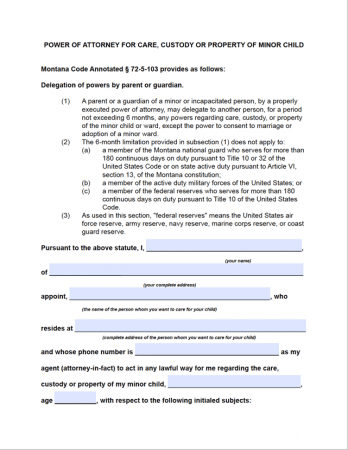 Minor Child Power of Attorney – Gives a person temporary parental rights over a parent's child (or children).
---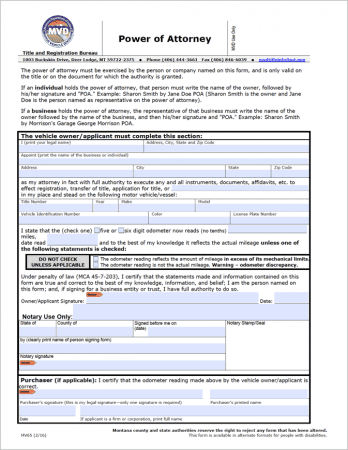 Motor Vehicle Power of Attorney (Form MV65) – Provided by the state's Department of Justice, for giving another person the right to register or transfer a motor vehicle. Contains spaces for the signature of the owner AND a notary public.
Download: PDF
---
Laws & Signing Requirements
Montana Power of Attorney Laws – Title 72, Chapter 31, Part 3 & Title 50, Chapter 9
State Definition of Power of Attorney (§ 72-31-302(7)) – "means a writing or other record that grants authority to an agent to act in the place of the principal, whether or not the term power of attorney is used."
Signing Requirements

General / Durable Power of Attorney (§ 72-31-305) – All non-medical POAs must be signed by the principal and notarized.
Durable Power of Attorney for Health Care (§ 50-9-103) – Must be signed by the declarant (principal) and witnessed by two (2) individuals.