Rhode Island Power of Attorney Forms
A Rhode Island Power of Attorney Form is a form used for giving a trusted person (the "agent") with certain decision-making powers regarding finances, medical matters, real estate, taxes, and more. Power of attorney documents range from broad to highly specific. They are also categorized by whether or not they are "durable". A durable power of attorney only terminates if the principal revokes it, or dies. In other words, if the principal can no longer communicate their wishes (incapacitation), the agent will still keep their powers. A durable form is used when the principal is making long-term planning since a power of attorney can only be created if the principal is of a sound mind.
---
---
Types (6)
Durable Power of Attorney – For delegating general decision-making powers over finances. Does NOT terminate if the principal suffers an event that renders them incapacitated.
---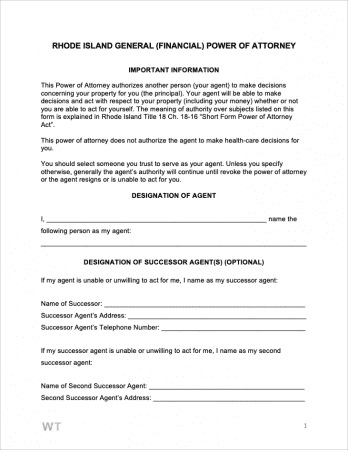 General (Financial) Power of Attorney – Covers the same powers as the durable (general) power of attorney, with the difference in that it is not durable.
---
Health Care Power of Attorney (Advance Directive) – For legally-assigning a health care representative that will speak with doctors and other medical staff on the principal's behalf.
Download: PDF
---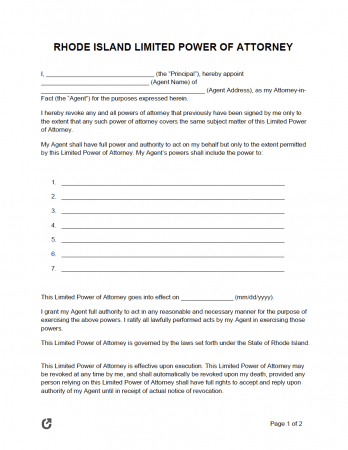 Limited (Special) Power of Attorney – Can be used for assigning any powers the principal wishes, so long the powers are not related to health care. Is non-durable.
---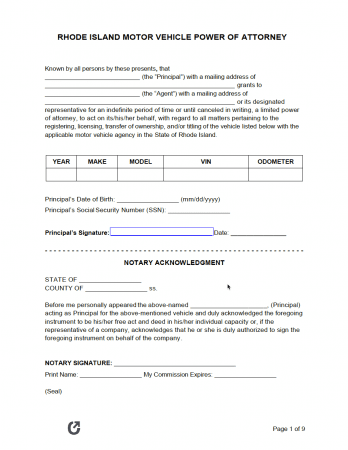 Motor Vehicle (DMV) Power of Attorney – Can be used by the owner of a motor vehicle to have another person complete administrative tasks regarding the car or truck (registering, for example).
---
Temporary Guardianship Power of Attorney (Form RC-2.1)  – Parents can use this form to assign a temporary guardian over their child(ren), whether due to the parent(s) leaving for military duty, medical treatment, to serve a prison sentence, and so on.
---
Laws & Signing Requirements