Virginia Power of Attorney Forms
The Virginia Power of Attorney Forms are personal-use legal documents that bestow authority to a trusted individual to handle real estate, finances, taxes, a motor vehicle, and any other subset of a person's life. Depending on the type chosen, they can be durable or non-durable. By selecting a durable type form, the agent's powers would remain in effect regardless of the mental status of the principal. This type of form should only be used after careful consideration by the principal due to the amount of power that is given to the agent. It is highly suggested that principals elect a secondary agent (and possibly a third) to cover in the event the primary agent cannot perform their duties.
On the other hand, a person will commonly agree to act as an agent because of:
Their desire to help the principal,
Their sense of filial responsibility, and/or
The opportunity to generate income.
---
---
Types (9)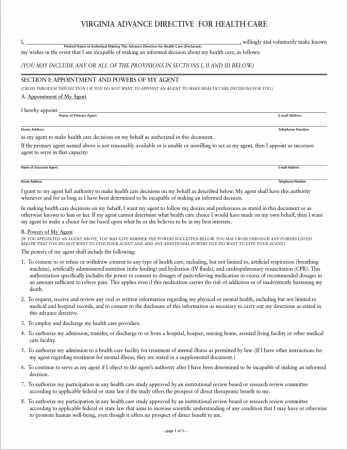 Advance Directive for Health Care – Serves two (2) main purposes: 1) it acts as a legal record of a person's end-of-life preferences (in treatment), and it 2) assigns a representative to communicate the person's preferences to doctors and other medical professionals.
Download – Adobe PDF, MS Word (.docx)
---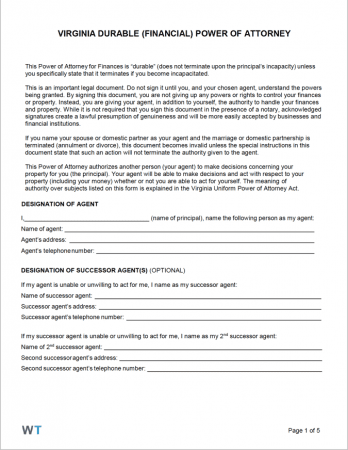 Durable Power of Attorney – A document that gives an agent authority over the principal's finances. The powers assigned continue unaffected should the principal suffer from an emergency that leaves them mentally ill. Terminates upon death.
Download – Adobe PDF, MS Word (.docx)
---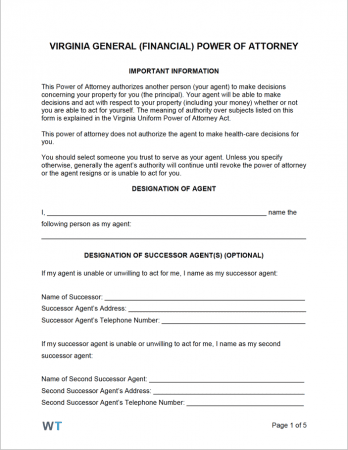 General (Financial) Power of Attorney – Used for giving broad powers to an agent (like a durable POA), but is restricted by legal terms that prevent the POA from continuing after the principal becomes incapacitated.
Download – Adobe PDF, MS Word (.docx)
---
Limited (Special) Power of Attorney – Grants an agent with the authority to perform acts or make certain decisions for a principal for a non-definite length of time and/or in the specific circumstances that have been specified in the document.
Download – Adobe PDF
---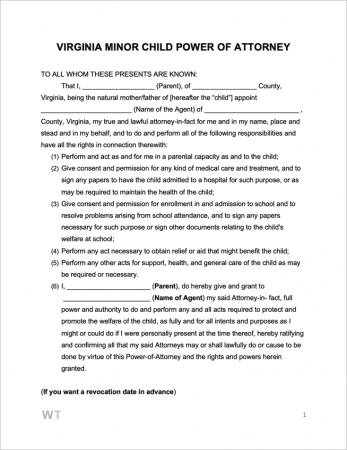 Minor Child Power of Attorney – A legal instrument used for giving an adult the right to make parental decisions over their children for a specific length of time. Commonly used by parents that are leaving on active duty in the military.
Download – Adobe PDF, MS Word (.docx), Rich Text (.rtf)
---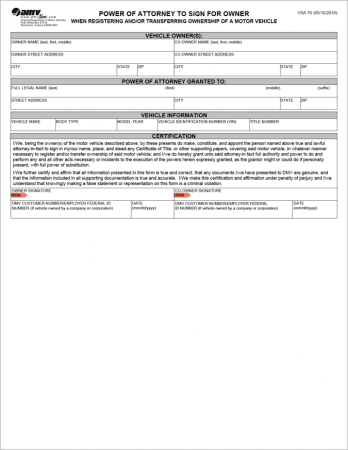 Motor Vehicle Power of Attorney (VSA 70) – Issued by the state's DMV to allow the owner of a car or truck a means of giving another the right to handle administrative tasks regarding the vehicle.
Download – Adobe PDF
---
Real Estate (Property) Power of Attorney – Used for designating a representative to handle a task (or multiple tasks) relating to real property.
Download – Adobe PDF, MS Word (.docx)
---
Revocation of Power of Attorney – Download and complete this form to render an existing/active POA as officially terminated. The principal should also go about tearing-up any physical copies of POA.
Download – Adobe PDF, MS Word (.docx), Rich Text (.rtf)
---
Tax Filing Power of Attorney (PAR 101) – Allows for the delegation of tax matters from a taxpayer to another party, such as a tax agent. An official form provided by Virginia Tax.
Download – Adobe PDF
---
Laws & Signing Requirements