Vermont Power of Attorney Forms
The Vermont Power of Attorney Forms is a class of documents in which a person (known as the "principal") nominates a person of their choice (their "agent") to represent them regarding broad or specific matters. The principal may choose to use a POA due to them needing a task completed on their behalf (such as their car registered), to wishing to assign a long-term representative who will communicate their medical wishes (should they be unable to communicate it themselves). Vermont law doesn't restrict who may act as the principal's agent – the only requirement being that the agent is eighteen (18) years or older and is mentally sound. This can include a family member, a trusted friend, an attorney, to name a few options.
---
---
Types (6)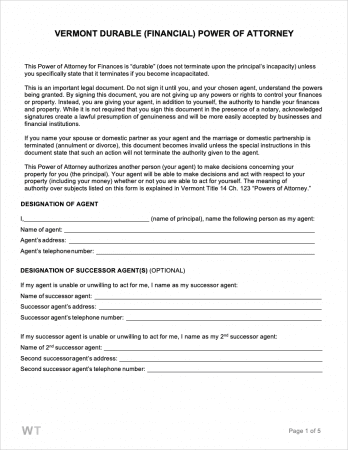 Durable Power of Attorney – Similar to a medical POA, except that it covers all powers NOT relating to the principal's medical wishes. Gives power over financial accounts, real estate, possessions, and much more.
---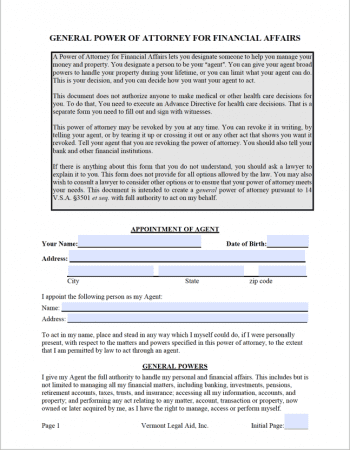 General (Financial) Power of Attorney – A non-durable document used to give a person the right to handle one (1) or more tasks/decisions regarding the principal's finances.
Download: PDF
---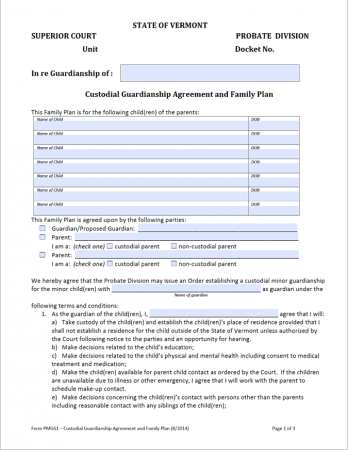 Guardianship Agreement (Minor Child POA | Form PMG61) – Also known as the Custodial Guardianship Agreement and Family Plan, the form allows parents to establish a temporary guardian to take care of their child or children while they're gone.
Download: PDF
---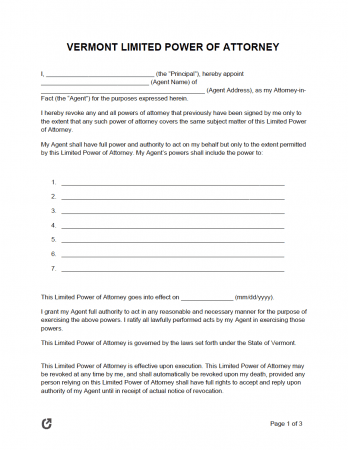 Limited (Special) Power of Attorney – Used for assigning any types of powers the principal desires. Does not remain in effect should the principal become incapacitated or die (in other words, is not durable).
---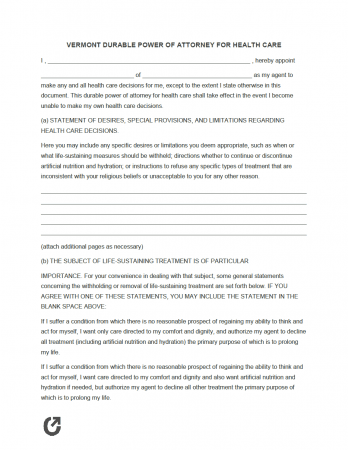 Medical (Health Care) Power of Attorney – A form used for long-term planning, giving the principal a means of assigning a trusted person with the ability to communicate wishes and desires for the principal (when they no longer can).
---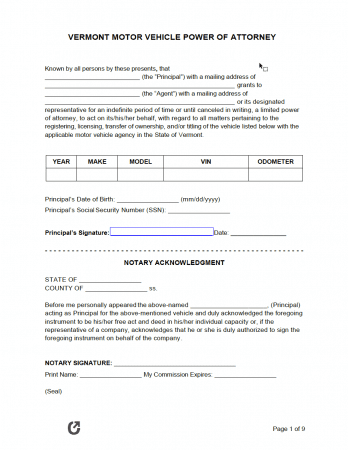 Motor Vehicle Power of Attorney – Gives a resident the right to give another person permission to conduct tasks (such as selling or buying) a motor vehicle on the principal's behalf.
---
Resources
"Taking Charge" (A Guide for Vermont Residents) – This PDF explains many different financial planning documents and how Vermont residents can go about using them.
Vermont Power of Attorney Laws – Title 14, Chapter 123 and Title 18, Chapter 231
State Definition of Durable Power of Attorney (14 V.S.A. § 3501) – "means a written power of attorney in which the authority of the agent does not terminate in the event of the disability or incapacity of the principal."
State Definition of Advance Directive / Medical Power of Attorney (18 V.S.A. § 9701(1)) – "means a written record executed pursuant to section 9703 of this title, which may include [the] appointment of an agent, identification of a preferred primary care clinician, instructions on health care desires or treatment goals, an anatomical gift, disposition of remains, and funeral goods and services. The term includes documents designated under prior law as a durable power of attorney for health care or a terminal care document."
Signing Requirements

General / Durable Power of Attorney (14 V.S.A. § 3503) – Notarized and signed by at least 1 witness.
Advance Directive / Medical Power of Attorney (18 V.S.A. § 9703) – Signed by two (2) witnesses.