West Virginia Power of Attorney Forms
The West Virginia Power of Attorney Forms can be used to grant an agent (trusted friend or family) with permission to enter bank accounts, manage property, sign forms, and much more. The form can be enacted by any individual (known as the "principal"), so long they are over the age of eighteen (18) and clearly lay out the responsibilities of their agent. In general, POAs can be used for either assigning a person with the right to handle a situation when the principal no longer can, or to simply delegate tasks the principal doesn't have the time to do. In the state, matters relating to POAs (other than medical) are governed by WV code Ch. 39B, which give a comprehensive look at the rights of the agent and other important legal matters.
---
---
Types (6)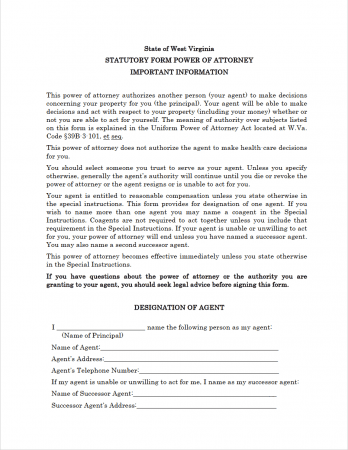 Durable Power of Attorney – Used for designating a representative/agent to handle financial-related decisions or tasks. Outlines the agent's duties, powers, limitations on what the agent can do, and the overall terms and conditions of the contract.
---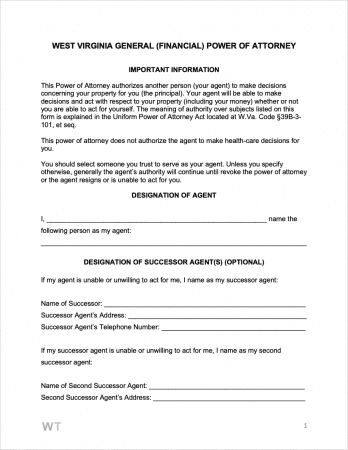 General (Financial) Power of Attorney – Upon being signed and notarized, gives an agent the right to handle all (or certain aspects) of the principal's finances. The form will terminate on its own should the principal succumb to mental incapacitation (being in a vegetative state).
---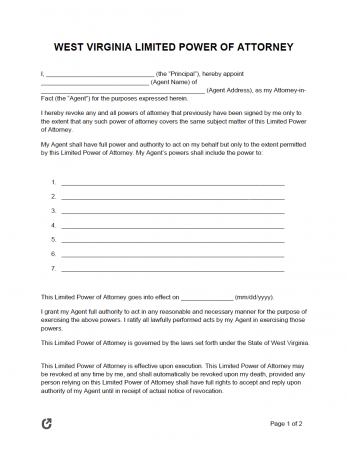 Limited (Special) Power of Attorney – Similar to a general POA, except it does not include any powers – the principal needs to manually write any power(s) they wish to designate to an agent.
---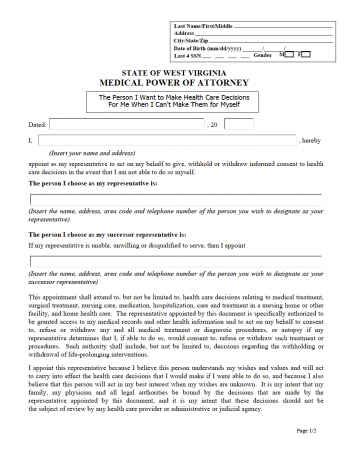 Medical Power of Attorney – A form that "springs" into effect if or when the principal has a medical emergency that renders them unable to communicate. The attorney-in-fact they nominate has the right to handle all health care decisions, regardless of whether or not a living will was created.
---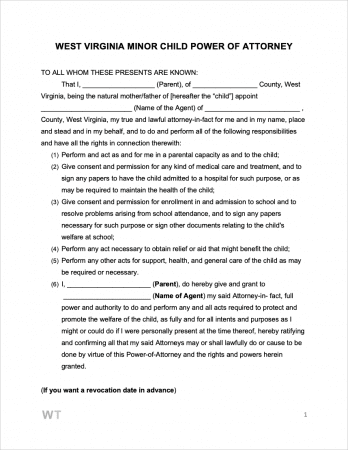 Minor Child Power of Attorney – A parent who enacts this legal document does so to authorize another individual to temporarily take care of their child. The parents who are a party to this agreement will still retain full parental rights.
---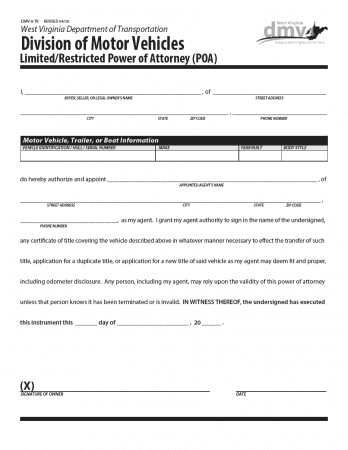 Motor Vehicle Power of Attorney (Form DMV-9-TR) – Represents a request by an individual to the West Virginia DMV to appoint an attorney-in-fact to attend to matters on their behalf that concern their vehicle, such as the transfer of vehicle ownership.
Download: PDF
---
Laws & Signing Requirements
West Virginia Power of Attorney Laws
Signing Requirements
General / Durable Power of Attorney (§ 39B-1-105) – Must be 1) signed by the person completing it, and 2) notarized.
Medical Power of Attorney / Advance Directive (§ 16-30-4) – All medical POAs must be signed by the principal in the presence of two (2) or more qualified witnesses AND witnessed before a Notary Public.