Mississippi Bill of Sale Forms (5)
A Mississippi bill of sale form conveys the narrative of the ownership relocation that happened between two (2) individuals. The seller (owner) of the item and the buyer (new owner) complete the form by providing necessary information, such as the item's description, the transaction type, and price. Both individuals should retain a copy of the signed bill of sale for their records so they can reference it in the future if ever needed.
Summary
Signed trailer bill of sale forms are required for registration.
Gun owners cannot sell to mentally unhealthy individuals or criminals.
Buyers must present a bill of sale form to register a boat or car.
---
---
Types (5)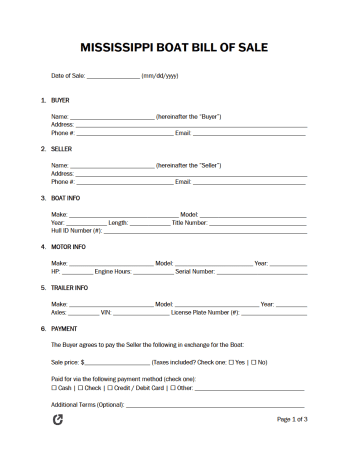 Boat Bill of Sale – A buyer uses this bill of sale as proof of purchase and ownership for a boat or other water vessel.
---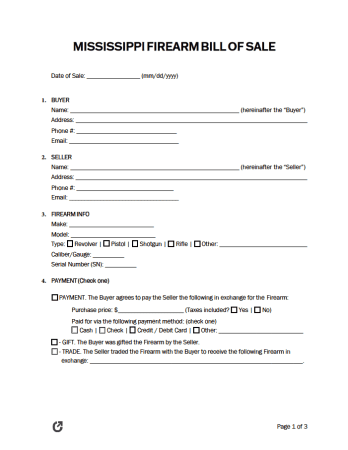 Firearm Bill of Sale – Documents a firearm's change in ownership from a seller to a buyer.
---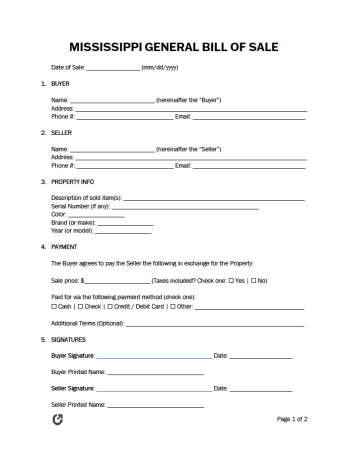 General Bill of Sale – Serves as evidence that an item was rightfully sold or given to another person.
---
---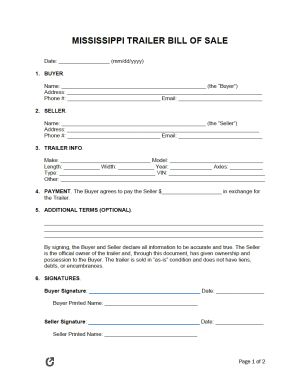 Trailer Bill of Sale – Pertains to selling a utility trailer for personal use.
---
Signing Requirements
| | | | |
| --- | --- | --- | --- |
| Bill of Sale Type | Buyer Signature | Seller Signature | Notarization |
| Boat | Required | Required | Not required |
| Firearm | Required | Required | Not required |
| General (others) | Required | Required | Not required |
| Motor Vehicle | Required | Required | Not required |
| Trailer | Required | Required | Not required |
---
What is a Mississippi Bill of Sale?
A Mississippi bill of sale approves a buyer's ownership after paying a pre-determined amount to a seller. The form is like a receipt for changing ownership over a specified item.
By obtaining possession of the personal property, the new owner assumes all rights and responsibilities. They must pay for damages accrued post-sale, regardless of when the incident occurs. The state recommends that individuals obtain insurance, especially after purchasing high-value items, such as cars or boats. Having a plan ensures that the owner only pays a portion of what they would have to pay without insurance.
Residents must have boat and motor vehicle bill of sale forms notarized. Although other types do not require notarization, it is beneficial to have a notary seal to authenticate the document. This step ensures the identity of each individual, verifies their signature, and confirms that both parties agreed to carry out the sale.
---
Registration Forms:
Boats
Send registration documents to the Mississippi Wildlife, Fisheries, & Parks (MDWFP) Headquarters office.
Bill of Sale – Provides essential information about the business deal between the boat owner and buyer.
Boat Registration Application – Used to apply for registration of a vessel.
Boat Inspection Application – Official approval from a Conservation Officer to use the boat in Mississippi waters.
Marine Litter Regulation – Boaters must have a "marine litter regulation" sticker onboard, reminding individuals to properly dispose of trash to minimize dumping in oceans and waterways. The Mississippi Department of Marine Resources (MDMR) distributes the stickers for free.
Payment – Fees depend upon the length of the watercraft.
Title – For boats purchased through a private sale.
---
Registration Forms:
Firearms
Owners do not have to register their guns in Mississippi or have a permit to purchase or own (unless the firearm is an assault weapon). Individuals can carry in a concealed and open manner without a license and do not need to undergo background checks from private sellers. The gun holder can apply for a concealed carry license, which allows them to have their firearm on their body in otherwise restricted areas. They can bring the paperwork to a Firearm Permit Division location.
Firearm Permit Application – The applicant must complete this form and have it notarized to provide their personal information and allow the state to conduct a background check.
Two (2) Forms of Identification (ID) – The first ID must contain a photograph and current address, such as a driver's license or state card. The second must be an official state or government document (i.e., social security card, birth certificate, passport, etc.).
Fingerprints – First-time applicants must attend a registering office that offers fingerprinting services.
Proof of Safety Course – After taking a handgun safety class, the student should receive an official certification form, which they must present to the state. Active duty military and veterans can meet the criteria for the class (by submitting a DD214 or another applicable document), meaning they do not have to take it.
Payment – The total cost for application processing fees is $112. Disabled veterans and retired law enforcement must provide relevant forms to pay a reduced price.
---
Registration Forms:
Vehicles
Locate a local Mississippi Tax Collector to submit vehicle registration documents. 
Bill of Sale – An official document stating the details of a car, truck, or van exchange.
Odometer Disclosure Statement (Form 78015) – An accurate reading of the car's mileage during the sale.
Payment – The owner must pay the total amount for vehicle registration when submitting the forms.
Proof of Insurance Policy (§ 63-15-43) –

Bodily Injury or Death (one person, per accident): $25,000;
Bodily Injury or Death (two (2) or more people per accident): $50,000; and
Property Damage: $25,000.

Title – A valid, signed title is required. Owners who do not have the original title must apply for a new document using Form 78-006.
Identification (ID) Card – A valid form of photo ID to confirm the owner's personal information.
Additional (Optional) Documents
---
Registration Forms:
Trailers
Utility trailers in Mississippi require registration through a Department of Revenue (DOR) office. Residents must only title their trailer if it has an unladen weight of 5,000 pounds or more.
Bill of Sale – An owner uses this form to confirm they rightfully possess the trailer.
Payment – Each county has its own fee chart, and therefore, the individual should consult with their local tax office for more information.
Sales Tax – The state imposes a 7% tax fee on the cost of the trailer.
Identification (ID) – For the proper identification of the person applying for a trailer registration.
Additional (Optional) Documents
Manufacturer's Statement of Origin (MSO) – This document from the trailer's manufacturer verifies its make and model. The dealership provides the customer with this form following the purchase.
Title – The official title proves the seller transferred the trailer to the new owner.