Ohio Bill of Sale Forms (5)
An Ohio bill of sale form catalogs an item's relocation of ownership. Since a bill of sale is a legal form, both individuals must provide honest and accurate answers in the fillable sections. Failure to do so can result in legal action. Therefore each person should review applicable documents to ensure correctness before finalizing the bill of sale.
Summary
Notarization is not required.
Ohio residents can possess a firearm without a license.
Buyers and sellers must both sign the bill of sale form.
---
---
Types (5)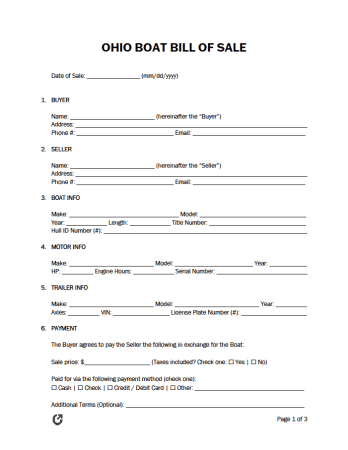 Boat Bill of Sale – For shifting the possession of watercraft.
---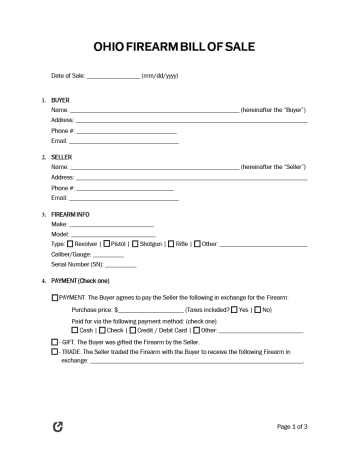 Firearm Bill of Sale – Used when someone legally takes custody of a shotgun, handgun, pistol, or another firearm from someone else.
---
General Bill of Sale – Indicates the sale of an item that one or multiple individuals view as irreplaceable or costly.
---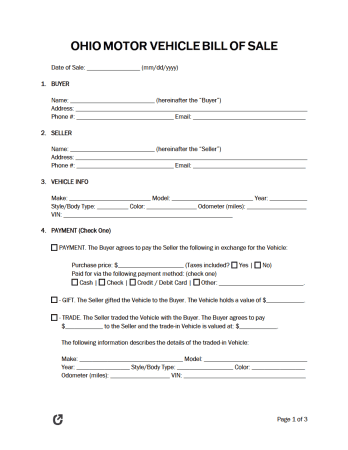 Motor Vehicle Bill of Sale – Permits a person to legally own and drive a vehicle of any kind (i.e., a pickup truck, coupe, convertible, sports utility vehicle (SUV), multi-utility vehicle (MUV), sedan, or hatchback).
---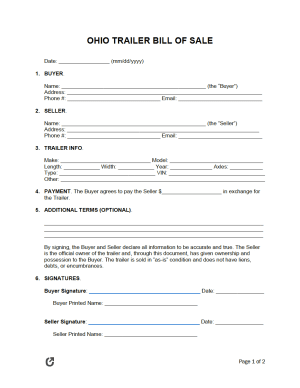 Trailer Bill of Sale – A form that makes it possible for a buyer to prove their ownership of a trailer.
---
Signing Requirements
| | | | |
| --- | --- | --- | --- |
| Bill of Sale Type | Buyer Signature | Seller Signature | Notarization |
| Boat | Required | Required | Not required |
| Firearm | Required | Required | Not required |
| General (others) | Required             | Required | Not required |
| Motor Vehicle | Required | Required | Not required |
| Trailer | Required | Required | Not required |
---
What is an Ohio Bill of Sale?
An Ohio bill of sale represents the deal that a buyer and seller made to transfer possession of an object. The state does not require residents to fill out a bill of sale form, although they strongly encourage it.
The form verifies ownership, which is essential when registering items like boats or cars or selling personal property. It also proves that the buyer or giftee legally acquired the object instead of unlawfully taking it from the owner.
Dealerships handling sales of new or used items must register the personal property for the purchaser. The state requires the dealer to send the completed forms to the Bureau of Motor Vehicles (BMV) or the appropriate office. In addition, they must supply the new owner with temporary registration documents and stickers to use until they receive the official copies. This process often occurs with vehicles, vessels, guns, snowmobiles, all-terrain vehicles (ATV), motorhomes, or other newly purchased motorized items.
Individuals who procure personal property through a private sale must travel to a government office for registration. Ohio gives residents a set number of days to submit documents. If registration does not happen by the deadline, the owner receives penalties or pays fines.
---
Registration Forms:
Boats
Visit a Bureau of Motor Vehicles (BMV) Office, Boat Registration Agent, or Watercraft Office to register and title a vessel.
---
Registration Forms:
Firearms
Ohio does not request that residents register their guns. Residents can apply for a concealed carry license by submitting the following information to a nearby Sheriff's Office.
Application for Concealed Handgun License – A gun holder must utilize this form to receive a concealed handgun license application.
Payment – A minimum fee of $67 as of March 2022.
Certificate of Completed Handgun Course – An authorized concealed carry instructor must provide a certificate to the applicant that shows they passed the course. The individual must present the document to their local sheriff's office.
---
Registration Forms:
Vehicles
Schedule an appointment with the BMV to provide registration documents and payment.
Additional (Optional) Documents
E-Check – Ohio requires Cuyahoga, Geauga, Lake, Lorain, Medina, Portage, and Summit counties to pass an emissions test before registering.
Ohio Motor Vehicle Power of Attorney (Form BMV 3771) – Authorized agents use this form to show their authorization to manage vehicle registration, titling, or any other relevant matter for someone else.
---
Registration Forms:
Trailers
Residents must register their utility trailers at a deputy registrar license agency. If the unit weighs 4,000 pounds or less, it requires a title. 
Bill of Sale – This document identifies the buyer and seller while also providing information about the trailer.
Payment – The unladen weight of the trailer determines registration fees.
Identification (ID) – The person applying for registration and/or title must present their driver's license or state-ID.
Financial Responsibility Statement – The licensing agency provides this form to the owner upon registration.
Proof of Weight – The applicant can present a weight slip (form BMV 5721), a manufacturer's statement of origin (MSO), or a notarized affidavit of original weight (form BMV 5728).