Wisconsin Rental Lease Agreement Templates (6)
The Wisconsin Rental Lease Agreements are legal instruments that set the specifics of a situation in which a rental property (be it commercial or residential) will be leased to one (1) or more tenants. By signing the document, all parties agree to abide by a variety of conditions and duties related to matters similar to the payment of rent, entry to the rental property, household repairs, and many more.
---
---
Types (6)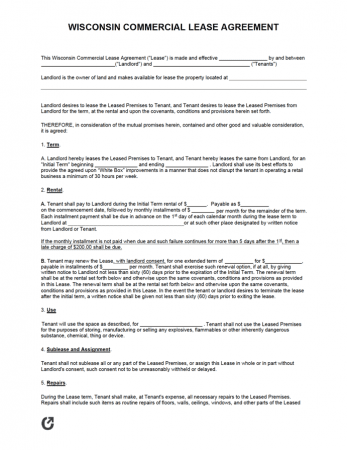 Commercial Lease Agreement – A specifically-formulated document to be used in leasing situations where a property owner or landlord will be renting out their building, office, warehouse, or other space to a business owner.
Download – Adobe PDF
---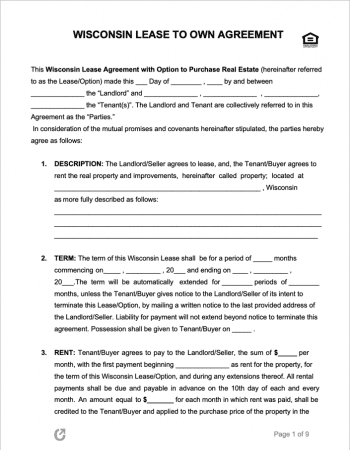 Lease to Own Agreement – Used for establishing an agreement where two parties—a landlord and tenant—agree that the tenant may purchase the rental property from the landlord at the end of the lease's duration (if they so choose).
Download – Adobe PDF, Word (.docx), Rich Text (.rtf)
---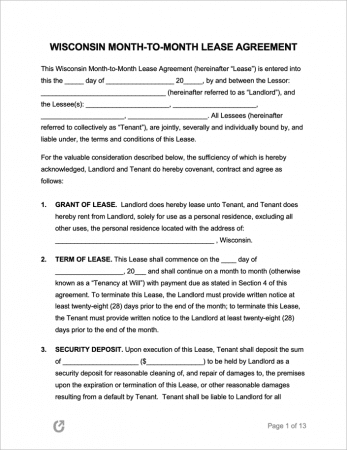 Month-to-Month Lease Agreement – Contrasting to leases that last one (1) year or longer, this lease lasts only one (1) month at a time, automatically renewing if neither party terminates it.
Download – Adobe PDF, Word (.docx), Rich Text (.rtf)
---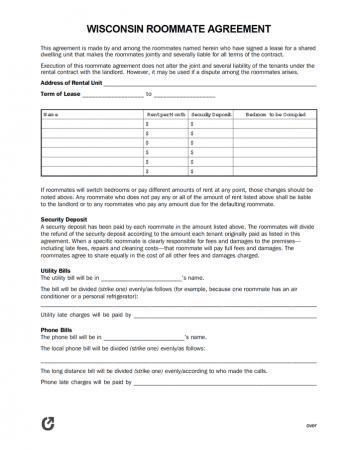 Roommate Agreement – A document specifying a multitude of matters related to a shared rental property. The matters may include those of a legally-binding nature, such as the payment of rent, as well as non-legally binding ones, such as the disposal of waste.
Download – Adobe PDF
---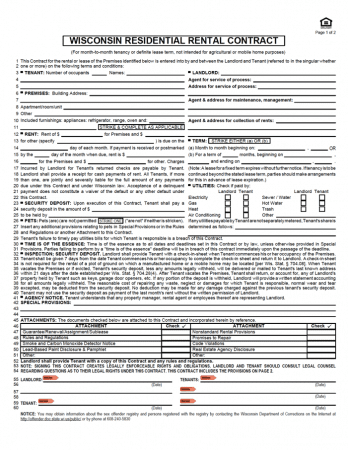 Standard Residential Rental Contract – A type of lease agreement that is used for the majority of residential tenancy situations. Typically for leases with a duration of one (1) year.
Download – Adobe PDF
---
Sublease Agreement – A tenant who will sublease their rental property should create this contract, together with the sublessee, to ensure all expectations and obligations regarding the sublease are clear.
Download – Adobe PDF, Word (.docx)
---
What is a Wisconsin Lease Agreement?
A Wisconsin Lease Agreement is a legally-binding contract entered into by a landlord and a tenant who wish to establish the lease of a residential property. A landlord may, if they choose to, require prospective tenants to fill out a rental application. It is highly advisable they do so, as it gives them the opportunity to screen tenants.
---
When is Rent Due?
State law is silent on the matter of when rent is due. This should therefore be clarified in a written rental agreement. There is no grace period for charging late fees. However, according to § 704.17(3)(b), a landlord is required to provide the tenant at least five (5) days written notice after the rent is due before they may terminate the tenancy due to late rental payment.
---
Landlord's Access
Emergency: State law does not explicitly detail the matter of landlord access in emergency situations. It does, however, state that when the tenant is absent from the premises and the landlord reasonably believes that entry is necessary to preserve or protect the premises, they may enter without notice and with such force as appears necessary. In any case, under federal law, landlords have the right to enter without notice in emergency situations.
Non-Emergency (§ 704.05(2)): With "advance notice and at reasonable times," the landlord may access the rental property to inspect the premises, make repairs and show the premises to prospective tenants or purchaser. Although the precise definition of "advance notice" and "reasonable times" is not given, twenty-four (24) hours notice and entry on business days from 9 AM to 6 PM are respectively recommended.
---
Required Disclosures
---
Security Deposits
Maximum: There is no limit on the amount a landlord may charge a tenant for a security deposit.
Returning to Tenant (ATCP § 134.06(2)): The landlord must return the security deposit within twenty-one (21) days of the tenant vacating the premises at or before the termination date of the rental agreement. As per ATCP § 134.06(4), if the landlord will withhold any portion of the security deposit, they must deliver, with the remaining security deposit amount, a written statement that describes "each item of physical damages or other claim made against the security deposit, and the amount withheld as reasonable compensation for each item or claim."