Wyoming Rental Lease Agreement Templates (6)
The Wyoming Rental Lease Agreements are legal documents that set out the conditions under which a landlord will rent a residential or commercial property to a tenant. The documents are comprised of specific provisions that state the guidelines relating to the following (to name a few):
Parties of the agreement,
The term of the lease,
Security deposits,
Rent payments, and
Utilities and services.
Wyoming state does not cover many matters concerning landlord-tenant relations in comparison to other states. Therefore, it is vital that the lease agreement clearly states the obligations each party must legally uphold.
---
---
Types (6)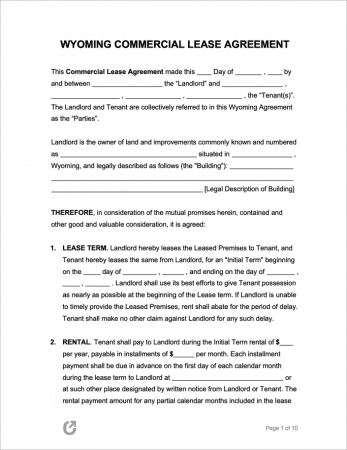 Commercial Lease Agreement – For use by a landlord/property owner with a building/space suitable for a commercial purpose, such as a restaurant, retail shop, or business office.
---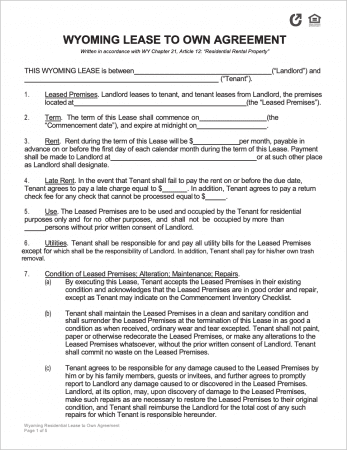 Lease to Own Agreement – An agreement that clarifies the rights and responsibilities associated with the leasing and potential purchasing of a landlord's home by a tenant. Gives the tenant the "option" to purchase the rental at the lease's expiration.
---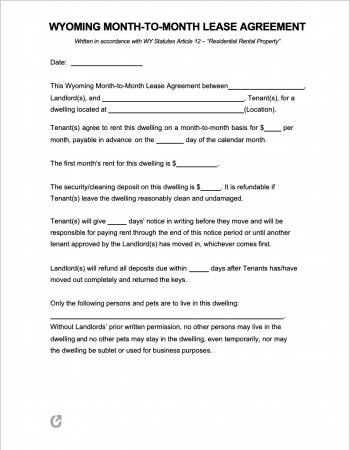 Month-to-Month Lease Agreement – The standard short-term rental agreement for residential leasing. Permits tenant(s) to rent on an ongoing basis, one (1) month at a time. In order to be terminated, either party needs to inform the other a minimum of thirty (30) days in advance.
---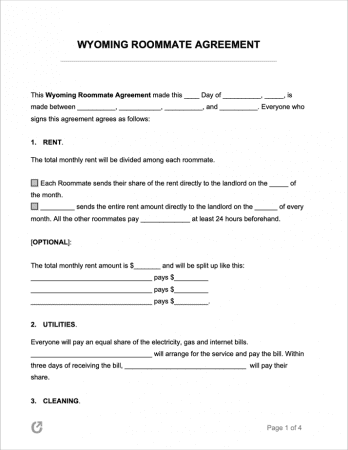 Roommate Agreement – Used or clarifying the responsibilities and expectations of all roommates in a shared property.
---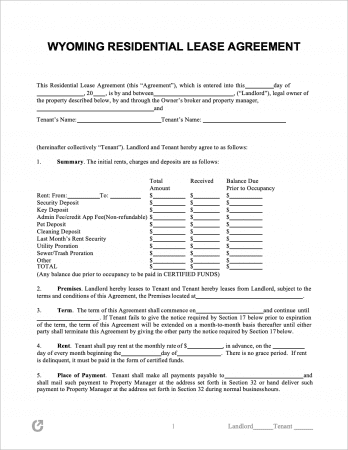 Standard Residential Lease Agreement – Establishes guidelines and responsibilities for the renting of a property to two (2) tenants. Contains all necessary disclosures in order to comply with WY lease laws.
---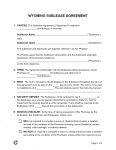 Sublease Agreement – A form used in situations where a tenant will be bringing in a new renter to the property, who will begin taking over their rental payments. Permits the tenant to live somewhere else without the burden of paying rent. The landlord should be consulted for permission prior to using.
---
What is a Wyoming Lease Agreement?
A Wyoming Lease Agreement is a property management document that allows a unit to be leased from a landlord so long the tenants uphold their payment obligations. Prior to using, landlords will use an official rental application form to collect information on an applicant's rental and credit history.
---
State Laws & Guides
Laws: Ch. 21, Article 12 "Residential Rental Property"
Landlord-Tenant Guides / Handbooks
---
Landlord's Access
Emergency: Wyoming law does not specify whether or not landlords can access rental properties in emergency situations. Because of this, federal law should be followed, which permits landlords with the right to enter in an emergency.
Non-Emergency: State law is silent on the matter of landlord access to the rental property in non-emergency situations. Landlords are advised to provide tenants with a minimum of twenty-four (24) hours notice prior to entry and only enter during reasonable times.
---
Landlord's Duties
Per § 1-21-1202 and § 1-21-1203, landlords are required by law to uphold the following duties:
Keep the rental unit in a safe manner that is fit for living in;
Ensure the unit has functional electrical, plumbing (hot & cold water), and heating systems. Seasonal units such as summer cabins/vacation homes are exempt from said requirements;
Maintain all common areas (need to be both safe and sanitary);
---
Tenant's Duties
Wyoming § 1-21-1204 requires tenants to uphold the following duties/obligations for the full term of the lease:
Keep the rental unit clean, safe, and do not clutter common areas;
Throw away trash and other rubbish in a manner that is safe and cleanly. Ensure all garbage is removed and clean the rental until it is in the condition it was at the beginning of the lease (other than expected wear and tear);
Keep plumbing appliances/fixtures sanitary (as permittable) and use all appliances, heating, and electrical systems in a "reasonable manner";
Use the rental as specified by the lease and refrain from permitting additional occupants from living in the rental (that were not previously agreed upon with the landlord);
Pay rent on time and as required by the lease; and
Meet all lawful requirements mandated by the rental agreement.
---
Required Disclosures
Lead Paint Disclosure: A landlord/owner of a rental property built before 1978 must communicate any known lead paint hazards in the property to tenants. They are also required to provide tenants with a pamphlet called "Protect Your Family From Lead in the Home", which further explores the matter.
Nonrefundable Deposit (§ 1-21-1207): A rental agreement must state whether any portion of a deposit is nonrefundable. The landlord is also required to provide the tenant with written notice of this fact at the time the deposit is taken by them or their designated agent.
---
Security Deposits
Maximum: State law does not restrict landlords in the amount they can demand for a security deposit.
Returning to Tenant (§ 1-21-1208(a)): Security deposits must be returned to tenants by the landlord within thirty (30) days after the termination of the rental agreement, or within fifteen (15) days after receiving the renter's new mailing address (whichever is later). In situations where a tenant damaged the residential rental unit, this period must be extended by thirty (30) days.
Deposit Interest: No statute.
Uses of the Deposit (§ 1-21-1208(a)): Landlords can lawfully deduct from deposits for the following reasons:
Pay for any accrued rent;
Repair damages to the rental unit that were not a result of standard/expected wear and year;
To pay for cleaning costs required to bring the rental unit back to the condition it was at the start of the lease; and
Any other costs as outlined by the lease agreement.