Nebraska Power of Attorney Forms
A Nebraska power of attorney form enables any individual (so long as they are of sound mind) to appoint another individual to oversee matters they cannot (or don't want to) manage on their own. The duties or tasks assigned to the agent are dependent on the type of POA completed. For example, using a limited, real estate, or motor vehicle POA typically limits the agent to only a few duties, and rarely assigns them as the agent permanently. Durable medical or financial POAs, on the other hand, can result in an agent being nominated permanently, with the agreement only terminating in the event the principal dies or the principal decides to terminate the agreement manually using a revocation of POA.
The principal (person assigning power) can assign any agent of their choosing so long they are over the age of eighteen (18) and are willing to handle the responsibilities given. Having said, if completing a medical POA, the only requirement regarding agent nomination is that the principal cannot assign an agent that is the owner or operator of the hospital or assisted living facility that the principal currently (or will) reside in.
---
---
Types (6)
Durable Power of Attorney – If an individual enacts a durable type of financial POA, it will remain in effect regardless of the mental state of the principal. Commonly used for determining a permanent representative over one's finances.
---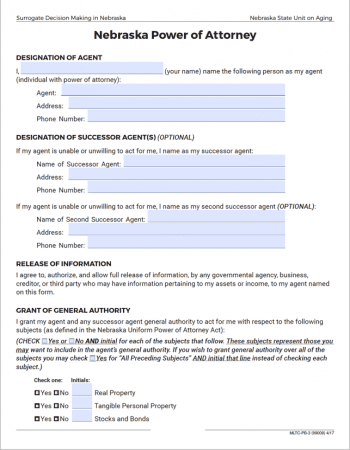 General (Financial) Power of Attorney – The non-durable option to the financial POA (above). Revokes on its own in the event the principal succumbs to a medical emergency where they are unable to communicate their wishes.
Download: PDF
---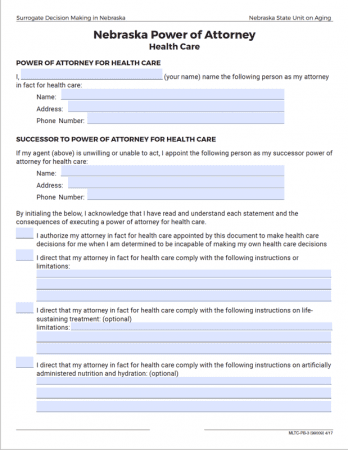 Health Care (Medical) Power of Attorney – A durable type of POA for medical decisions ONLY. Assigns a representative who will convey their wishes for how they would like to be treated medically (when they cannot themselves).
Download: PDF
---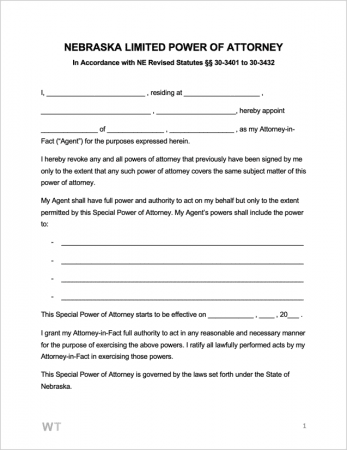 Limited (Special) Power of Attorney – A form used for one-time or simple recurring tasks. Is not durable and typically terminates once the agent completes his or her assigned tasks.
---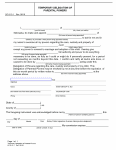 Minor Child Power of Attorney – Sets out the terms in which a parent or guardian may assign another party to take care of their child for a limited length of time.
Download: PDF
---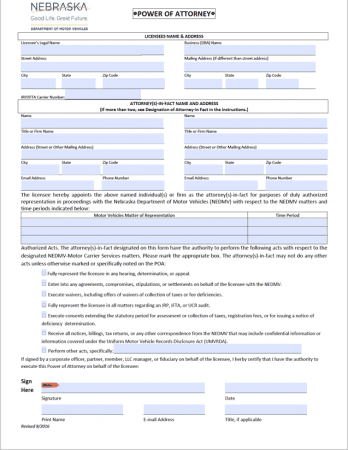 Motor Vehicle (DMV) Power of Attorney – A form provided by the state DMV, and required to be completed in order to let another person register or transfer a title on behalf of the vehicle's owner.
Download: PDF
---
Laws & Signing Requirements
Nebraska Power of Attorney Laws –

§§

30-4001 to 30-4045 & §§ 30-3401 to 30-3432
State Definition of Power of Attorney (§ 30-4002(8)) – "a writing or other record that grants authority to an agent to act in the place of the principal, whether or not the term power of attorney is used."
Signing Requirements (§ 30-4005) – In order to be considered in-effect and legal in the eyes of Nebraska law, it must be signed by:

The principal (the person that completes the document), and
A licensed notary