Oregon Power of Attorney Forms
An Oregon Power of Attorney Form, in its simplest definition, permits another individual with the right to act on another's behalf. Where the nine (9) types differ is in the types of powers they grant, how they go into effect (and how long), and what must be done to complete one in full. The form is completed between two (2) parties, the principal (one delegating powers), and the agent (receiving powers). The agent should be someone that is personally close to the principal, as they could be responsible for making literal life or death decisions regarding the principal's medical treatment. When selecting a power of attorney to use, it is very important the principal understands whether they would like to use a durable or non-durable POA. If durable, the powers granted to the agent remain in effect regardless of the mental status of the principal. Whereas a non-durable POA will automatically terminate should the principal no longer be able to make decisions on their own (a medical condition known as being "incapacitated").
Important note: All power of attorney forms terminate upon the death of the principal.
---
---
Types (6)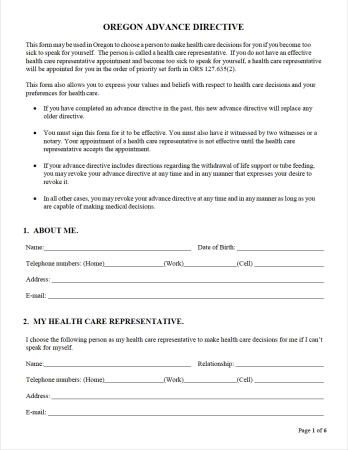 Advance Directive (Medical Power of Attorney) – Allows residents of Oregon to designate a representative (who they know personally) to communicate their medical wishes to hospital staff.
---
Durable (Financial) Power of Attorney – Permits an agent to handle one's financial affairs, regardless of the medical state of the principal.
---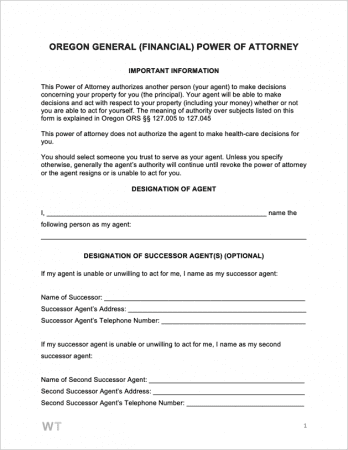 General (Financial) Power of Attorney – For nominating an agent to make decisions and handle tasks relating to one's finances.
---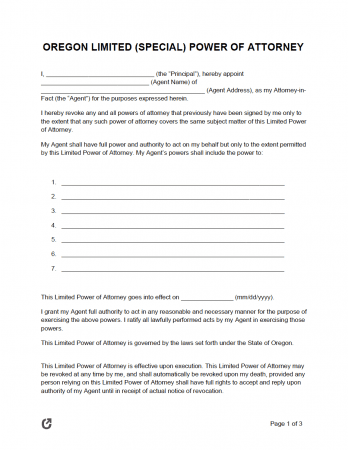 Limited (Special) Power of Attorney – Used for granting very specific powers to an agent. All assigned powers should be written in a highly descriptive manner to ensure the agent understands their responsibility clearly.
---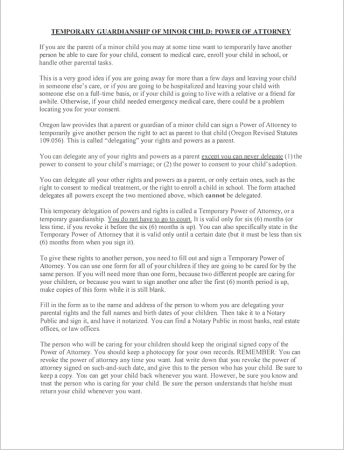 Minor Child Power of Attorney – Temporarily delegates parental rights to a trusted friend or family member. Should be used when a single parent (or parents) will be away from their child for a longer-than-average amount of time.
Download: PDF
---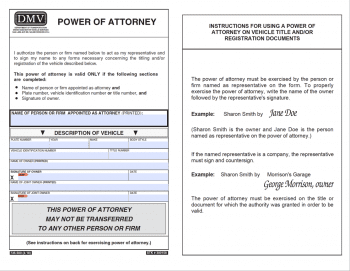 Motor Vehicle (DMV) Power of Attorney – Used for nominating an agent to represent the principal in matters concerning a vehicle title, registration, selling, and/or other administrative tasks.
Download: PDF
---
Laws & Signing Requirements
Oregon Power of Attorney Laws – Oregon Revised Statutes, Chapter 127 and Chapter 36, Oregon Laws 2018 (HB4135)
State Definition of Advance Directive (§ 127.505(2)) – "means a document executed by a principal that contains: (A) A form appointing a health care representative; and (B) Instructions to the health care representative.
Signing Requirements

Advance Directive / Medical Power of Attorney (Section 3 (3)(b)(B)) – The principal's signature must be witnessed by two (2) witnesses (who must also sign the form)

OR

notarized.