New Mexico Bill of Sale Forms (5)
A New Mexico bill of sale form operates as a voucher of revenue for a seller when bartering private belongings. The primary motive for generating the document is to demonstrate the owner's right of possession. Proving ownership allows the individual to register or title the item, re-sell it, apply for an insurance policy, or handle related matters.
Summary
Individuals must use the New Mexico official bill of sale form for boats and cars.
Residents do not need to notarize bill of sale documents for registration.
Gun buyers must pass a background check before purchasing.
---
---
Types (5)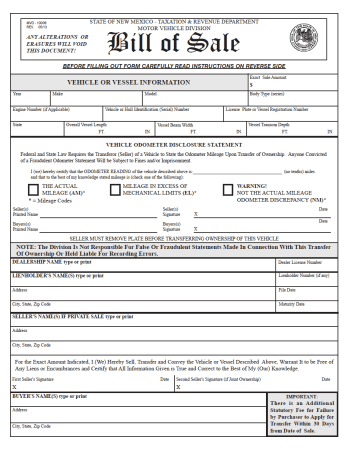 Boat Bill of Sale – Secures the business deal between a vessel owner and a consumer.
Download: PDF
---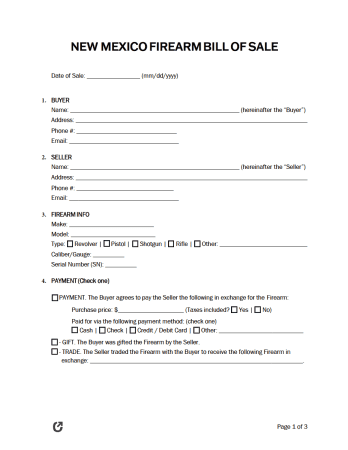 Firearm Bill of Sale – This form allows individuals to take another person's weapons for personal use.
---
General Bill of Sale – Recaps the communications that occurred to give another person an item by cash, trade, or gift.
---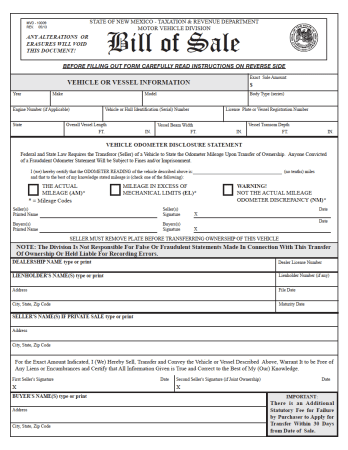 Motor Vehicle Bill of Sale – Serves as a supplemental document to the car's title and registration to sanction the new owner's possession.
Download: PDF
---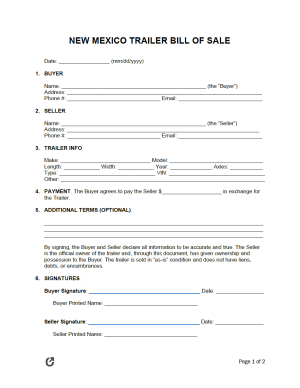 Trailer Bill of Sale – Functions as a verifying document in transferring a carrying trailer.
---
Signing Requirements
| | | | |
| --- | --- | --- | --- |
| Bill of Sale Type | Buyer Signature | Seller Signature | Notarization |
| Boat | Required | Required | Not required |
| Firearm | Required | Required | Not required |
| General (others) | Required             | Required | Not required |
| Motor Vehicle | Required | Required | Not required |
| Trailer | Required | Required | Not required |
---
What is a New Mexico Bill of Sale?
A New Mexico bill of sale indicates a successful deal between a buyer and seller for an item. It ascertains that both parties agree to the outlined terms.
A bill of sale encompasses all types of transactions, meaning the sale item can range from inexpensive to exclusive. Its worth depends on its manufacturer, age, production cost, accessibility, and other applicable factors. The seller must assess the property's worth to ensure reasonable pricing. For the same reason, the buyer should determine the object's value before purchasing.
Merchants selling generic products, like clothes or jewelry, should use a general bill of sale document. On the other hand, pre-created forms are more appropriate for already-categorized items. For example, if a breeder sold a dog to a client, both parties would fill out a puppy bill of sale rather than a general template. In similar transactions, like the purchase of a cat, moped, motorcycle, or furniture, the buyer and seller should use the item-specific bill of sale form.
---
Registration Forms:
Boats
Choose a Motor Vehicle Division (MVD) Office to register in-person or apply via the web using the MVD Online Portal.
Bill of Sale – Outlines the details of a watercraft deal.
Application for Vessel Title and Registration (Form MVD-10003) – Filled out by the new owner to obtain a vessel registration.
Proof of Identity – The verifying document must fall under one of the listed categories to be accepted by the MVD.
Payment – Determined by the length of the watercraft.
Evidence of New Mexico Residency – A driver's license, utility bill, rent payment, or other paperwork confirming the individual lives full-time in New Mexico.
Title – The original, signed title. If unavailable, the owner must apply for a duplicate (Form MVD-10901).
Additional (Optional) Documents
---
Registration Forms:
Firearms
Per New Mexico law, individuals do not have to register their gun(s), but they need a permit to concealed carry. To apply for a license, schedule an appointment with the Department of Public Safety (DPS).
Concealed Carry Permit Application & Booklet – This information packet guides individuals through the application, which they must submit to the DPS. The applicant can also use the amended version if they do not wish to read the booklet.
Release of Information Authorization – States that an individual has permitted another entity to perform a criminal record screening.
Concealed Handgun License Replacement Card – A person uses this application to receive a duplicate concealed handgun license.
Release of Health Information Form – Must be signed by the applicant and witness for the DPS to check an individual's mental health history. The DPS refuses to give a concealed carry permit to applicants who have been institutionalized for mental illness or have an addiction to alcohol or drugs.
Fingerprints & Background Check – Individuals must follow the state's instructions for giving fingerprints.
Training Certification – Confirms that the applicant has taken and completed an approved concealed handgun training course.
---
Registration Forms:
Vehicles
Provide the necessary forms and payment to a local MVD office.
Additional (Optional) Documents
---
Registration Forms:
Trailers
Utility trailers in New Mexico need registration and title. The MVD manages trailer-related needs.
Bill of Sale – Verifies the official transfer of the trailer.
Payment – The amount owed by the registrar depends on the unit's weight.
Identification (ID) / Proof of Residence – The applicant must provide an official card or document confirming who they are and where they live.
Additional (Optional) Documents
Dealer's Invoice – The dealer provides this document to the customer as verification of the purchase.
Lien Release or Statement – The owner must provide documentation from the lienholder if they have a loan on the trailer.
MCO – This form verifies the make and model of the trailer. If unavailable, the owner must provide an official certificate that verifies its unladen weight.
New Mexico Motor Vehicle Power of Attorney – An individual uses a power of attorney to assign a representative car-related duties.
Proof of Trade-In – The owner needs an official document verifying the trade deal if one occurred.
Vehicle Identification Number (VIN) Inspection – A state or government official must check the trailer's VIN to ensure it is correct and the unit belongs to the owner.