Iowa Power of Attorney Forms
Iowa Power of Attorney Forms allows any individual to exercise their right to appoint another person (the "agent") to act in their place for handling monetary, health, property, and other personal matters. The creator of the power of attorney (POA) is a party legally referred to as the "principal," and can be anyone that is a resident of Iowa and is at least eighteen (18) years of age.
SUMMARY
What does it do? A POA allows you to give someone the right to act on your behalf.
Who's it for? Anyone that needs or wants to give someone else powers over themselves and/or their property.
Requirements? The Principal must be 18+ or older and of sound mental health to use the form.
Signing? The form needs to have the principal's signature notarized.
Laws – Title XV, Ch. 633B
By completing, signing, and providing a copy of the POA to the agent, the agent can then display the POA to confirm they have the right to act on behalf of the principal. POAs can be used for assigning power in regards to almost any activity, and come in two (2) general types: durable and non-durable. By signing a durable POA, the document will remain in effect if the principal were to become mentally ill (leaving them unable to make decisions on their own).
---
---
Types (6)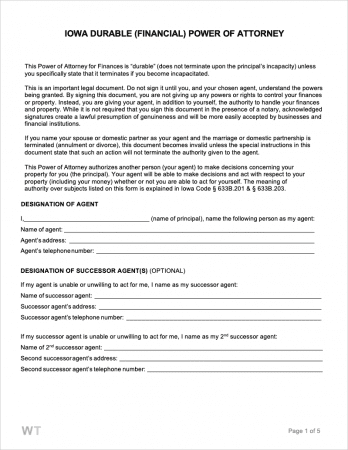 Durable Power of Attorney – For making an official recording that a person whom you choose can act in your place regarding your personal finances. The contract withstands should the principal be faced with an event that renders them incapacitated.
---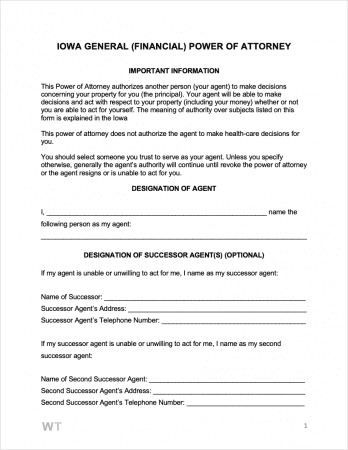 General (Financial) Power of Attorney – For issuing authority over assets and other finances as a whole. Becomes obsolete if the principal suffers from ill health that leaves them unable to communicate with those around them.
---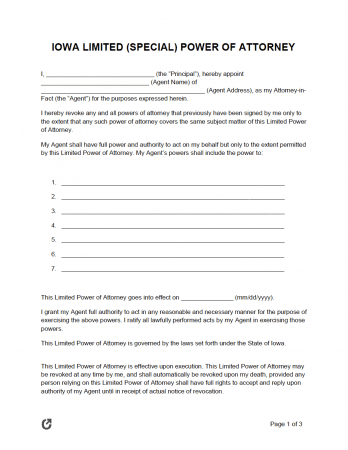 Limited (Special) Power of Attorney – This document arms a chosen attorney-in-fact (otherwise known as an "agent") with the power and authority to handle a principal's affairs only to the limited extent specified therein.
---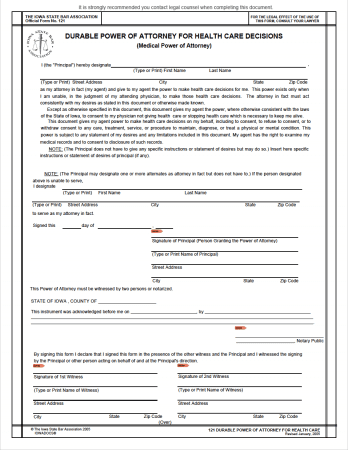 Medical (Health Care) Power of Attorney – Otherwise referred to as a Health Care Power of Attorney, this frequently used contract charges an individual of the principal's choosing with the legal responsibility to make decisions about areas of their medical care that they so allow.
---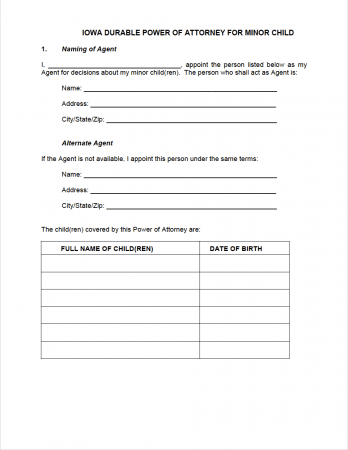 Minor Child Durable Power of Attorney – This legal form enables a parent or guardian to delegate childcare responsibilities to another individual for a temporary amount of time, without needing to sacrifice their parental or custodial rights.
---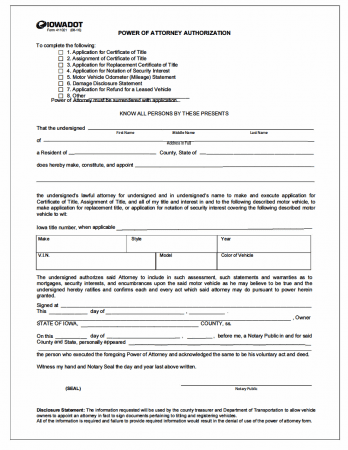 Motor Vehicle Power of Attorney (Form 411021) – Any aspects of managing the sale, purchase, or administrative duties involved with a motor vehicle may be taken care of by an individual or entity of the principal's personal selection. That is, so long as the contents of the form are accepted by the state DMV.
Download: PDF
---
Laws & Signing Requirements
Iowa Power of Attorney Laws – (Title XV, Subtitle 4, Chapter 633B, "Iowa Uniform Power of Attorney Act")
State Definition of Power of Attorney (§ 633B.102(9)) – "means a writing that grants authority to an agent to act in the place of the principal, whether or not the term "power of attorney" is used."
Signing Requirements (§ 633B.105) – Must be signed by the Principal, or in the Principal's conscious presence by another individual, before a Notary Public or other authorized individual.