Kansas Power of Attorney Forms
A Kansas power of attorney form, once completed, appoints a trusted person (the "attorney-in-fact") with the right to handle a task or decision on behalf of the person completing the form (the "principal"). If the POA is made durable, it is not affected by the disability ("incapacitation") of the principal. In other words, the attorney-in-fact keeps their power if the principal can no longer communicate their wishes due to old age or a life-changing medical event.
The most important step in the process is to nominate an attorney-in-fact that understands the scope of what they are required to do and is a trustworthy person overall. Unique to Kansas and twelve (12) other states, if the principal selects their spouse to be their attorney-in-fact, the POA will automatically terminate in the event they divorce. Alternatively, a POA can be ended at any time by completing and distributing a revocation of POA form.
---
---
Types (9)
---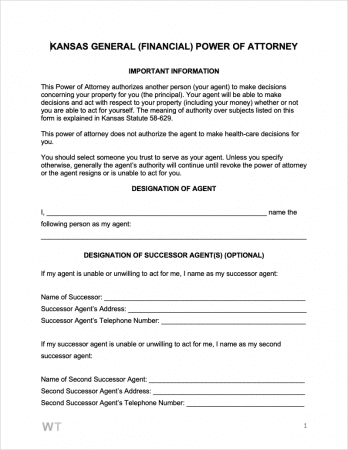 General (Financial) Power of Attorney
---
Limited (Special) Power of Attorney
---
Medical (Health Care) Power of Attorney
---
---
Motor Vehicle Power of Attorney (Form TR-41)
---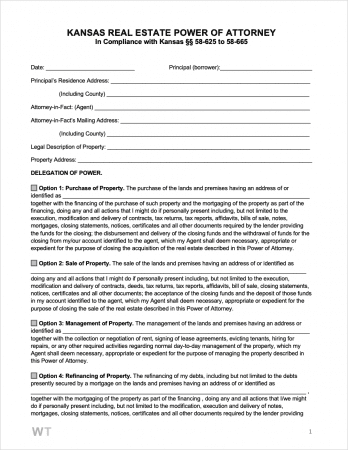 Real Estate (Property) Power of Attorney
---
Revocation of Power of Attorney
---
State Tax Filing Power of Attorney (Form DO-10)
Download – PDF
---
Laws & Signing Requirements
Kansas Power of Attorney Laws – (Chapter 58, Article 6, "Powers and Letters of Attorney")
State Definition of Power of Attorney (§ 58-651(i)) – "means a written power of attorney, either durable or nondurable."
Signing Requirements (§ 58-629 & § 58-652) – The POA is signed and dated by the Principal in the presence of two (2) witnesses, and is acknowledged before a Notary Public. If the Principal is physically incapable of signing, but is otherwise competent and conscious, the POA may be signed by an adult designee in the Principal's presence as well as that of a Notary Public.