Arkansas Bill of Sale Forms
An Arkansas Bill of Sale is a template used to outline the specifics of a transaction between two (2) entities. The buyer and seller should be thorough by disclosing all details of the sale. Providing this information early on can protect both parties from legal action in the future. Through signing, the buyer and seller agree to all terms and conditions in the form and accept liability for the responses provided. While not required, notarization is beneficial as it makes the document more credible.
Bill of Sale Forms – By Type (4)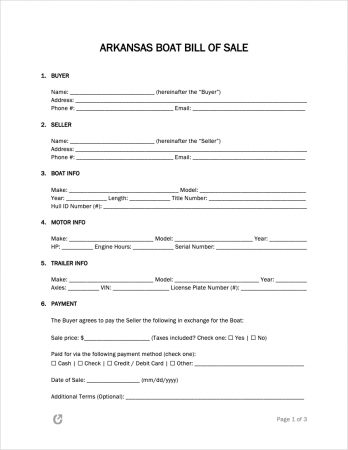 Boat Bill of Sale – This form provides proof that the owner legally possesses a boat. Arkansas only accepts the document if it includes the boat's description (i.e. its HIN, year, make, horsepower, payment information, signatures from both parties, and the date of signing). If the buyer purchased a trailer in addition to the boat, the details must be listed. However, if this information is not in the original copy, a separate bill of sale for the trailer is also acceptable.
Download: Adobe PDF, MS Word (.docx), Rich Text (.rtf)
---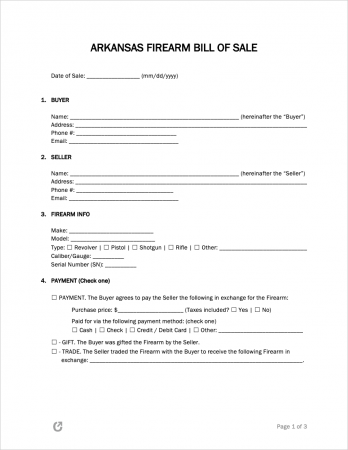 Firearm Bill of Sale – A document that can be used as a reference to prove ownership of a gun.
Download: Adobe PDF, MS Word (.docx), Rich Text (.rtf)
---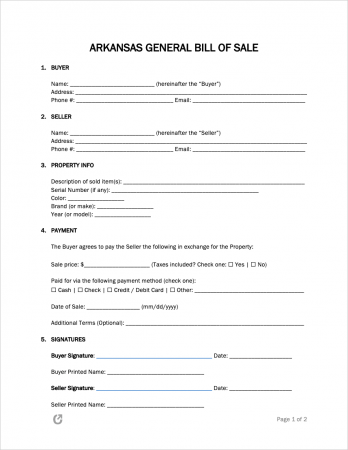 General Bill of Sale – Serves as a guide for how the transaction of a non-specific item transpired between two individuals.
Download: Adobe PDF, MS Word (.docx), Rich Text (.rtf)
---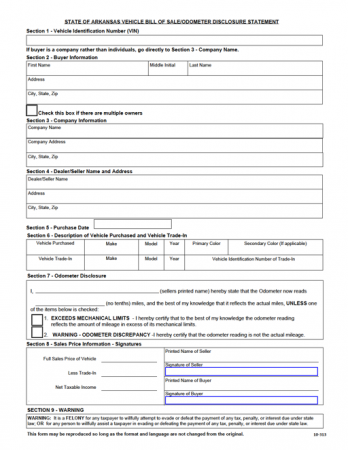 Motor Vehicle Bill of Sale – Outlines the agreement of the buyer and seller when selling, gifting, or trading a vehicle.
Download: Adobe PDF
---
Registration Requirements
Boats / Vessels
Sail and motorized boats require registration for use on lakes and rivers. An Arkansas Certification of Number and validation decals are considered proof of registration. Renewals are required every three (3) years. For more specifics regarding boat registration in Arkansas, reference §§ 27-101-301 to 27-101-313.
Non-Residents
Non-residents who wish to use a watercraft in Arkansas are able to do so for up to ninety (90) continuous days (as long as they hold a valid registration from their legal state of residence). After that period of time, the individual must apply for a temporary or permanent registration through the state.
Residents
Residents who have recently purchased a water vessel must register it within the first thirty (30) days of ownership. They must visit their local state revenue office to submit the paperwork (see Revenue Offices).
Required Documents:
Hull Identification Number (HIN) – Owners must submit their assigned boat number. A pencil rubbing serves as valid evidence. To make a copy, put a piece of blank white paper over the HIN and rub a pencil over it. Another option is to take and print a clear photograph of the HIN. The office only accepts easy-to-read proof.
Bill of Sale – The applicant needs to prove to the state that they are the rightful owner of the boat. First-time owners must present a valid bill of sale to show that it has been paid for and the transfer was legit. For renewals, a current registration can be submitted instead of a bill of sale.
Assessment Verification – Must provide the county's assessment of the boat (for property tax value). If it has not been assessed but will be before the end of the current calendar year, the appointment information will also be accepted.
Taxes – Confirms that the property taxes have been paid on time during the previous year (i.e. by October 10th). The owner can submit a receipt from the county tax collector or show the assessment papers that include the Certification of Payment stamp.
Insurance – If the engine is over 50 horsepower, the boat must be insured. Arkansas requires a minimum of $50,000 of liability coverage through a valid lender.
Payment – Cost depends on the length of the boat (see Fees).
---
Firearms
Arkansas is a very gun-friendly state as they do not require residents to register guns or hold a permit. Private sellers do not have to report gun sales either, nor do they need to issue a background check on buyers. Gun holders over the age of eighteen (18) can also legally open or concealed carry in unrestricted areas (§ 5-73-120).
Gun holders may still decide to apply for a permit, nonetheless. When purchasing a firearm from a licensed dealer, background checks are required. However, buyers with a permit do not need to be screened. Licensing also gives them more leeway when visiting a state with different gun laws. Safety and training courses for the permit can also teach people how to use a gun.
Applications (and renewals) can be submitted in person or online. The following forms are required as part of the submission packet for first-time applicants:
Required Documents:
License Application – The state prefers that the applicant fills out the Online Application. However, they can also use the Physical Application.
Fingerprints

– Black-ink fingerprints are the only cards that are accepted.

Training Certification

– The training must have happened less than six (6) months from the application date.

Payment

– Individuals under the age of sixty-four (64) must pay $88.25. Residents sixty-five (65) and older owe $63.25.
---
Motor Vehicles
Individuals driving an unregistered vehicle in the state of Arkansas can face various fines and offenses against their license. Their car is also subject to being impounded until motor vehicle registration has been completed (§ 27-14-314). To avoid penalties, both new and current residents must register their car, van, or truck within thirty (30) days of being a resident or purchasing the commercial vehicle.
The Arkansas Department of Finance and Administration (DFA) allows both in-person and online registration. To find a local office, visit the DFA Revenue Office website.
New Resident
Prior to registration, Arkansas requests that the owner fulfill the two (2) steps as follows:
Title Transfer – The state of residence on the title should be changed from the owner's previous state to Arkansas.
Insurance – The owner must have an insurance plan approved by the state. Minimum liability is:

$25,000 for bodily injury;
$50,000 for total bodily injury; and
$25,000 for property damage.
Required Documents:
Application – Includes basic information about the applicant, as well as specifics regarding the vehicle (see Form 10-381).
Title – The car owner must hold a valid Arkansas title at the time of application.
Current Registration – All paperwork and fees must be taken care of for the registration.
Insurance – Each vehicle owned by Arkansas residents must be insured (see above for specifics).
Bill of Sale – Indicates that the owner has legal power over the vehicle.
Odometer Disclosure – Ensures that the seller and buyer agree upon the odometer reading at the time of the sale.
Assessment – Provides the state with proof that the truck was checked by the county assessor.
VIN Inspection – Only applies for certain out-of-state titled vehicles. Contact the local DFA to determine if a vehicle requires verification. Must be performed by law enforcement in order to be considered valid.
Tax Collections – All property taxes for the previous year must be paid in full before registering a car.
Payment – The amount due when applying revolves around the type of vehicle and its weight (see Fee Schedule).
Current Resident
In addition to the above-mentioned document, current residents must also submit copies of the:
Current Registration – Unlike new residents, natives must submit their Arkansas registration for their current vehicle. This step is only applicable if the person plans to transfer their license plates from their old car onto their new one.
Title Transfer – Only locals can use their Manufacturer's Certificate of Origin (MCO) to prove their ownership. Similar to citizens new to the state, they can also show a copy of the signed title.
Sellers
Individuals selling their vehicle in the state of Arkansas should fill out all of the recommended paperwork when transferring their vehicle. For best practice, they should complete these three (3) documents to the best of their ability:
Bill of Sale – Confirms that the buyer and seller have agreed on the deal.
Odometer Disclosure – Records the odometer at the time of the sale (see Form 10-313).
Release of Liability – Protects the seller from responsibility for any damages or legal fees charged to the new owner (§27‐14‐911) (see Form).