Arkansas Bill of Sale Forms (4)
An Arkansas bill of sale is a form used for confirming the sale of an item from one party to another. The buyer and seller should be thorough by disclosing all details of the sale. Providing this information early on protects both parties from legal action in the future. By signing the form, the parties agree to all terms and conditions in the form and accept liability for the content therein.
---
---
By Type (4)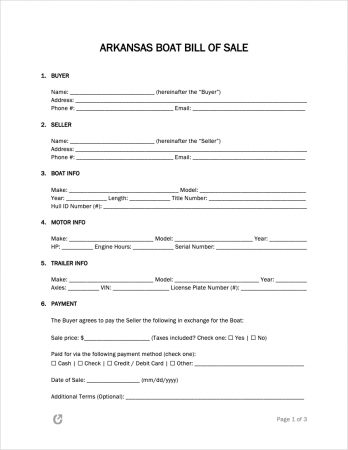 Boat Bill of Sale – This form provides proof that the owner legally possesses a boat.
---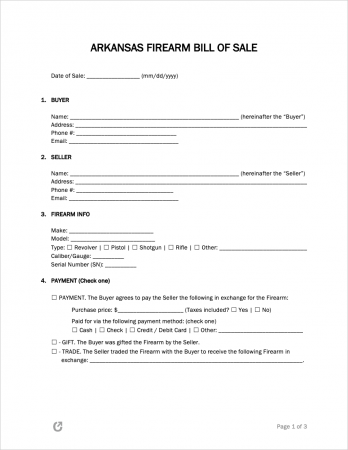 Firearm Bill of Sale – A document that can be used as a reference to prove ownership of a gun.
---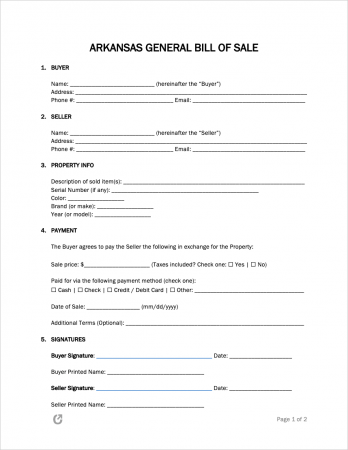 General Bill of Sale – Serves as a guide for how the transaction of a non-specific item transpired between two individuals.
---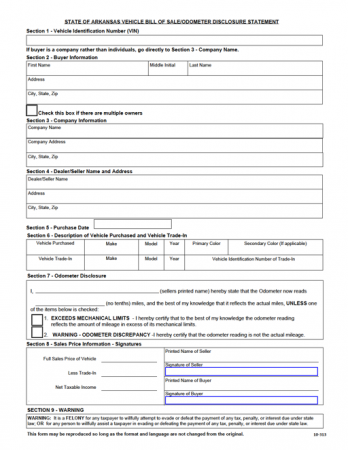 Motor Vehicle Bill of Sale (Form 10-313) – Outlines the agreement of the buyer and seller when selling, gifting, or trading a vehicle.
Download: PDF
---
Signing requirements
| | | | |
| --- | --- | --- | --- |
| Bill of Sale Type | Buyer Signature | Seller Signature | Notarization |
| Motor Vehicle | Required | Required | Not required |
| Boat | Required | Required | Required |
| Firearm | Required | Required | Not required |
| General (others) | Not required | Required | Not required |
---
How to Register a Motor Vehicle (3 Steps)
All residents must register their car, van, or truck within thirty (30) days of purchasing or residing in Arkansas. Drivers using an unregistered vehicle in the state can face various fines and offenses. The automobile can also be impounded until motor vehicle registration has been completed (§ 27-14-314).
The seller needs to fill out a bill of sale, odometer disclosure (form 10-313), and release of liability after the sale to remove their responsibility for the vehicle.
Step 1 – Insure the Vehicle
Arkansas residents must have an insurance plan approved by the state. Minimum liability coverage is considered: $25,000 per bodily injury, $50,000 per accident, and $25,000 for property damage.
The vehicle owner must hold the insurance card and present it during registration.
Step 2 – Complete Registration
The Arkansas Department of Finance and Administration (DFA) allows both in-person and online registration. Appointments can be made through their website or the information can be submitted through the online portal.
Required Forms / Information:
Application (Form 10-381) – Must be completed by the resident to apply for registration.
Proof of Ownership – One of the following must be presented: Arkansas title, out-of-state title, manufacturer statement of origin, or bill of sale.
Insurance Card – All vehicles in the state must be insured prior to registration.
Odometer Disclosure – Evidence that the seller and buyer agreed upon the odometer reading at the time of the sale.
Payment – The amount due when applying revolves around the type of vehicle and its weight.
Other – Some situations may require more information.*
*Additional documents:
Tax Information – The vehicle owner may need to present county tax assessment records, a personal property tax number (PPAN), and payment of taxes.
VIN Inspection – Only applies for certain out-of-state titled vehicles. Must be performed by law enforcement to be considered valid.
Lien Contract – An agreement between the driver and a lien stating how the bank loan will be repaid.
Step 3 – Renew
The Office of Motor Vehicle will send registration holders a renewal notice before they need to re-register. The packet will include more information on how to renew and what will be required in the process. Applications can be submitted at an office, on the phone, by mail, or online. Mail submissions must be addressed to the following:
Office of Motor Vehicle
P.O. Box 3153
Little Rock, AR 72203-3153
---
How to Register a Boat (4 Steps)
Boats in Arkansas must be registered no more than thirty (30) days after obtaining ownership (§ 27-101-304). Non-residents can use their boat for up to ninety (90) continuous days, as long as they hold a valid registration from their legal state of residence.
Step 1 – Check Requirements
Sailboats and vessels with a motor must be registered. Boats that are manually propelled and do not use an engine or sail do not require registration.
Step 2 – Submit Documents
The state of Arkansas requires residents to visit a local office to apply for registration.
Required Forms / Information:
Hull Identification Number (HIN) – Owners must provide evidence of their boat number by taking a photo or doing a pencil rubbing.
Bill of Sale – Must include the boat's HIN, year, make, horsepower, payment details, signatures from both parties, and the date of signing. Boat trailer information must be provided in the original or on a separate bill of sale.
County Assessment – Each county assesses the value of boats in the state to calculate its property tax value. If the vessel has not been assessed but will be before the end of the current calendar year, the appointment details will also be accepted as evidence.
Taxes – Confirms that the property taxes have been paid on time during the previous year (i.e. by October 10th). The owner can submit a receipt from the county tax collector or show the assessment papers (must include the Certification of Payment stamp).
Insurance – If the engine is over 50 horsepower, the boat must be insured. Arkansas requires a minimum of $50,000 of liability coverage.
Payment – Fees range from $7.50 to $105 and depend on the length of the boat.
Step 3 – Apply Number + Decal
As mandated by state law, the registration card (i.e. certificate of number) is required to be on the boat and readily accessible at all times. If a driver cannot provide the card to an enforcement officer, they may be fined.
The HIN should be printed on the vessel during manufacturing. If it is not, the owner must include the number on the boat.
An Arkansas number will be provided by the state in the following layout: AR-8596-TJ or AR-395-JFU. It must be permanently affixed to the boat on the front left and right sides using bold, block letters that are at least three (3) inches high. Each section of letters and numbers must be sectioned by a space or hyphen, as well.
Aside from the decal, additional information cannot be placed near the registration number. The decal must be aligned three (3) inches from the number towards the back of the boat.
Step 4 – Renew
Renewals are required every three (3) years and can occur through the mail, online, or at a state office (§ 27-101-306). The owner must provide the county assessment for the year, proof of payment for property taxes, and proof of liability insurance. Fees vary between $7.50 to $105 during each renewal period.