Oklahoma Bill of Sale Forms (5)
An Oklahoma bill of sale form records the permissible change in ownership of either a basic or exclusive item. The document breaks the sale down into easy-to-understand sections so that the buyer and owner can work in tandem to describe the deal. The identifying data, such as the contact information of both parties and the item's main features, are most notable as they provide context to the exchange.
Summary
Buyers and sellers do not need to notarize the form.
Both parties must sign to legitimize the sale.
Residents legally allowed to own a firearm do not need a permit.
---
---
Types (5)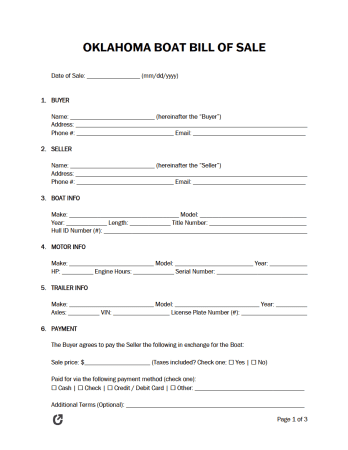 Boat Bill of Sale – Allows for the private or public purchase of a vessel.
---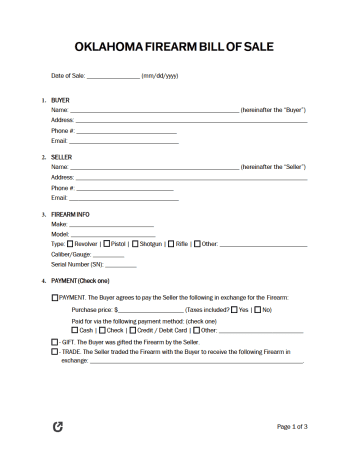 Firearm Bill of Sale – Removes gun ownership from the merchant and transfers it to a responsible, mentally-sound buyer.
---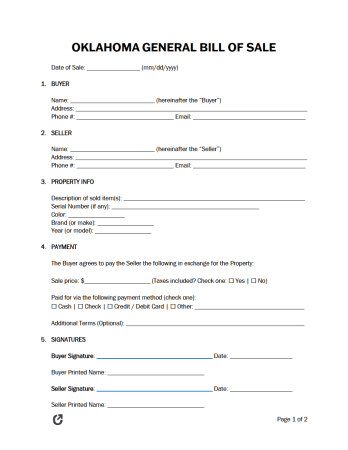 General Bill of Sale – Used when selling a variety of non-specific items, such as homemade products, cherished property, or any other applicable object
---
---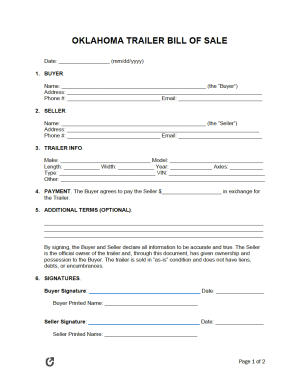 Trailer Bill of Sale – Provides a simple explanation of how and when two (2) individuals carried out a deal involving a utility trailer.
---
Signing Requirements
| | | | |
| --- | --- | --- | --- |
| Bill of Sale Type | Buyer Signature | Seller Signature | Notarization |
| Boat | Required | Required | Not required |
| Firearm | Required | Required | Not required |
| General (others) | Required             | Required | Not required |
| Motor Vehicle | Required | Required | Not required |
| Trailer | Required | Required | Not required |
---
What is an Oklahoma Bill of Sale?
An Oklahoma bill of sale is recognized as a legal document acknowledging that a buyer compensated a seller in exchange for ownership of property.
By providing personal details, the buyer and seller permit each other, state offices, or other government-related officials to contact them after the transaction. This confirmation might be necessary to ensure the sale legally transpired or for another similar reason.
Most often, residents use a bill of sale to transfer ownership of a vessel, gun, car, or another generic item. However, in some cases, an individual uses a document specific to the item they are selling. For instance, if a buyer purchases a kitten from a breeder, it is better to use a cat bill of sale form. Similarly, it is best to use the individualized form when purchasing or selling personal property like a jet ski, recreational vehicles, lawnmower, or any other comparable item.
---
Registration Forms:
Boats
Contact an Oklahoma Motor Vehicle Tag Agency to make a vessel registration appointment.
Bill of Sale – Used to record the key details of a vessel transaction.
Application for Certificate of Title (Form BM-26) – Gives the owner a way to provide essential information for a title and registration.
Identification (ID) – The car owner must provide an unexpired form of ID.
Excise/Sales Tax – The owner must pay taxes before registration (§ 710:22-9-1).
Payment – The cost depends on the size of the boat and the number of years the owner chooses to register it (§ 710:22-5-8).
Additional (Optional) Documents
Manufacturer's Statement of Origin (MSO) – An official document from a shipbuilding company that explains the build of the vessel, including the date of manufacturing and type of boat.
Serial Number Confirmation (Form BM-10) – Verifies the hull identification number (HIN) and the owner's identity to transfer the title.
---
Registration Forms:
Firearms
Oklahoma residents do not have to register firearms and can open or concealed carry without a license. Nevertheless, individuals can apply for a license to carry in otherwise prohibited areas by sending permit forms and fees to a Sheriff's Office or the Online Application System.
Application for Self-Defense Act License – The official application for applying for an Oklahoma handgun license.
Criminal History Information Request Portal (CHIRP) – An online portal to authorize the state to check the applicant's criminal record and confirm their date of birth.
Forensic Services – Individuals must make an appointment with an Oklahoma State Bureau of Investigation (OSBI) laboratory to have their fingerprints taken.
Payment – Costs depend on the number of years an applicant wishes to have the license. Applicants must use a credit card to apply online. For in-person (paper) applications, the OSBI accepts credit cards (i.e., Mastercard, Visa, Discover, American Express), electronic funds transfer, cashier's checks, and money orders.
Training Course Certificate – The state requires applicants to take and pass an approved firearms safety and training course taught by a certified instructor.
Identification (ID) – Photo ID that proves Oklahoma residency.
---
Registration Forms:
Vehicles
Make an appointment at an Oklahoma Tax Commission Office or with a Tag Agency.
Bill of Sale – The owner can present a signed bill of sale form, or use a declaration of vehicle purchase price (Form 722-1).
Odometer Disclosure Statement (Form 729) – For an accurate reading of the car's mileage.
Insurance (Minimum Requirements) –

Bodily Injury Protection: $25,000 per person / $50,000 per accident
Property Damage: $25,000

Payment – Residents must pay the registration and title fees at the time of the appointment.
Motor Vehicle Excise Tax – The owner must pay excise and sales tax on the car.
Identification (ID) – The owner must have a valid form of ID upon registration.
Certificate of Title – Original, transferred title. Owners must apply for a new title (Form 701-6) or duplicate title (Form 701-7) if needed.
Additional (Optional) Documents
---
Registration Forms:
Trailers
Oklahoma residents who only use their trailer privately do not need to register or title it. A "private use trailer" is defined as an unpowered carrying platform towed by a motorized vehicle. It often holds small vehicles, bicycles, livestock, and other goods. Although the state does not require registration, the owner can apply for it to obtain a trailer license plate. Commercial trailer laws differ as the state requires them to have an active registration and title.