Cleaning Service Invoice Templates
A cleaning service invoice is a billing document used for requesting payment from customers that received cleaning services. The document can be used by cleaners that charge on an hourly basis, for each service, or a combination of the two. The form serves as official documentation as to the work performed, providing all parties with a record of what the services cost, the name of the person that completed the work, when the payment is due, and other important information. Numbering each invoice consecutively from one to the next helps end-of-year accounting greatly, and makes it so past invoices can be located with ease.
---
Types (6)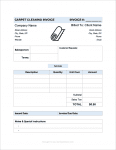 Carpet Cleaning Invoice – for services and products relating to cleaning commercial or residential carpets.
---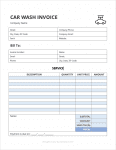 Car Wash Invoice – can be used for handwashing/custom detailing OR for automated commercial washing stations.
---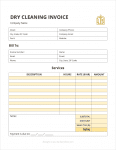 Dry Cleaning Invoice – to be used by companies that offer dry cleaning services for clothing.
---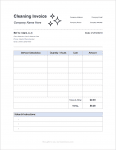 House Cleaning (Maid) Invoice – for those that go to residential homes to provide cleaning services.
---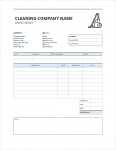 Office Cleaning Invoice – for professional janitorial companies that provide routine or one-time cleaning for commercial buildings and offices.
---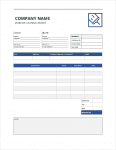 Window Cleaning Invoice – allows an individual or business to charge for the exterior and/or interior windows.