Utah Rental Lease Agreement Templates (6)
The Utah Rental Lease Agreements are contracts that regulate the leasing of a property to one (1) or several tenants. The agreements state the obligations both parties must uphold, such as the tenant keeping the rental premises in a safe and clean condition (in addition to making payments), and the landlord making any necessary repairs to the property to keep it safe.
Matters where UT law is silent, such as the maximum security deposit a landlord may charge and the date rent must be paid, must be outlined in the written rental agreement. Doing so will help to prevent misunderstandings and reduce the chances of the tenant's failure to comply with the agreement.
---
---
Types (6)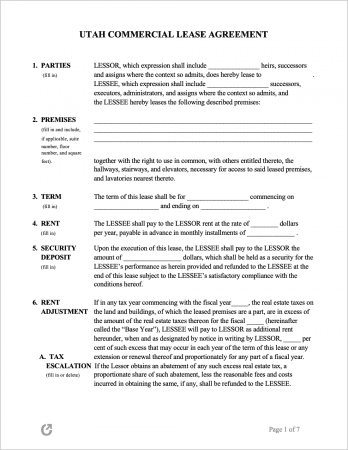 Commercial Lease Agreement – Specifically covers matters relating to the lease of a property that will be used for business purposes. The seven (7) page document can be easily edited by landlords to account for any unique situations.
Download – Adobe PDF, Word (.docx)
---
Lease Agreement with Option to Purchase – Sets terms so a rented property can be purchased from a tenant at a pre-determined purchase price. Has a typical lease term of one (1) to three (3) years.
Download – Adobe PDF
---
Month-to-Month Lease Agreement – A form that reflects many conditions found in standard yearly leases, with the major difference being it contains no end-date. Either the lessor or lessee(s) can end the agreement by giving a notice thirty (30) days in advance.
Download – Adobe PDF
---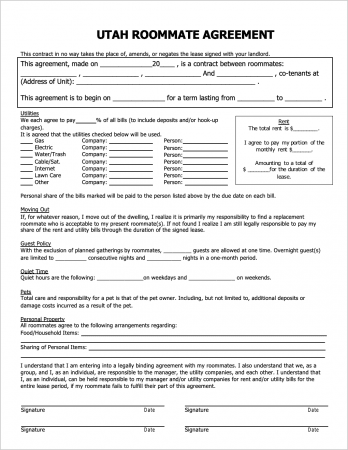 Roommate Agreement – Contains both legally-binding and non-legally binding provisions that improve communication among roommates regarding topics that often lead to disagreements (cleaning, utility bills, rent, using belongings, etc.).
Download – Adobe PDF, Word (.docx)
---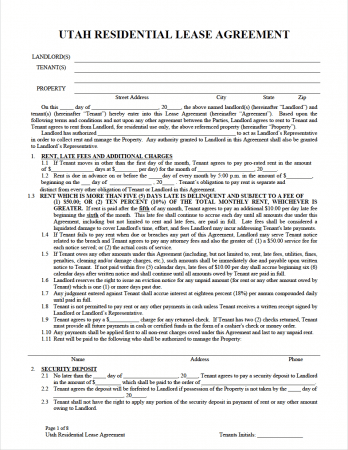 Standard Residential Lease Agreement – A state-official form used for leasing Utah-based apartments, condominiums, rooms, and homes to tenants. Complies with all relevant UT lease statutes.
Download – Adobe PDF, Word (.docx)
---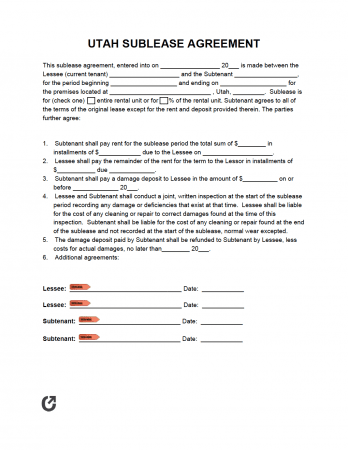 Sublease Agreement – Used by sublandlords (current tenants) for setting rules and obligations that a subtenant (new tenant to a property) is required to follow. Unless it is specifically permitted in the lease, the sublandlord's property manager should be contacted for approval prior to use.
Download – Adobe PDF, Word (.docx)
---
What is a Utah Lease Agreement?
A Utah Lease Agreement is a document that, upon signing, dictates how a landlord and tenant must conduct themselves for the full length of the contract (typically one (1) year). A rental application is another document that landlords commonly use prior to signing a lease, which ensures the tenants have no previous issues that would point to them making unsatisfactory tenants.
---
State Laws & Guides
Laws: Utah Title 57 – "Real Estate"
Landlord-Tenant Guides / Handbooks
---
When is Rent Due?
No specified by Utah law. To ensure the tenant(s) are clear on when and where rent should be paid, the date and location (online or in-person) should be clarified by the rental contract. The law is also silent on matters relating to grace periods for tenants.
---
Landlord's Access
Emergency: No state statute; under federal law, landlords have the right to enter the property in emergency circumstances without notifying the tenant. The landlord's right to enter should be stated in the lease to ensure the tenant(s) are not confrontational in the event of an actual emergency.
Non-Emergency (§ 57-22-4(2)): State law requires landlords to provide tenants with a minimum of twenty-four (24) hours notice prior to accessing the residential property (unless there is a section in the rental contract that states the contrary).
---
Landlord's Duties
Section 57-22-4 lists the duties of landlords as follows:
Keep all HVAC (air conditioning, heat, etc.), appliances, electrical systems, and facilities in good working order (as provided by the rental contract);
Ensure tenants have 24/7 access to working plumbing, heating, and hot/cold water.
For rental properties containing two (2) or more units, ensure tenants have access to receptacles for throwing away garbage and arrange for its routine disposal (unless otherwise specified by the lease agreement).
---
Tenant's Duties
Tenants are required to uphold the following responsibilities per § 57-22-5:
Comply with all requirements and rules listed in the lease agreement. Includes the prohibition or allowance of tobacco products in the rental and/or on the premises;
Make timely and consistent payments as required by the lease;
Dispose of trash/garbage in a safe and cleanly manner;
Use all appliances, systems, plumbing fixtures, and other offerings in a "reasonable manner";
Use the rental property for which it was designed and only permit the number of occupants as stated in the lease to reside in the rental (unless the landlord permits otherwise);
Maintain compliance with all health and safety rules as required by the local area;
Keep the rental clean and in a safe condition, keep plumbing systems sanitary (as permittable), and don't "unreasonably burden any common area".
---
Required Disclosures
---
Security Deposits
Maximum: There is no limit to the amount a landlord may demand from a tenant for a security deposit.
Returning to Tenant (§ 57-17-3(2)): Landlords must return security deposits no later than thirty (30) days after the day on which the tenant moves out and returns possession of a rental property to the owner or the owner's agent.
Deposit Interest: No statute.